Dinagyang Festival 2014
Choose Philippines | Jan 21, 2014
Watch the Dinagyang Festival LIVE here--- "Growing Together in Faith through Señor Santo Niño!" Iloilo Dinagyang Festival known as the best tourism event of the Philippines
Dinagyang Festival is a religious and cultural event that showcases the colorful history, rich heritage and the fun-loving spirit of Ilonggos. It is a thanksgiving celebration in honor of Señor Santo Niño. It is also to commemorate the arrival of Malay settlers on Panay and the subsequent selling of the island to them by the Atis.
The 46th Iloilo Dinagyang Festival is set to "Bring More Fun to the World." The Ati-ati tribes (Iloilo National High School's Tribu Bola Bola, Fort San Pedro National High School's Tribu Pan-ay, and La Paz National High School's Tribu Paghidaet) which were champions in the previous years are expected to join again. 13 other tribes are expected to participate in the Kasadyahan competition while 12 others will join the Ati-ati contest.
Event Highlights:
January 24, 2014 – Fluvial Procession along Iloilo River
January 25, 2014 – Kasadyahan Festival
January 26, 2014 – Dinagyang Ati-ati Tribe Competition
Join the celebration and witness the different tribes' grand performances as they dance to the beat of the drums. Hala Bira Iloilo! Let us bring more fun to the world!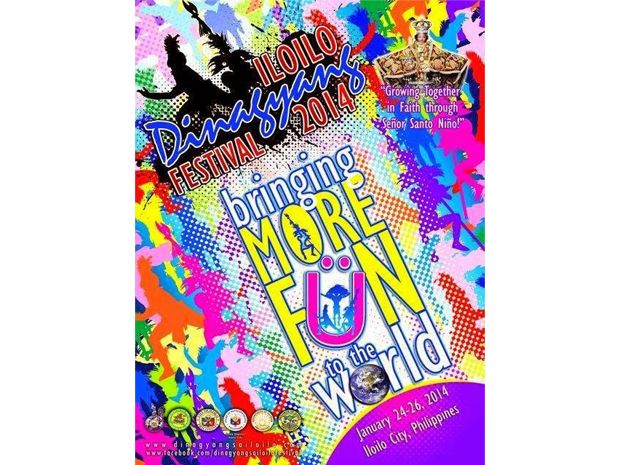 How to Get There
From Manila, you can fly to Iloilo (estimated cost of Php3,000++, round trip, one hour). From Iloilo Airport, you can hail a cab and ask to be dropped off at your destination.
Related Stories:
(photos from www.iloilodinagyang.com)