Pinoy At Heart
3 Months in a Country That Has It All: A German Guy's Praise for the Philippines
Why? Because it was the country where I spent the longest time (3 months), the country where I made new friends, fellow travelers and locals alike, the country of many adventures, and the country with probably the friendliest people I have ever met.
I came to the Philippines with fairly high expectations as two Dutch sisters, whom I had met a couple of years before in Indonesia, were absolutely crazy about it and made it sound almost too good. I could never get their stories out of my mind and so I decided to go there and see for myself.
High expectations, however, can be a tricky thing as the chances of being disappointed will be high as well. In my experience it's usually better to stay rather reserved when visiting a new country and not expecting too much. But in case of the Philippines, all of the expectations, all of the anticipation were more than justified.
A country of many adventures
The Republic of the Philippines, as the country is officially known, consists of 7,107 islands which are mostly covered by rainforest and volcanic in origin. This and its remarkably long coastline, considered to be the 5th longest in the world, make for an abundance of outdoor activities and adventures.
No matter what you are after or what your idea of a perfect holiday is, The Philippines will probably have it. It features some of Asia's best dive spots, you can climb a number of volcanoes, some of them still active, you can relax at the most pristine beaches and do nothing, you can surf some insane breaks or you can go exploring by motorbike. The opportunities are endless and the good thing is that it's still pretty affordable.
Living with the locals
One of my main highlights was getting to know and ending up living with the friendly locals in Gubat, a small town in the province of Sorsogon, Southern Luzon. For Easter and the Holy Week, the local surfers had organized a beach camp with music, barbecues, surfing, and many other activities.
Since Holy Week is a really busy time in the Philippines, we decided that this would be the perfect getaway. As we were the only foreigners, we received a very warm welcome and quickly got to know everyone – the locals but also other Filipinos, mainly from Manila, who also attended the so-called "Hayahay."
We camped out by the beach for the whole week and had an amazing time. Having drinks together, sharing stories and laughter, being invited into people's homes, and actually becoming friends with people. It was just extraordinary and to this extent never happened again during my travels.
After two months of traveling across the country, I still didn't have enough of the Philippines. I extended my visa and returned to Gubat which by that point had somewhat become my home away from home. I stayed at a friend's cozy cottage and lived a pleasantly calm and laid-back life, going surfing when the swell was good, visiting friends in town, cooking food, and doing a little side trip every now and then.
It was basically just a regular life but looking back at it now, those were precious moments in which I really felt content and at peace with everything. I will have to come back one day.
A word about safety and why Filipino people are awesome
People have kept asking me about safety issues as they had heard of the Philippines as being a rather unsafe travel destination. After three months in the country, I can say that I never had a single problem and that I never felt unsafe.
To the contrary, wherever we went, people were welcoming us, asking where we were from and genuinely interested. I can without a doubt recommend everyone to visit the Philippines; it's in my opinion safer than a lot of other countries in Southeast Asia these days.
Of course, as in every other country, you should act smart, not be too careless, and a talent for haggling can't hurt either. But then I'm sure you'll have a great time.
And that's also because the Filipino people are just awesome. They are very friendly, open toward foreigners, helpful, and very curious. It doesn't take long to strike up a conversation with a local, old or young. And the good thing about it is that almost everyone speaks good English. That gives you the opportunity to actually have a proper conversation and get to know people. People in other Asian countries are super friendly as well, no doubt, but it can often be difficult to get beyond that language barrier and beyond just scratching the surface.
In the Philippines I was able to make real friends and get a deeper understanding of the country, its culture and its people. It all made for a different travel experience, very rewarding, very inspiring, and unforgettable memories.
Last thoughts
It's been an amazing experience. I love the Philippines because of its people, its abundance of adventure opportunities, and because it was easy to venture off the beaten track.
I remember crossing Samar and Leyte over to Cebu and we didn't meet any other tourists for about two or three weeks. We had the most beautiful beaches all for ourselves and if there were tourists, it was mainly Filipinos who really travel a lot within their own country. And that's a great thing.
Of course, the country has its touristic hotspots like Boracay, Malapascua, or even Palawan, but it's still easy enough to find those hidden gems and to go exploring on your own. I have spent three months in the Philippines, I have seen a lot but there's still so much more to see, so much more to do, and so much more to explore.
I can say that it is one of the very few countries that I will definitely visit again. Pilipinas, maraming salamat po!
---
ALSO: Read how Philipp gets lost in his search for a virgin beach in Busuanga--and how it all turned out.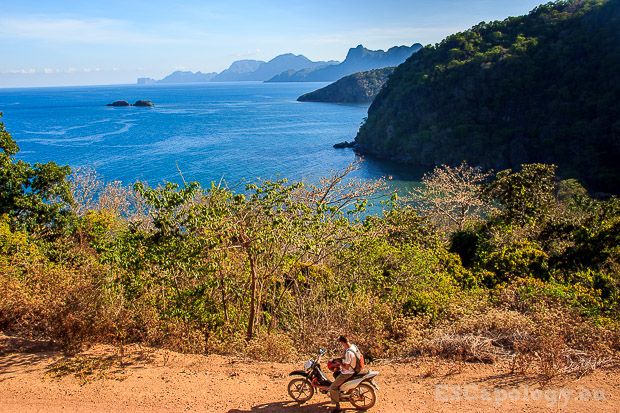 These travel essay & photos were previously published on ESCapology.eu. For more travel articles, tips, and photos from the Philippines and all over the world, LIKE http://www.facebook.com/escapologyblog and FOLLOW https://twitter.com/escapologyblog.
Be a Pinoy Wanderer!
Choose Philippines encourages writers, photographers, travelers, bloggers, videographers and everyone with a heart for the Philippines to share their discoveries and travel stories.
Share Your Journey
Other Stories by Philipp Dukatz
Palawan