Cebu, Negros Occidental, Negros Oriental, Siquijor
Join the 4 October Festivals in Visayas
Get the best rates on Booking.com
Book Now
Connect with the Negrenses this October as the 2 provinces of the island, Negros Occidental and Negros Oriental, are celebrating their most grandest and colorful festival!
October 1-24:
1) Buglasan Festival (Dumaguete City, Negros Oriental)
The Buglasan Festival is a time where established festivals in Negros Oriental gather for a street dancing showdown. It is the "festival of festivals" of Negros Oriental where you'll enjoy trade fairs, cultural shows and food.
VIEW 2018 Schedule: Celebrate the "Festival of Festivals" of Negros Oriental this October!
For inquiries about the Buglasan Festival, contact the Negros Oriental Tourism office at (035) 225-1825 or 422-0675. You can also visit the tourism office at E.J. Blanco Drive, Piapi, Dumaguete City.
October 8-28:
2) MassKara Festival (Bacolod City, Negros Occidental)
The MassKara Festival is biggest annual event in Bacolod. It reflects the Bacoleños love for fun. MassKara is coined from two words: "Mass," which means "many, or multitude," and "Kara," a Spanish word for "face."
Thus, MassKara is a mass or multitude of smiling faces. The festival features a float parade, carnivals, nightly programs, and one of the main highlights is the Mardi Gras-style costumes and masks during the street dancing competition.
VIEW 2018 Schedule: Wear Your Biggest Smile at the MassKara Festival
For inquiries about the MassKara Festival, contact the Silver MassKara Festival Organization at (034) 432-6697.
Other Festivals in Visayas
September 30-October 4:
3) Sinanggiyaw Festival (Dumanjug, Cebu)
"Sinanggiyaw" is derived from two native Cebuano words. "Sinanggi" means abundance of harvest while "sayaw" means dance. The festival is celebrated with street dancing and field presentation focusing on planting, harvesting and thanksgiving. Activities also include senior citizen day, novena mass and agi fair. The festival will culminate on October 4, 2018
October 3-4:
4) Dilaab Festival (Siquijor, Siquijor)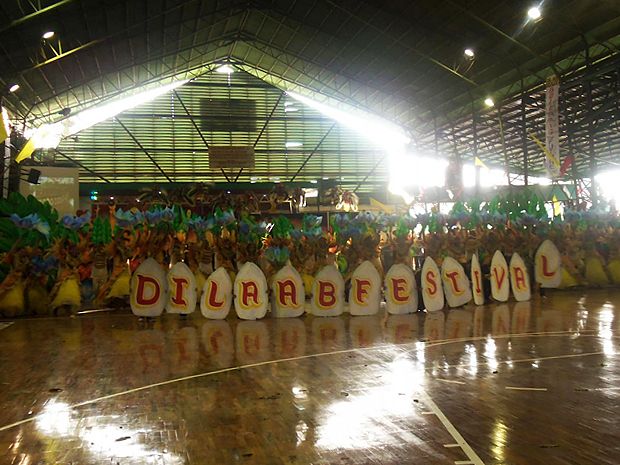 "Dilaab" refers to the known distinct hospitality of the people of Siquijor. It also refers to the island's nickname, "Isla de Fuego," because of the swarm of fireflies that the nestles at night.
The Dilaab Festival is celebrated annually with different kinds of activities and shows in honor of St. Francis of Assisi, the town's patron saint and a famous lover of nature. It is a thanksgiving celebration of Siquijor's natural resources.
To know more about the festival, contact the Mayor's Office of Siquijor at (035) 344-2074.