Adventures and Sports
Dozens of Surfer Girls at Baler's All-Female Surfing Cup!
Baler, Aurora
A pioneering all-female surfing competition, the Philippine Wahine Classic is now on its 2nd year and will take place this October 4-5, 2014 at the Aliya Surf Resort.
The usual visitor to Baler will get to witness emerging and veteran women surfers ("wahines") perform awesome tricks on Baler's world-famous waves.
There will also be free surfing lessons, so you can opt to get your own muscles going in addition to enjoying the sights (of the contest & of the beach).
For female surfers intent on proving their worth, you can log on to the Philippine Wahine Classic website to register. Divisions include 'Open Wahine Longboard,' 'Open Wahine Shortboard,' 'Malihini (Novice) Longboard,' and 'Malihini (Novice) Shortboard.' Entry fees are at PhP 200/division for Filipinas and US$ 30/division for foreigners.
The Philippine Wahine Classic is the brainchild of Southern California-based professional surf coach Carla Rowland, founder of The Surf Institute (a prestigious surf school in Southern California).
Aliya Surf Camp (Photo credit: Michael Eihjansantos, via mylifeonboard.net *)
In an interview by The Inspire Initiative, a site that seeks to recognize and support those individuals and projects that are making a difference in the world around them, Carla Rowland shares why she shares such a kinship with Filipina surfers.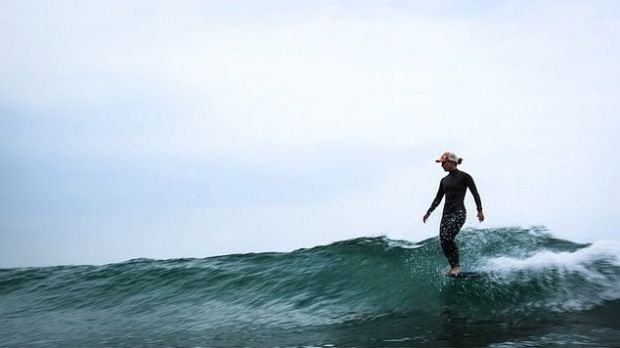 Carla Rowland (Photo credit: Adam Reynolds, via theinspireinitiative.org *)
The Inspire Initiative (June 18, 2014): What inspired you to break out of the Malibu/Southern California bubble, travel to the Philippines and establish such an intimate kinship with the local people there? Can you tell us about the work you have done in the Philippines?
"First of all, anyone interested in expanding their perspective and being more in tune with the environment must travel outside of their pinpoint on the map!"
1st Philippine Wahine Classic, Oct 5-6, 2013 (Photo credit: philippinewahineclassic.com *)
"My fiancé, Ian Zamora, was born and spent most of his childhood in the Philippines. Feeling a dire need to get away from the drama bubble that Malibu sucks you into, we decided to make a trip in 2011 to see what we could find."
"What started as a 2-week excursion became 4 weeks and what we thought would be your ordinary surf trip turned into a total of 11 months of making the archipelago our home over a 2-year timeframe. After that first trip, we committed to two separate 5-month stints where we did a number of things."
(Photo credit: philippinewahineclassic.com *)
"Filipinos are newborns in relation to their surf history and experience, which gave me the opportunity to share my love and knowledge with many. I also organized and ran the first all-women's surf contest for all abilities."
"Above and beyond that, Ian and I actively participated with Waves For Water and delivered filters to many of the different villages we visited throughout our stays. Incredibly, during our second stint, while feeling a bit idle and useless, Super Typhoon Yolanda hit the central part of the country with a vengeance and devastated much of the Visayan region."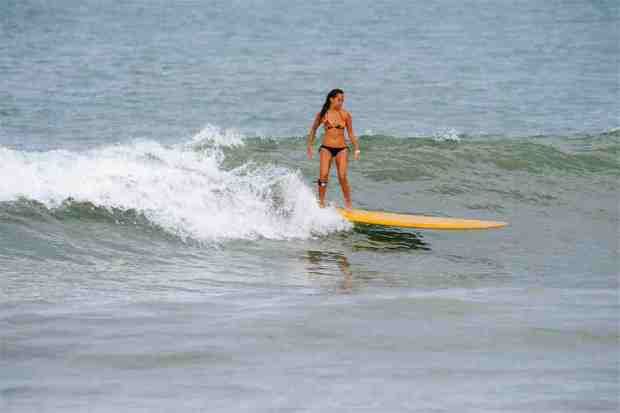 (Photo credit: philippinewahineclassic.com *)
"Out of harm's way ourselves and sitting with 100 filters on hand, Ian and I immediately began making arrangements to distribute these filters to areas in need. It was an incredibly humbling experience to see how quickly life can change and be taken away, but equally heartwarming to see how resilient the Filipino people are."
"Even with so little for themselves, Filipinos are extremely hospitable and won't hesitate to offer you whatever they have."
(Photo credit: philippinewahineclassic.com *)
With last year's success, the 2nd Annual Philippine Wahine Classic will surely be another empowering and inspiring event.
Check out the highlights of the Philippine Wahine Classic 2013 from My Life on Board, courtesy of Ezra Efondo †:
Where on Earth is Sabang Beach?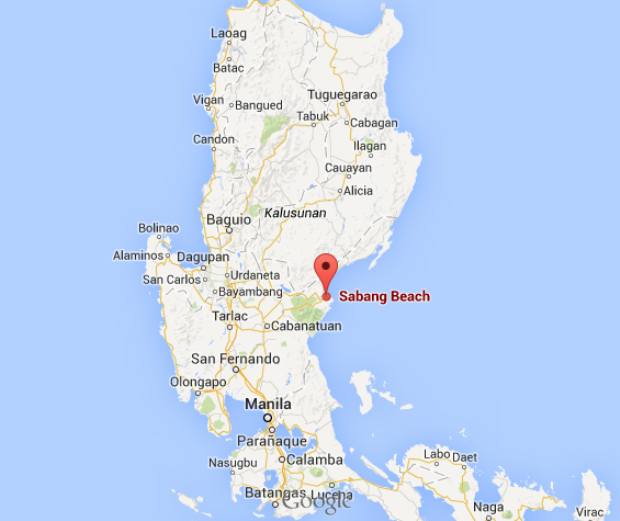 (Courtesy of Google Maps.)
How to Get There
Baler, Aurora is a 5 to 7-hour bus ride from Manila, with the travel time depending on which bus you'll take from Cubao, Quezon City.
Option 1: Joybus Deluxe Bus (Genesis) - has no stops, 5 hours
Option 2: Regular Genesis A/C Bus - 7 hours
Option 3: Genesis or ES Transport bus to Cabanatuan City then transfer to Aurora Bus Line at the Cabanatuan terminal.
More on Baler
More on Surfing
Be a Pinoy Wanderer!
Choose Philippines encourages writers, photographers, travelers, bloggers, videographers and everyone with a heart for the Philippines to share their discoveries and travel stories.
Share Your Journey
Other Stories by Christa De La Cruz