Adventures and Sports
Guiuan: How a Town Destroyed by a Supertyphoon Can Rebuild With Surfing
, Samar
---
Almost a year ago, on November 8, 2013, Supertyphoon Yolanda, with international name "Haiyan," laid waste to swathes of the Philippines. It was one of the strongest tropical cyclones ever recorded claimed thousands of Filipino lives.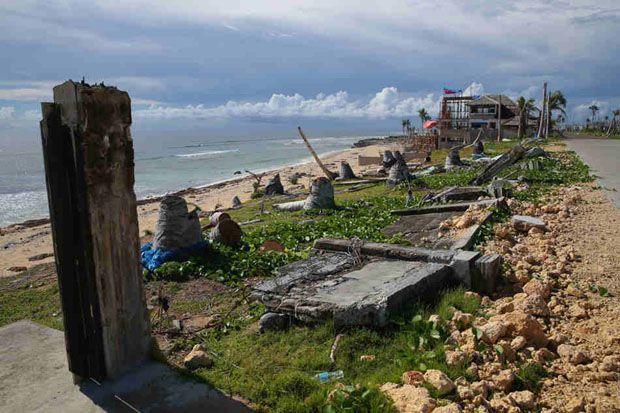 Guiuan in ruins; photo c/o ABS-CBNnews.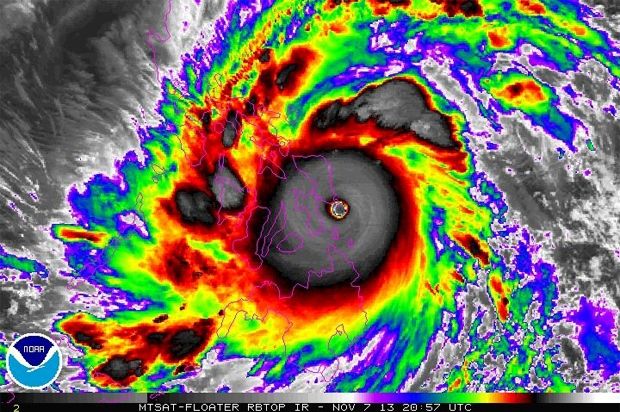 Super Typhoon Yolanda (Haiyan) off the Southeast Guiuan coast, 20:57Z, November 7, 2013; photo from www.ospo.noaa.gov
Guiuan (pronounced "Giwan") was the first town to face the fury of Yolanda when it made landfall on a Friday morning. It destroyed buildings, lifted vehicles off the ground, and basically ripped the town apart.
But that didn't stop the people of Guiuan from going on with their lives. Rebuilding is still ongoing with the help of the government, non-government organizations, businesses, and individuals who have sent and keep on sending donations of water, food, clothes, etc.
You, too, can help! How? Despite the enormous damage the town suffered, it still welcomes guests -- especially those who love to surf (or those who want to surf). Because of its location as a recipient of the Pacific Ocean's waves, Guiuan is hailed as the region's surfing capital.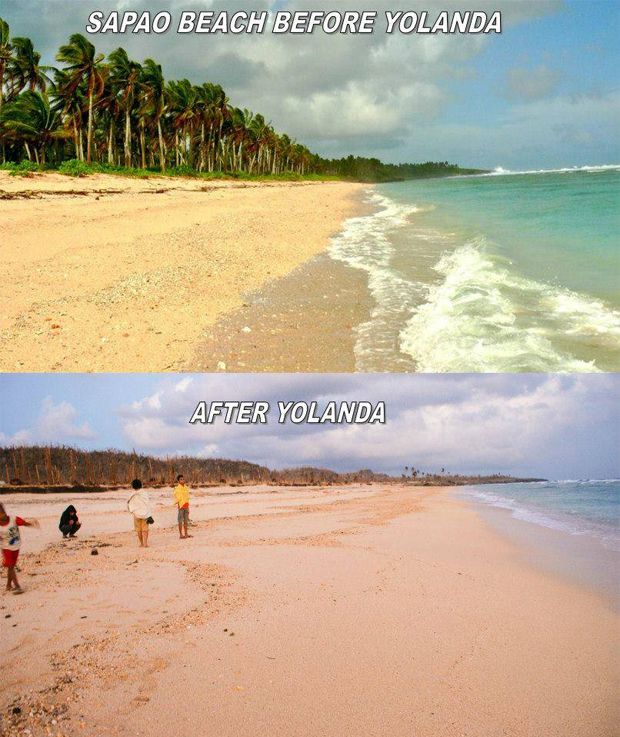 Sapao Beach in Guiuan before and after typhoon Yolanda; photo from Calicoan Island FB Page
Guiuan is a coastal town abundant with white sand beaches that are ideal for surfing. The town is accessible by land from Tacloban City after 2-3 hours of travel.
A surfer trying out the waves of Guiuan; photo from Guiuan, Eastern Samar FB Page
One of the popular surfing spots in Guiuan, Eastern Samar is Calicoan Island. With its clear waters and tall waves, today it is frequented by surfers from Baler and Siargao, even if the structures around it were leveled and washed out by the supertyphoon.
Calicoan Island is known as the "Surfer's Paradise." It's where the surf camps and resorts are located. Some say that the waves have changed, since the badly damaged corals have altered the formation of the waves.
Calicoan is ideal for all surfers. It's best to surf at mid to high tide, with the waves starting at 1m-1.5m (3ft-5ft) and up to 2.5m+ (8ft+).
photo from My Life on Board FB page
photo from My Life on Board FB page
As part of their rebuilding process, Guiuan is still set to host its annual national surfing competition in October. Surfers from Camarines, Daet, Surigao, and Pagudpud, among others, are expected to come and compete.
The surfing competition will also resurrect opportunities for local and small businesses to promote and sell their goods to a bigger market.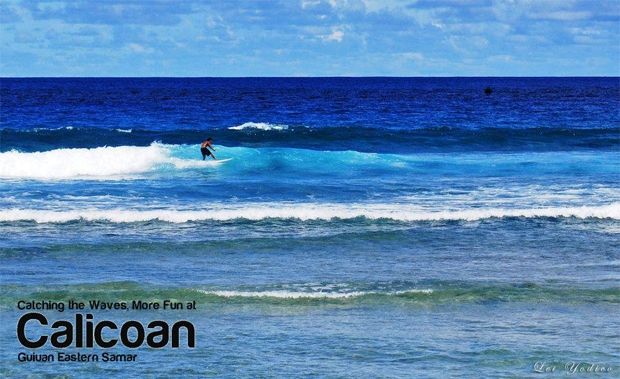 Catching the Waves in Calicoan; photo from Calicoan Island FB Page
Let's help bring the town of Guiuan back to its former glory, one surf at a time. Winds & waves destroyed Guiuan; now, wind & waves will help rebuild it.
How to Get to Guiuan
From Manila, you can easily fly to "The Gateway to Eastern Visayas," Tacloban, as all major airlines service the city. (Estimated cost: Php 2,700++, round trip, 1 hour and 15 minutes).
Guiuan is accessible by land with highway connection from Tacloban. Buses and vans regularly shuttle passengers to Guiuan (2-3 hours travel). Several bus companies have daily trips to Guiuan from Manila (approximately 21 hours travel time).
Be a Pinoy Wanderer!
Choose Philippines encourages writers, photographers, travelers, bloggers, videographers and everyone with a heart for the Philippines to share their discoveries and travel stories.
Share Your Journey
Other Stories by Belle Piccio