Adventures and Sports
How Hollywood Discovered This Philippine Surfing Haven: Baler, Aurora
Baler, Aurora
Apocalypse Now (Francis Ford, Coppola, 1979) | Photo credit: Lokal Soul *
Charlie, don't surf!
Movie buffs may recall this line from the movie "Apocalypse Now" (1979) by Francis Ford Coppola. Charlie is a slang term for the Viet Cong, the enemies of the American soldiers in this Vietnam War movie. Spoken by the character Colonel Kilgore, he persuades his troops to surf the waves of Mekong Delta in Vietnam amidst bombs dropping as they take the territory of their enemy.
"One of the most poignant things of the film is how many California surfers went to Vietnam, and how many didn't come back. One of the reasons I put surfing in 'Apocalypse Now' was because I always thought Vietnam was a California war," shares screenplay writer John Milius in an interview story by CNN in 2009.
Photo credit: Getty Images, via BBC *
Apocalypse Now, however, wasn't filmed in Mekong Delta nor in Vietnam. A large portion of this war-cum-surf movie was shot in the Philippines' very own Baler, Aurora.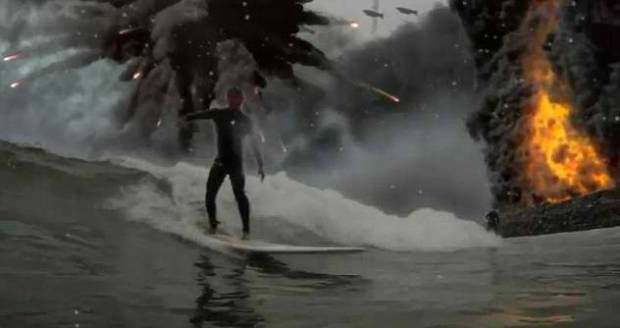 Photo credit: Retire Asia Magazine *
After nine months of filming in the tropical paradise, surfboards were left on the shore, as if waiting for a local to bring it back to the water. Soon after, even groms (short for grommet or young surfer) were riding the waves like pros, ripping (rip: a surfer who rips is one who is seriously skilled) on a daily basis. Thus, surfing in Baler was born.
With Baler's long coastline, a number of surfing spots in the area are available for all types of surfers, from the beginning to the seasoned.
1) Sabang Beach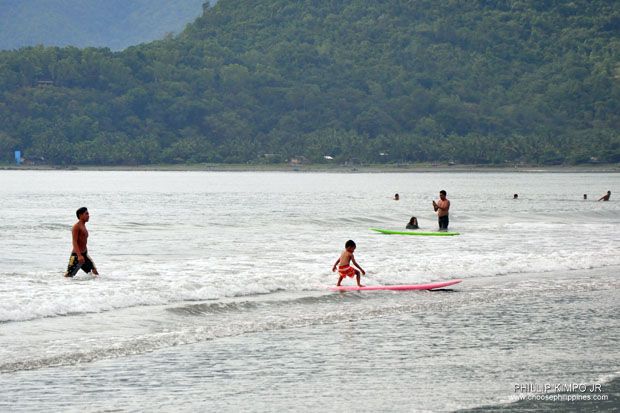 If this kid can do it, you can.
Getting wiped out seems a little less scary when you have that illusion of soft sand catching your fall once you tumble off your surfboard. Sabang Beach gives just that.
This long stretch of gray sand is a favorite among beginners because of its beach break (waves breaking on a sand bottom beach). A number of surfing schools and surf shacks line the coast. Board rental with instructor costs PhP 350/hour while board rental only is PhP 200/hour.
Surfing newbies learn to master the waves.
During the peak surfing months (October to February), more than five feet-sized waves roll in much to the delight of wave riders. Sometimes, even reaching to up to 11 feet! During off-peak months (March to June), the calmer waters can be enjoyed by swimmers and, if you're lucky, small waves perfect for first-timers.
Sabang's the perfect spot to learn how to surf, or to get a photo-op with a board.
The author taking a well-earned break in Sabang Beach from all the surfing.
Sabang's wave break both in the left and right direction, making it a good spot to play around for both the goofy- (a person who places their right leg forward while surfing) and regular-footed (a surfer who places their left leg forward while surfing).
VIEW: Dozens of surfer girls at an all-female surfing cup at Sabang Beach.
Hundreds of beginning surfers are lined up, waiting to catch the waves, along Sabang Beach!
Sabang Beach is five minutes away by tricycle from town proper. It is located at Barangay Sabang, thus the name.
2) Charlie's Point
Photo credit: Margie Babon, via hyperkreeytiv *
The exact location of Apocalypse Now is named after the famous line of the film. Remember "Charlie don't surf"?
It also has both right-hand and left-hand breaks (right-hand: a wave that breaks from left to right, surfer turns right to catch the wave) but with medium-sized waves. If Sabang gets too packed with student surfers, Charlie's Point is the next best place to go since it's also a beach break.
Who can resist surfing during such sunrise? | Photo credit: Margie Babon, via hyperkreeytiv *
Found at the mouth of Aguang River, Charlie's Point is an half hour walk from Sabang Beach and a few minutes' tricycle ride from town proper.
Where the river meets the sea | Photo credit: Margie Babon, via hyperkreeytiv *
3) Lindy's Point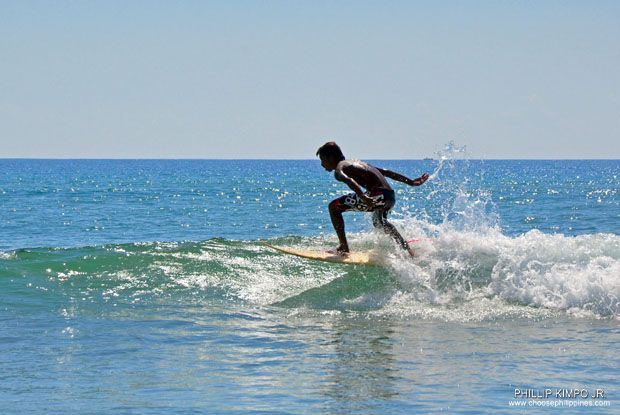 One can say that Lindy's Point is an accidental surf spot as it was only discovered (or created) when the local government opened the mouth of Baler Bay to prevent floods in the town.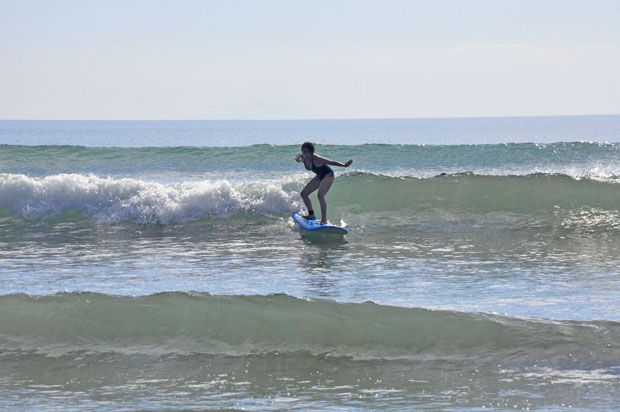 Ina was able to conquer the waves without an instructor in just her 2nd surfing session. Photo by Teta Jovellanos.
Instructors sometimes bring their trainees to Lindy's Point if Sabang Beach is too flat (no waves) even for beginners. This was our own experience.
During surfing season, sharp break waves roll in because of the movement of the waters from both the town river and the Pacific Ocean.
Lindy's is located north of Sabang Beach via a short triycle ride.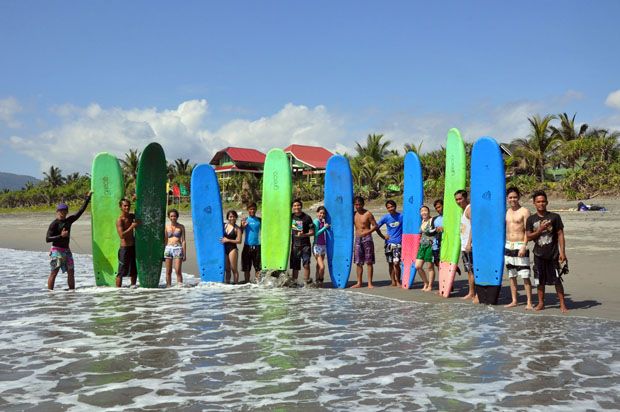 Our group of beginning surfers with our instructors at Lindy's Point.
4) Cobra Reef, Cemento Beach
Photo credit: summeronrepeat.wordpress.com *
In Baler, Cemento Beach is the spot for advanced surfers. It has the largest, cleanest, and best quality waves arriving into a long stretch of cream-colored sand and crushed corals. Non-surfers can also enjoy the colorful view under the sea through snorkeling and wall diving.
Photo credit: PAIAD Office Provincial Government of Aurora *
It's famous for the Cobra Reef where waves on a regular day are already five to six feet high. What more during high season?
Well, multiply those digits by two and you'll never leave this right-hand reef break (waves breaking on a coral reef or rock seabed) if you're a professional surfer. In the event of a wipeout (falling off the board) , sharp corals and rocks await at the bottom, so try not to fall!
Photo credit: PAIAD Office Provincial Government of Aurora *
Located in Barangay Zabali, Cemento Beach can be reached by a 10-minute motorized banca ride from the river outlet south of Sabang Beach. To get to the reef, one must walk through the mangrove reforestation area.
Where on Earth is Baler?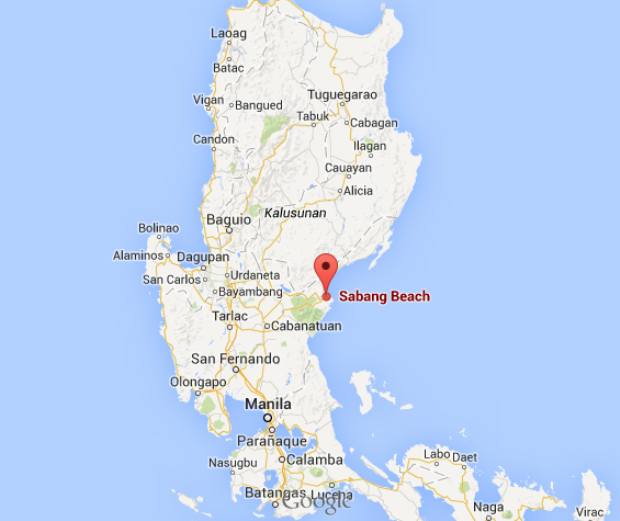 (Courtesy of Google Maps.)
How to Get There
Baler, Aurora is a 5 to 7-hour bus ride from Manila, with the travel time depending on which bus you'll take from Cubao, Quezon City.
Option 1: Joybus Deluxe Bus (Genesis) - has no stops, 5 hours
Option 2: Regular Genesis A/C Bus - 7 hours
Option 3: Genesis or ES Transport bus to Cabanatuan City then transfer to Aurora Bus Line at the Cabanatuan terminal.
---
More on Baler
---
Other Surfing Destinations in the Philippines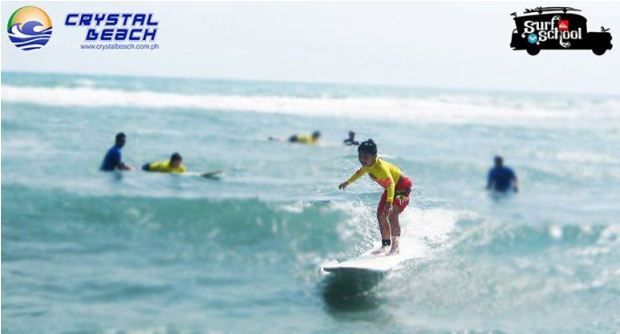 Photo credit: Guiuan, Eastern Samar FB Page
Photo credit: Eastern Samar Surfing
Be a Pinoy Wanderer!
Choose Philippines encourages writers, photographers, travelers, bloggers, videographers and everyone with a heart for the Philippines to share their discoveries and travel stories.
Share Your Journey
Other Stories by Christa De La Cruz