Adventures and Sports
Philippine Waters on the Big Screen: 3 Surf Films of 2015
Baler
With more than 7,000 islands surrounded by the Pacific Ocean and the West Philippine Sea on the sides, one can only expect that the Philippines has a humber of reef breaks and beach breaks perfect for surfing in its every nook and cranny. It boasts of world-class waves and beginner-friendly peelers on various breaks such as in Real (Quezon), Baler (Aurora), Bagasbas (Camarines Norte), Puraran (Catanduanes), San Juan (La Union), Pagudpud (Ilocos Norte), San Antonio & San Felipe (Zambales), Siargao (Surigao Del Norte), and a lot more. Each of these places, of course, has other must-see spots and must-try restaurants that both surfers and non-surfers can enjoy.
This year, three films featured our archipelago's most beautiful surfing spots and our finest talents. Here's a rundown:
1) Archipelago (Mark Mabanag, February 2015)
Dubbed as the first-ever Pinoy surfing documentary, Archipelago was shot in a span of three years and delves into the heart of surfing, as witnessed in eight different locations including La Union, Baler, and Siargao. It features some of the Philippines' finest talents as they showcase their art, passion, and athleticism in the water.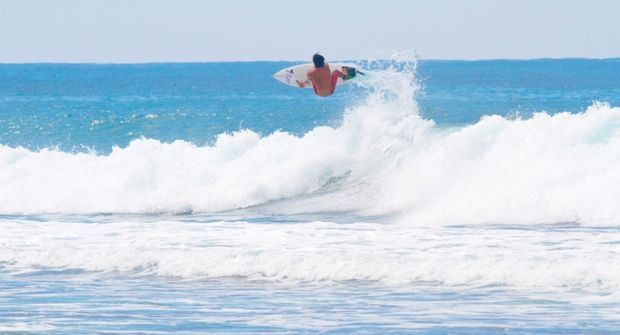 "I believe that now is the right time to do something like this, as the local surf scene continues to bloom. And this film gives tribute to the sport that changed my life and allowed me to meet new friends and discover beautiful places around our country," revealed Director Mark Mabanag in an exclusive interview late last year with Choose Philippines.
Archipelago premiered last January 21 at a local resto-bar in Makati City. DVD orders are available through [email protected]
READ MORE: The Man Behind the Historic, 1st-Ever Pinoy Surfing Film
2) Flotsam (Jay Abello, November 2015)
La Union, a name which indicates the union of towns from different provinces, has had an enduring history since it was founded by the Spaniards. Now, tourists have been allured by its beaches that resorts have mushroomed along the coast of what has been dubbed as the "Surfing capital of the North." Locals and frequent surfers in La Union fondly call their homebreak "eLyU," a play on its acronym and sound. The most popular spot is located eight kilometers of San Fernando, which is Urbiztondo Beach in San Juan.
Elyu is the setting of "Flotsam," a movie directed by Ilonggo filmmaker Jay Abello. It is not only a surf film or a film on surfing, but rather an anthology of eight love stories staying, coming, or going to the surf town and the quaint artist beach hostel called Flotsam and Jetsam. For the ultimate elyu feel, the director collaborated with the surfers, musicians, and locals who breath the true Urbitz air.
Flotsam premiered in October and was shown in commercial theaters in November. Its cast includes Solenn Heussaff, Rocco Nacino, Carla Humphries, La Union Surf Icon Lemon Surfstar D Dines, Julia Quisumbing, Jeff Ortega, Franco Mendoza Daza, JK Austria, Mara Lopez, Zack Varkaris, Gerard Sison, Adrian Cabido, and Barbara Miguel.
READ MORE: The Land of History and Adventure: 7 Must-See Places in La Union
3) Apocalypse Child (Mario Cornejo, October 2015)
Movie buffs may recall the line "Charlie, don't surf!" from the movie "Apocalypse Now" (1979) by Francis Ford Coppola. Charlie is a slang term for the Viet Cong, the enemies of the American soldiers in this Vietnam War movie. Spoken by the character Colonel Kilgore, he persuades his troops to surf the waves of Mekong Delta in Vietnam amidst bombs dropping as they take the territory of their enemy.
Apocalypse Now, however, wasn't filmed in Mekong Delta nor in Vietnam. A large portion of this war-cum-surf movie was shot in the Philippines' very own Baler, Aurora.
This is the context that "Apocalypse Child" works on. In the work of fiction set in the surf town of Baler, surfing instructor Ford was told all his life that he is the son of Hollywood director Francis Ford Coppola. His mother even petitions the director to acknowledge his son. As another surfing season ends, he is forced to confront the myths surrounding his life.
Apocalypse Child won Best Film during the Quezon City International Film Festival. It also received awards for Best Director, Best Supporting Actress, and Best Artistic Achievement for Editing. It is topbilled by Sid Lucero, Gwen Zamora, RK Bagatsing, Annicka Dolonius, Ana Abad Santos, and Archie Alemania.
READ MORE: Where to Go on #TakawDates in Baler: Surf and Satisfy Your Tummy
Have these films convinced you to go on a joyride to our country's best surf spots? Pack your bags and enjoy the holiday season!
Be a Pinoy Wanderer!
Choose Philippines encourages writers, photographers, travelers, bloggers, videographers and everyone with a heart for the Philippines to share their discoveries and travel stories.
Share Your Journey
Other Stories by Choose Philippines