Adventures and Sports
A Quickie Up the Chilly Mountains: Escape to Baguio City
Baguio
For those who want to have a quick escape from the hustle and bustle of the city over the weekend, the city of Baguio is always one of the best options. The glorious view atop of mountains is worth the 6-7 hours bus ride. Here's an itinerary of how you can make the most out of your two-day break and be back in Manila before the work week begins.
You can take the last bus trip that usually departs at midnight. With long hours of travel time, rest assured that you'll be able to take some good rest and energize. Sleep the night away and wake up just in time for the beautiful sunrise of the City of Pines.
Pro-tip: Secure a ticket going back to Manila once you arrive at the bus terminal.
Baguio may not be the place where you can try extreme activities but it doesn't stop one from being adventurous, most espeicially for the foodies. The chilly weather is perfect for long walks and, of couse, a lot of eating.
Start your long day by having a hearty breakfast at Cafe by the Ruins found in Shuntug Road. The restaurant is a popular choice among visitors and, even though their selection is a bit pricey, it's worth every penny because of their generous serving. Their egg omelet with carabao milk and Parmesan cheese is definitely a must-try!
After having a satisfying meal, you can first check into your hotel, wash-up, and take a siesta. When exploring the city, you can be as spontaneous as you can.
Walking along the streets of Baguio is already an experience in itself. Since some establishments are in the same area, you can hop to different city spots on foot. It will also save time and energy.
Casa Vallejo compound in Session Road is your one-stop shop for all things cool and delicious. It also houses a hotel which is considered as the oldest in the city.
Found within the vicinity and right beside Casa Vallejo is Mt. Cloud Bookshop where you can find books, collectibles, and various artworks.
The bookshop is truly a haven for book lovers. Simply sit on any bean bag and read books that are not usually found in commercial book stores. The store also practices honesty as visitors can freely roam around the store without being monitored by the staff.
You'd surely love the interior of the store. Keep you eyes wide open as you might miss out some cool finds and handcrafted items that you can only buy in Mt. Cloud.
There are also artworks of some artists in Baguio that are on display. Another popular item in the bookshop is their collection of cards with clever and funny quotes.
Who said that sky is the limit? It's not the case in this bookshop!
Right beside Mt. Cloud bookshop is Baguio's Cinematheque. The small theater screens independent films as support to local filmmakers. If you're lucky enough, you can have the entire movie house by yourself!
If you're craving something sweet and mouthwatering, Hill Station has the best offerings. The restaurant is part of Cafe Vallejo hotel and it has a wide range of desserts.
Their Chocolate Lemon Tart is a must-eat. The citrus from the lemon complements the chocolate syrup, giving it just enough sweetness, and to give you complete indulgence, the dessert is topped with only the best strawberries harvested in the city.
Pro-tip: Eat the tart pie while still hot to taste the flavors that melt in your mouth.
Their desserts are best partnered with their regular cup of hot coffee or tea. The quiet ambiance of the place makes it perfect for you to enjoy your coffee and finish a book.
Now it's time to stretch out some muscles and simply enjoy the weather at the Botanical Garden along Leonard Wood Road. It is one of the many parks in the city, a perfect place to take that snapshot of you in the middle of giant pine trees.
The fun never ends as it gets even more exciting after dark. For dinner, if you're a cultural explorer and a food lover at the same time, Oh My Gulay is the place to be.
Nesteled on top of La Azotea building, Session Road, the restaurant will give you a different dining experience.
While waiting for your food to be served, you can enjoy the view of the breathtaking city lights or jam with the live band playing traditional musical instruments.
There are different elevations inside the restaurant and each elevation has something to offer you. Take for example, one elevation faces the veranda where you can have an amazing view of the city lights, while the the topmost part of the restaurant will lead you to an art space.
Oh My Gulay, from its name, only serves dishes cooked using greens and veggies. Non-vegetarians can still enjoy their dishes as much as they enjoy eating meat.
It's recommened that you try their Oh My Gulay Rice—native brown rice seasoned with Mongolian sauce and with tofu and omelet as toppings. The mix of the ingredients and flavors makes it more delectable to eat.
Once you satisy your hungry stomach, you can go for another walk or get cheap items at the Night Market on Session Road. Cap off the night at Kaffeeklatsch located at City Camp Road.
Kafeeklatsch is term used to describe a place where "an informal gathering for coffee and conversation is held", and true enough, it has lived up to its name.
Wake up to another beautiful morning as you prepare to go back to Manila, which also means going back to reality. Leave your worries and unburden youself from things that you dread about. The city of Baguio will always be waiting for those who want a momentary escape from everything.
---
How to Get There
Baguio is a 4 to 7-hour bus ride from Manila, with the travel time depending on the schedule of the trip you'll take from Cubao, Quezon City or Pasay City. It is best to leave around midnight to arrive just in time for the sunrise at Mines View Park.
Option 1: Victory Liner - First Class
has no stops
4-5 hours
10:15am / 12:20pm / 8:15pm / 11:15pm
PhP 750
Option 2: Victory Liner - Regular A/C Bus
has two stops
6-7 hours
leaves every hour, 24 hours
PhP 450
---
Read More of Baguio: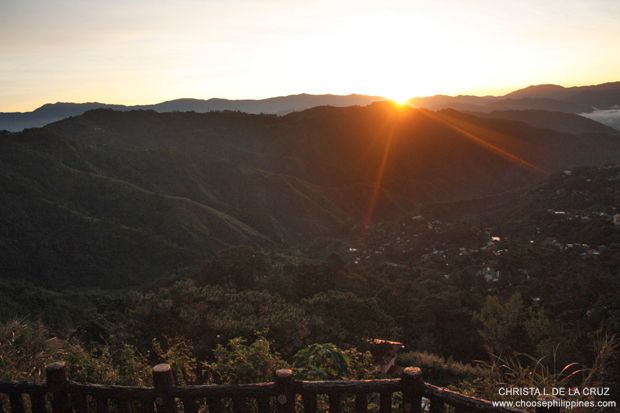 Be a Pinoy Wanderer!
Choose Philippines encourages writers, photographers, travelers, bloggers, videographers and everyone with a heart for the Philippines to share their discoveries and travel stories.
Share Your Journey
Other Stories by Choose Philippines