Events And Nightlife
WHAT NOT TO MISS: Manila's Biggest Arts Festival is Back in Town
Metro Manila,
In February of 2015, the first installment of Fringe Manila—a three-week arts festival—celebrated the talent, culture, and heritage of the Filipinos. This year, the international arts festival movement comes back to the Philippines through a hodgepodge of activities all over the Philippines' capital.
Venues across the city, some conventional and some not so conventional, will open their doors to host artists from across Manila, the entire Philippines, and the world. From emerging artists to established companies to community groups, from theater to dance to visual art, from the mammoth Cultural Center of the Philippines to a coffee shop to a car park, audiences will be encouraged to explore and engage with the diversity of artistic practices in Manila and, along the way, discover venues and spaces that they may pass by every day, but never normally venture inside.
Open access and non-curated, Fringe Manila is a member of the global World Fringe Network, a collection of independent Fringe festivals that link cities throughout the world.
The Birth of Fringe
The first Fringe Festival in the world was held in Edinburgh—way back in 1947! It was a reaction to the elitist Edinburgh International Festival, a curated festival that had a limited artistic focus and favored international work over local artists.
In defiance, eight Scottish companies banded together and staged their work anyway, rejecting the curatorial elitism of the Edinburgh International Festival and its directorship that chose what audiences should and should not see. They sat on the festival's 'outskirts' and the concept of the 'fringe' was born.
Since then, Fringe Festivals have popped up in over 200 locations throughout the world, in cities as vibrant and unique as Macau, New York, Toronto, Taipei, Melbourne, Amsterdam, Singapore, and Prague. Their missions are as varied as the countries in which the festivals occur.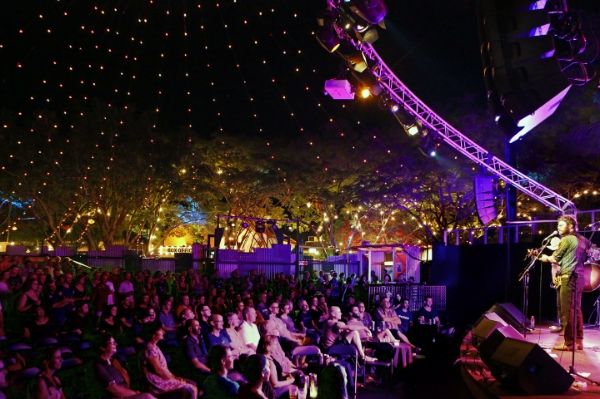 All these festivals, however, share an international reputation for showcasing contemporary cultural practices across diverse genres including theater, dance, visual arts, music, comedy, literature, cabaret, circus and performance art—to name a few.
Fringe Manila is the youngest Fringe to add its voice to the growing movement of cities who want to shine a light on the artistic diversity of their people and their culture.
The Beginnings of Fringe Manila
In 2012, Andrei Nikolai Pamintuan was seduced by the Fringe concept after his first experience working for the New York International Fringe Festival. His role as venue director introduced him to the concept of an event where an entire community comes together to support emerging work and encourage artists, including those who do not necessarily fit the 'conventional' forms of art, to be unafraid to showcase their work. The Fringe's thrust of art being accessible to a broader audience attracted Andrei to exploring its feasibility in Manila.
Enter Ina Abuan. Ina has been a longtime supporter and advocate of cultural awareness through education. A childhood friend of Andrei, it took little convincing for her to see the possibilities that Fringe could foster in showcasing the diverse work of Manila's artistic community, and in encouraging the cross-pollination of ideas and concepts between disciplines and art forms. She also saw its potential as a novel platform to engage universities and colleges, and to introduce new audiences and practitioners into the diverse arts that the archipelago produces.
Having lived in Madrid, Brett McCallum was fascinated with Spain's colonial ties to the Philippines, and a visit to Cebu and the beaches of Bantayan Island in 2012 sparked his interest in learning more about the country. When he heard of a brand-new Fringe being conceived in Manila, it was destiny. Brett had previously worked for two of the world's oldest and largest Fringe festivals (Edinburgh in Scotland and Adelaide in Australia). He was enticed by the opportunity to help create the world's youngest.
And so Fringe Manila was born!
The Return of FringeMNL
Now on its second year, Fringe Manila will once again celebrate the artistic diversity of Manila and the Philippines from February 10 to 28, 2016. Events will be held at the CCP and Power Mac Center in Pasay, Pineapple Lab and Staple and Perk in Makati, and a lot of other wonderful spaces in the vibrant tourist hub of the country.
This Saturday, February 13, FringeMNL along with Metro Manila Pride will be hosting "QUEERCEPTION: A Multi-Arts Festival Within a Multi-Arts Festival." It's one part a festive, uncensored, non-curated, and immersive safe space for LGBTQIA artists and allies to share their art. It's one part a fundraising event for the 2016 Metro Manila Pride campaign. All in all an inspiring one-night pop-up festival of stories, art, and queerness that you wouldn't dream of missing.
For updates and list of events you may want to check out, follow FringeMNL on social media.
See you on the other side!
Be a Pinoy Wanderer!
Choose Philippines encourages writers, photographers, travelers, bloggers, videographers and everyone with a heart for the Philippines to share their discoveries and travel stories.
Share Your Journey
Other Stories by Choose Philippines