Events And Nightlife
5 Parks That Are For Free (And Perfect) To Visit During The Holiday Season
Camp John Hay
Camp John Hay
Chocolate Hills
Chocolate Hills
Christmas is a season of giving, and more often than not, we often give too much to the point that we have very little left to ourselves. But of course, one still has to treat oneself to a well-deserved vacation, no matter how short-lived it may be, so we've compiled a short list of free (yes, completely free, not including the food and commuting expenses) destinations you can visit this coming Christmas, or all round the new year!
According to an article we published some time ago, "The Philippines' most famous and historic park belongs to the competitive regional list of eight most rated parks in Asia, according to Agoda.com, one of Asia's leading hotel booking sites. The beautiful park beside Manila Bay is truly a national treasure, and it's free for the public to enjoy!
Paco Park is a recreational garden that used to be a municipal cemetery built by the Dominicans, but is now used a public space used for picnics, strolls, and other relaxing activities. Though it has been around since the time of the Spaniards, but has recently risen in prominence once more when it was featured in the recent Dolce Amore teleserye. Found inside the park is the St. Pancratius Chapel where people get to attend the mass.
The Energy Park or as Tagumeños call it, the E-Park, is a 25-hectare of land where you can rest, relax and do recreational activities. The park, which has a very serene atmosphere, houses some government offices of Tagum City. Touted as a favorite spot among Tagumeños, it's a place where one can relax freely, and perhaps, meet some warm-hearted people in the process.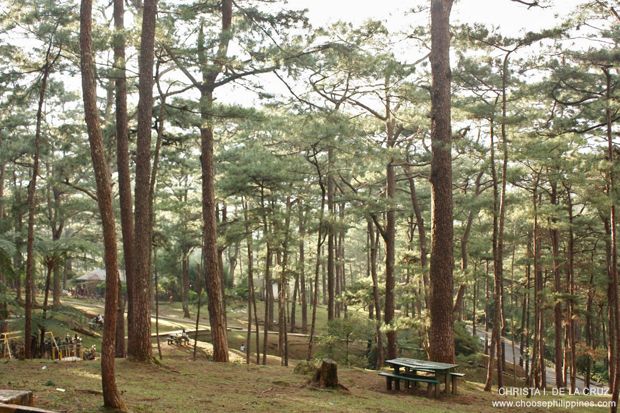 It may not be the easiest--or cheapest--place to visit, however, once you're there, you can easily and freely visit many places you'd never find here in the Metro or in any huge city: from beautiful pine forests, to wonderfully chilly and picturesque views of the mountains, your wallet and soul, and perhaps your significant other, will definitely thank you for it.
Not all beautiful parks and recreational hubs are found in Luzon, though, and some of the most beautiful ones are found as far down south like Cagayan de Oro. The city is a highly urbanized city in Misamis Oriental but tucked in its heart are pockets of greens and old-age churches and, of course, restaurants that offer delectable dishes!
Surely we've missed countless other free destinations, so please do let us know down in the comments!
Do you have other money-saving tips you want to share? Tell us down in the comments, or share them here at www.ChoosePhilippines.com!
Be a Pinoy Wanderer!
Choose Philippines encourages writers, photographers, travelers, bloggers, videographers and everyone with a heart for the Philippines to share their discoveries and travel stories.
Share Your Journey
Other Stories by Choose Philippines