Events And Nightlife
Sikat Pinoy Food Fair 2013
Sikat Pinoy Food Fair
Sikat Pinoy Food Fair
Sikat Pinoy Food Fair
Sikat Pinoy Food Fair
Sikat Pinoy Food Fair
Sikat Pinoy Food Fair
Sikat Pinoy Food Fair
Sikat Pinoy Food Fair
Sikat Pinoy Food Fair
Sikat Pinoy Food Fair
Sikat Pinoy Food Fair
Sikat Pinoy Food Fair
Sikat Pinoy Food Fair
Sikat Pinoy Food Fair
Sikat Pinoy Food Fair
Sikat Pinoy Food Fair
Sikat Pinoy Food Fair
Sikat Pinoy Food Fair
Sikat Pinoy Food Fair
Sikat Pinoy Food Fair
Sikat Pinoy Food Fair
Sikat Pinoy Food Fair
Sikat Pinoy Food Fair
Sikat Pinoy Food Fair
Sikat Pinoy Food Fair
Sikat Pinoy Food Fair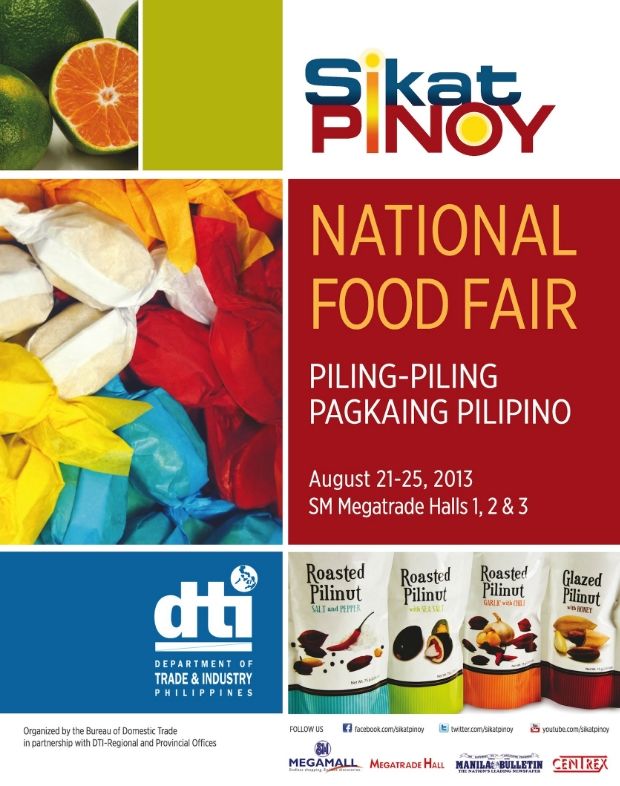 A showcase of regional specialties and delicacies occasionally available in Metro Manila from August 22-25, 2013 at the SM Megatrade Hall, SM Megamall in Mandaluyong.
"While food fairs have become quite a common place to look for home-grown products and best buys especially with the prevalence of weekend markets, the Sikat Pinoy National Food Fair will bring together more than 250 food entrepreneurs from the various regions of the country in one venue," DTI Undersecretary Ponciano C. Manalo, Jr. said.
With the tagline "Piling-piling pagkaing Pilipino", the fair will be held at the SM Megatrade Hall, SM Megamall in Mandaluyong City from 21 to 25 August 2013. The DTI in cooperation with its regional and provincial offices, and the Department of Agriculture (DA) is organizing this fair.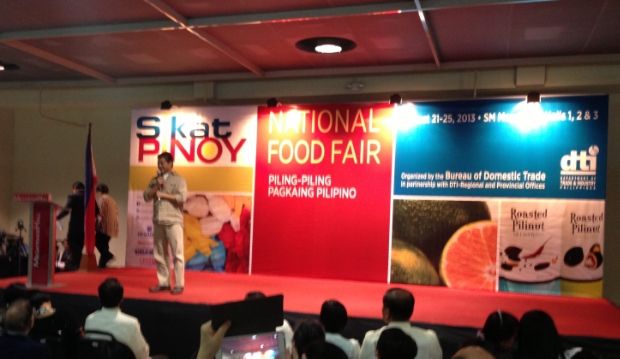 Chef Claude Tayag shares his food experience to the crowd
"Since around half of our micro, small and medium enterprises (MSMEs) are into the food and beverage sector, we are organizing this fair to create more business opportunities for our food entrepreneurs. This way, we focus on a sector with a competitive advantage." Manalo said.
Yema
Some of the products for sale are coffee from Benguet, unoy rice from Kalinga, empanada from Ilocos, longanisa from Vigan, Ivatan yellow rice from Batanes, sans rival from Pampanga, cashew nuts from Palawan, smoked fish from Cavite, suman sa lihiya from Oriental Mindoro, laing and pinangat from Albay, snack food from Iloilo, chicharon from Cebu, moron from Leyte, juices from Zamboanga, processed meat from Misamis Oriental, coco sugar from Davao del Sur, and tablea from Agusan del Sur.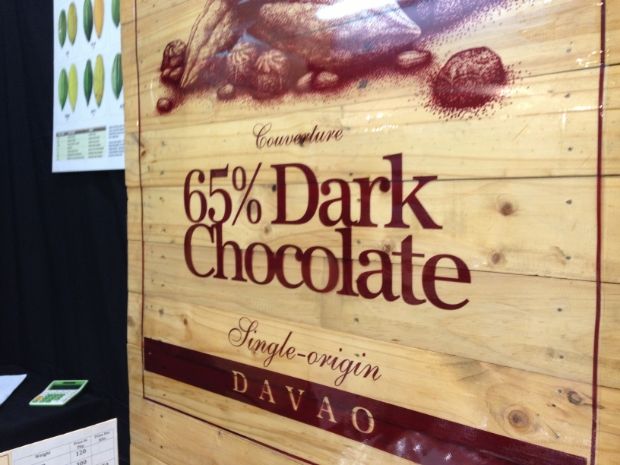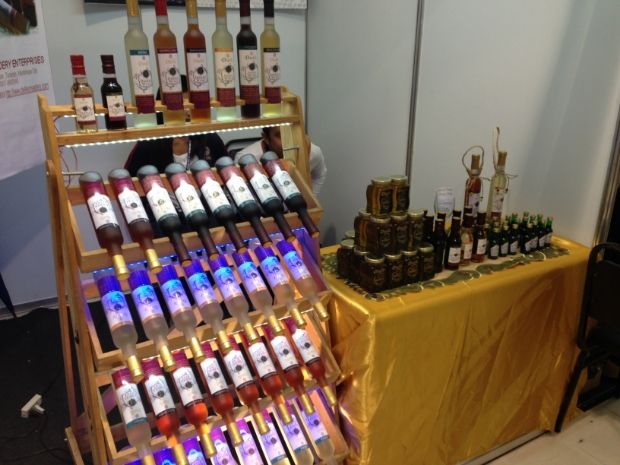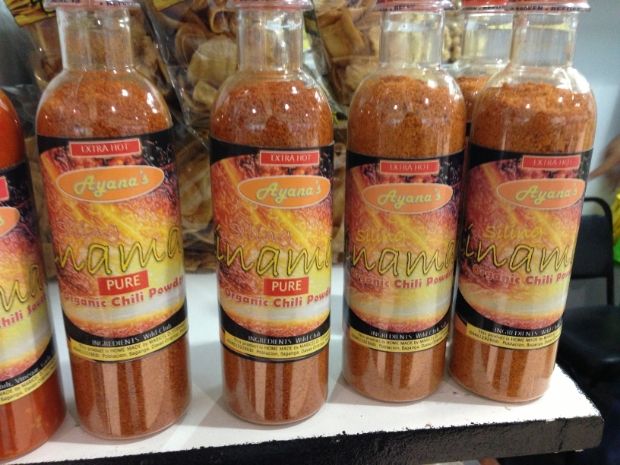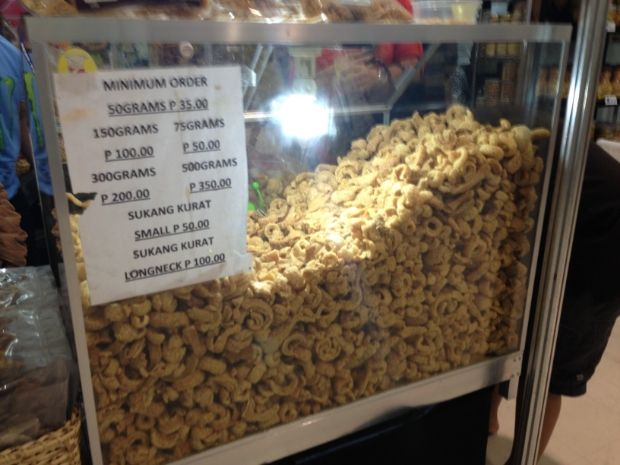 The first day of the fair will be devoted to institutional buyers from hotels, resorts, and restaurants, as well as media outfits.
The succeeding four days will be open to the public. The fair will also hold free cooking demonstrations and training seminars.
Daily events:
August 22, 2013
Cooking Demo: the LJC Restaurant Group and Culinary Institute of Aristocrat
August 23, 2013
Cooking Demo: Ultima Entrepinoy and Pan Pacific
August 24, 2013
Cooking Demo: Technical Education and Skills Development Authority Seminar Topics: Basics of Exporting and Food Handling and Food Additives
August 25, 2013
Cooking Demo: Villa Salud Catering
Seminar Topics: Business Opportunities in Meat Processing and Food Cart Business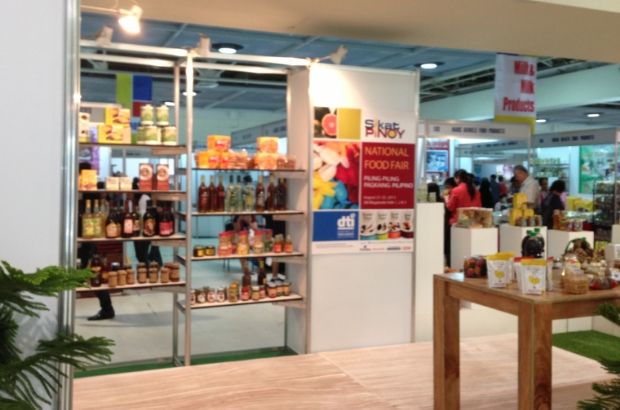 For more information on the fair, you may contact the DTI through the Bureau of Domestic Trade (BDT) at 751.3223, or email at bdt The BDT is at the ground floor of the Trade and Industry Building, 361 Senator Gil Puyat Avenue in Makati City. You may also visit the fair's website at Sikat Pinoy or "like" its Facebook page at Like
Be a Pinoy Wanderer!
Choose Philippines encourages writers, photographers, travelers, bloggers, videographers and everyone with a heart for the Philippines to share their discoveries and travel stories.
Share Your Journey
Other Stories by Choose Philippines