Events And Nightlife
The Hotdog Experience
Six maverick artists interpreting the the playful lyrics of Hotdog's Dennis Garcia on canvas.

Who says women artists mostly look like manangs?
Myra Mendoza-Portillo
Dennis Magdamo puts to good use all the disciplines he acquired from years of working in multinational ad agencies.
Nelson Cruz, an expat Creative Director for years, he now directs TVCs and the yaya's of his grand kids.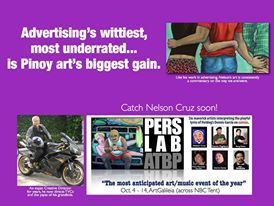 Bong Pedro his day job as an ad agency creative director tones Bong's mental abs.
Fernando Modesto was "on loan" to Indonesia for almost 20 years… But he's back to stay.
The most awaited art/music event of the year. Happening this Oct. 4-14 at Art Galileia (across NBC Tent)
Be a Pinoy Wanderer!
Choose Philippines encourages writers, photographers, travelers, bloggers, videographers and everyone with a heart for the Philippines to share their discoveries and travel stories.
Share Your Journey
Other Stories by Choose Philippines