Festivals
There's No Stopping the Dinagsa Festival 2014
Negros Occidental
Dinagsa Festival 2014 poster
This year, 2014, Cadiz was not supposed to celebrate its Dinagsa Festival because of what typhoon Yolanda did to the city. But still, the barangays and the people of Cadiz wanted it to push through even if there will no longer be prizes at stake for the events and competitions. Cadiznons want to celebrate because despite of the hardships and trials they encountered during and after typhoon Yolanda, they were still able to make it through.
The Dinagsa Festival of Cadiz City started in 1972. Read Dinagsa Festival history HERE
Cadiznons opted not to make the Dinagsa streetdance a competition but to showcase their barangays with its colorful costumes and beautiful smiles. Nine (9) barangays joined the festivities. Each barangay still gave their best performance, even though they're not expecting for prizes. The costumes and props were still well prepared and do not looked cheap.
People danced in the streets when they hear good and upbeat music. Cadiznon knows how to party! That is why more and more people flock Cadiz city every Dinagsa Festival.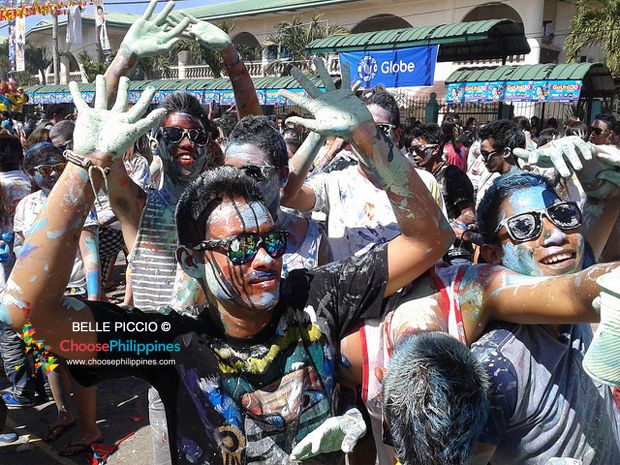 Despite what they went through with typhoon Yolanda, the cheerful spirit of Filipinos is still shining bright!
Viva Sto. Niño de Cadiz!
What to Expect and Do
If you're bringing your own vehicle, expect that it will get dirty. Dirty with black soot or water-based paint.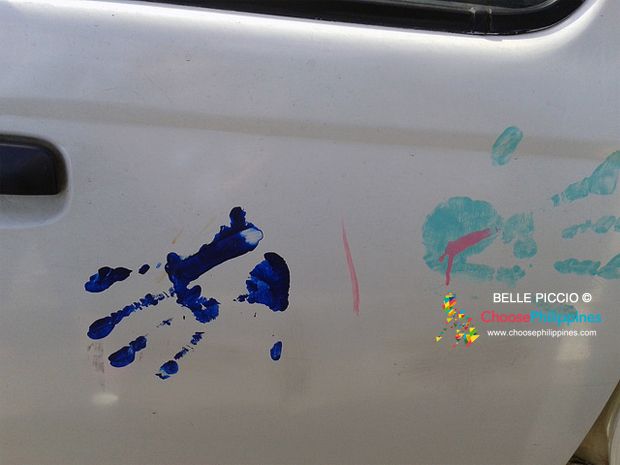 handprints
Bring extra clothes but change only after the festivities are over or you're already outside the range of the activity area. Expect that even your hair, face and any exposed skin will be smothered with paint.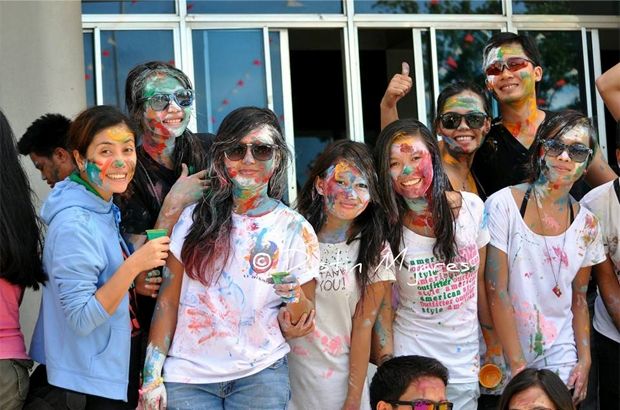 photo by Dustin Mijares
You can bring your own paint (or buy at the street vendor) so that you can join the Lamhitanay festival.
paints in plastic cups sold for Php10 each; photo by Dustin Mijares
Beware of pickpockets! Put your bags, belt bags, cameras, mobile phones and etc. at your front where you can see and check it.
Dinagsa Festival fluvial parade; photo by Dustin Mijares
How to Get There
From Manila, you can fly to Bacolod (Php4400++, round trip, 45-55 minutes). From Bacolod-Silay Airport, you can take a shuttle (Php75-100 per head), or a cab (Php400 minimum) to take you to the North Bus Terminal.
Cadiz City is only an hour drive from Bacolod City by private car. If by bus (one-way, 1 hour 15 minutes), You can ride the Cadiz bus at the Bacolod North Terminal going to Cadiz City or buses plying to the North like San Carlos, Dumaguete and nearby municipalities. Cadiz City is also accessible to Cebu via the cities of San Carlos and Escalante. Passenger bus for Cebu also passed by at the bus terminal on scheduled trips.
Related Stories:
Be a Pinoy Wanderer!
Choose Philippines encourages writers, photographers, travelers, bloggers, videographers and everyone with a heart for the Philippines to share their discoveries and travel stories.
Share Your Journey
Other Stories by Belle Piccio