Festivals
Horror Higantes Invade the Philippines' Arts Capital
Rizal
Photo credit: Dagon Hoyohoy
---
The ancient town of Angono, Rizal Province celebrates the Higantes Festival every 23rd of November. It features the "higantes" or giant effigies made of paper mache that measure four to five feet in diameter and 10 to 12 feet in height.
This year, the people of Angono will give the higantes a different spin through a Halloween Higantes Display to jumpstart the two-month long festival.
Photo credit: ruelo
History has it that the festival started as a way to mock the Spanish hacienderos who restricted the town's frequency in celebrating feasts by instituting only one annual fiesta.
Full of art and color, the townspeople adapted the Mexican piñata and made large caricatures of the landlords. Over 100 higantes now roam the streets of Angono annually.
Photo credit: Dagon Hoyohoy
The feast of Angono's patron, St. Clement, is also celebrated within the festival. Aside from the fluvial parade in honor of St. Clement, the Higantes Festival also features art exhibits, concerts, cosplay competitions, and other contests related to the arts. Angono, after all, is the art capital of the Philippines.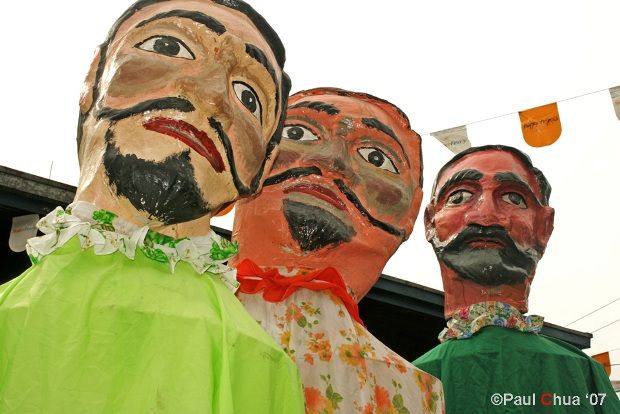 Photo credit: Paul Chua(
Here is the tentative schedule of the Higantes Festival 2014:
Halloween Party and contest
Angono Municipal Compound
Oct. 31, 8 pm
Christmas Tiangge
Angono Municipal Compound
Nov. 1 - Dec. 30
Celebration of the 102nd Birth Anniversary of Carlos "Botong" Francisco
Ayala Foundation and Angono Art Exhibit
Angono Elementary School Gymnasium
Nov. 4 - 24
SM Angono Grand Opening
Parade of 'Higantes'
Parehadora Street Dance Exhibition
Higantitos family painting competition
Nov. 14, 10 am
GSM Concert
Angono Municipal Compound
Nov. 14, 8pm
Sumba Festival
Lakeside Park, Brgy. San Vicente
Nov. 15, 7am
San Miguel Beer Concert Battle of the Bands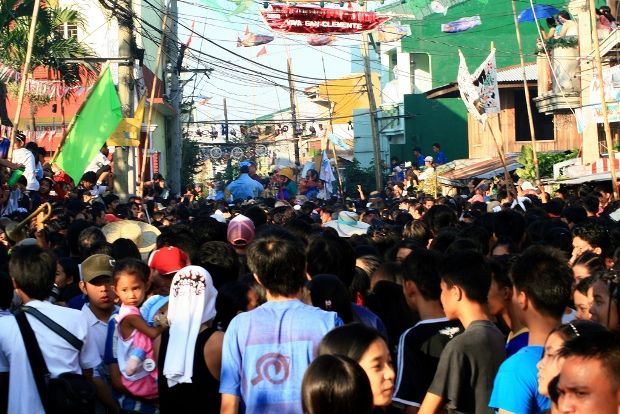 Photo credit: Anthony J
Higantes Festival Grand Parade (Parada ng Bayan)
SM Angono Assembly Area
Nov. 16, 7am
Cosplay Competition
SM Center Angono
Nov 16, 10 am
Parehadora Festival V (Street Dancing)
National Road 11am
Nov. 16
Band Drill exhibition, Drum Battle and Baton Competition
Angono Gymnasium 3pm
Nov. 16
SMART Concert
Angono Municipal Compound
Nov. 16, 7 pm
Higantes On-the-spot painting Contest
Ms. Higantes Festival (Face of the Year 2014)
Angono Municipal Compound
Nov. 18
2GO Videoke Challenge
Angono Municipal Compound
Nov. 21, 6 pm
Photo credit: Dindin Lagdameo
Sky Cable Dance Contest
Angono Municipal Compound
Nov. 21, 8 pm
Itik Cooking Contest
National Road
Nov. 22, 9 am
Bisperas Mayores
Angono Town Fiesta
Kapistahan ni San Clemente
Nov. 23, 7 am
Lantern Parade
Drum and Lyre Competition
Christmas Concert
Angono Municipal Compound
Dec. 21, 8 pm
Rizal Day Celebration
Angono Municipal Compound
Dec. 30, 7 am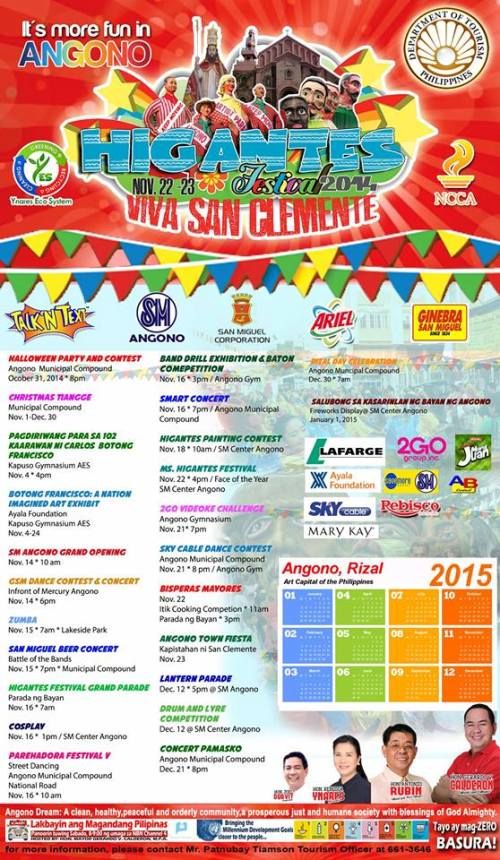 Be a Pinoy Wanderer!
Choose Philippines encourages writers, photographers, travelers, bloggers, videographers and everyone with a heart for the Philippines to share their discoveries and travel stories.
Share Your Journey
Other Stories by Choose Philippines