Festivals
Wear Your Biggest Smile at the MassKara Festival
Negros Occidental
Get the best rates on Booking.com
BOOK NOW
Are you excited for the biggest festival of Bacolod City?
The Silver MassKara Festival Organization, organizing committee of the MassKara Festival, has announced that the festivities is set to open on October 8 and will conclude on October 28, 2018.
The festival events will include the Sadya ang MassKara, National Fireworks Competition, Electric MassKara, Street and Arena dance competitions. The festival venues will be the Lacson Tourism Strip, Bacolod Public Plaza and the Bacolod City Government grounds.
The festival began in 1980 during a period of crisis on the sugar industry and the collision of inter-island vessel M/V Don Juan and M/T Tacloban City. These tragic occurrences lead into the organization of MassKara by Bacolod City's local government, artists and civic groups for making the locals merry despite the difficult period.
A celebration of unity in the midst of diversity, the MassKara Festival is touted as the Negrense version of Brazil's Mardi Gras.
The Masskara Festival—portmanteau of mass (English for "a multitude of people") and cara (Spanish for "face"), as well as a play on maskara (Filipino for "mask")—was born, and it has remained popular with tourists from all over the archipelago.
The festival is the people's testimony that Bacolod City will endure and triumph through the years.
Here the schedule of event highlights for the 2018 MassKara Festival. *Note: Schedule may subject to change without prior notice.
October 8, Monday
October 26, Friday
Electric MassKara Performing Floats Competition
October 27, Saturday
Street Dance and Arena Competitions - School Category

Electric MassKara Performing Floats Competition
October 28, Sunday
Street Dance and Arena Competitions - Barangay Category

Electric MassKara
For the street and arena dance a total of 28 groups, barangay and school categories combined, will join the competitions on October 27(Saturday) and October 28 (Sunday).
In partnership between the Department of Education - Bacolod City Division and Silver MassKara Festival Organization, the 11 participating schools for the streetdance schools category are:
Elementary Level
ABKASA Elementary School

A.L. Jayme Elementary School

Crispino V. Ramos Elementary School

Education and Training Center School II

Montevista Elementary School

Patricia Homes Elementary School

Sum-ag Elementary School
Secondary Level
Bacolod City National High School

Brgy. Singcang-Airport National High School

Mandalagan National High School

Mansilingan Agro National High School
For the streetdance barangay category, the 17 participating barangays are:
Barangay 7

Barangay 8

Barangay 12

Barangay 18

Barangay 26

Barangay 27

Barangay 29

Barangay 38

Barangay 39

Barangay 40

Barangay 41

Barangay Alijis

Barangay Handumanan

Barangay Mandalagan

Barangay Pahanocoy

Barangay Tangub

Barangay Villamonte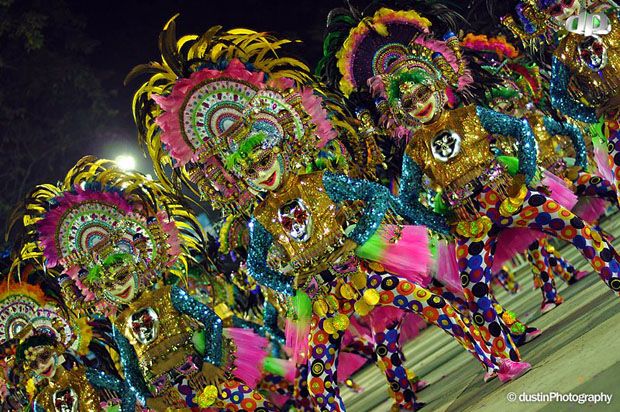 For inquiries about the MassKara Festival, contact the Silver MassKara Festival Organization at (034) 432-6697.
---
How to Get There
From Manila, you can fly to Bacolod (Php3500++, round trip, 45 minutes). From Bacolod-Silay Airport, you can take a shuttle, or a cab and ask to be dropped off at your destination.
Be a Pinoy Wanderer!
Choose Philippines encourages writers, photographers, travelers, bloggers, videographers and everyone with a heart for the Philippines to share their discoveries and travel stories.
Share Your Journey
Other Stories by Belle Piccio