History and Culture
Captivating Capiz: A Recap of the Philippines' Seafood Capital
, Capiz
---
I have been to Capiz twice. But the last time I was in this part of Western Visayas was in 2009, when Roxas City, known for being the "Seafood Capital of the Philippines," hosted the Western Visayas Tourism Assembly.
There were some attempts on my part to return to Roxas, but they never pushed through. But when I was scheduled to go to Antique, I finally had the chance! Funny thing is, Roxas City, Capiz wasn't originally part of the plan!
Brgy. Dumulog; photo by Byahilo.
So after our Antique Heritage tour, I went to Kalibo for an overnight stay then headed to Roxas City the day after. I was so excited to go back. Fresh seafood galore! Craving for scallops, oysters, and diwal!
San Antonio Resort; photo by Byahilo.
Upon arrival, we went straight to San Antonio Resort located along Baybay. The beach is also known for its long stretch of eateries offering fresh seafood which are cooked any way you want it.
Photo by Byahilo.
San Antonio Resort is known as one of the premier resorts in the province. It's one of the top choices for seminars, conventions, weddings, and other events. They have a pool, and yes, a bowling hall!
Tom Yum soup; photo by Byahilo.
After checking in, we had lunch at Thai Wok, the in-house Thai restaurant. The resto is headed by its Thai Chef Ktiana Casimero, who is married to a Filipino. We had beef with broccoli, fish fillet with lemon butter sauce, pork ribs, and tom yum soup for lunch. Everything was good!
Beef with Brocolli; photo by Byahilo.
We left the resort and went to a fishing village known as Dumulog. The village is known for its dried fish industry. You would know when you're already in Dumulog when the air smells… hmmmmm. Maybe you should experience it yourself! This was my second time to visit Dumulog so I knew what to expect, more or less.
Photo by Byahilo.
We didn't stay long in Dumulog. After snapping some photos, we hurriedly left the area and headed straight to the town of Pan-ay. The town next to Roxas City is known for the Church of Stanta Monica, which in turn houses the largest church bell in Asia and is said to be the third largest in the world.
Photo by Byahilo.
It was almost 2:00pm when we arrived at the church. The sun was still high and the church facade was against the sunlight. We checked the church interior and listened to the stories on how and when it was built. There was no Mass, so I got the chance to take a closer look at the church altar and the retablo.
Photo by Byahilo.
We then climbed up the belfry, which was probably the highlight of our church tour. At the top of the bell tower were nine church bells cast in different sizes and thicknesses, each having its own purpose. There are bells used only during regular or Sunday Mass, there are those used only for weddings, and there are those used only for funerals.
Photo by Byahilo.
But today, the largest among the nine is used for weddings and funerals. You know how loud can these bells get? When tolled, the largest of them all can be heard as far as 8 kilometers away. Of course, a photo-op will never be missed for posterity's sake!
Photo by Byahilo.
From Pan-ay, we went back to Roxas City for our merienda treat. Our next destination was Mamaita's House of Sweets.
Photo by Byahilo.
It has been serving locally made sweets since time immemorial, and is said to be one of the locals' favorites. Their tarts and cakes are so good -- and very affordable, too!
Mamaita's tarts; photo by Byahilo.
We then went to the Capiz Museum. It used to be an old water tank.
Photo by Byahilo.
Today, the museum houses artifacts dug from the seabed surrounding the province, as well as dioramas telling the story of the Panay Bukidnon people. I first heard about the Panay Bukidnon people in my humanities class in college, but I had totally forgotten that some of these people reside in the mountains of Capiz.
Photo by Byahilo.
December is probably one of the best months to visit Roxas City. It's the season for diwal (angel wing clam), it's colder to roam around, and the people would be celebrating their annual Sinadya sa Halaran Festival. The festival coincides with the Feast of Our Lady of Immaculate Concepcion, the city's patroness.
---
READ more Byahilo articles on Choose Philippines.
(This travel photo-essay was previously published on www.byahilo.com. For more features about Philippine travel destinations, food, delicacies, festivals and products, as well as hotels, resorts and restaurants, LIKE Byahilo: Ito ang Trip ko! FB Page.)
---
VIEW: See what else to bring home from Capiz with the Pasalubong Map: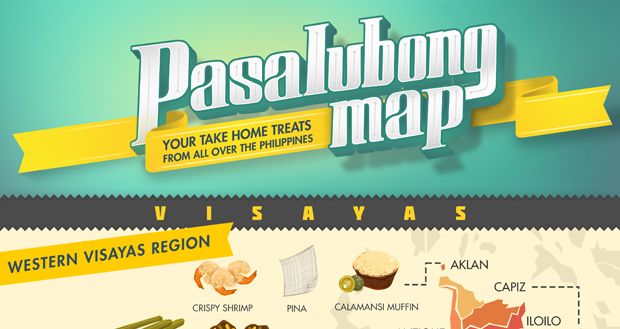 VIEW: Make Capiz your jump-off point to explore neighboring Aklan:

Be a Pinoy Wanderer!
Choose Philippines encourages writers, photographers, travelers, bloggers, videographers and everyone with a heart for the Philippines to share their discoveries and travel stories.
Share Your Journey
Other Stories by Enrico Dee