History and Culture
A Hero's Pilgrimage: What is a "Heneral Luna Tour"?
Bulacan
General Luna Tour Poster
General Luna Tour Poster
Bulacan's Empanada Kaliskis
Bulacan's Empanada Kaliskis
At Barasoain Church
At Barasoain Church
Paseo Del Congreso Marker
Paseo del Congreso Marker
Famous Kakanin from Bulacan
Famous Filipino Delicacies from Bulacan
Lecture of Filipino History
Lecture of Filipino History
Pampanga's best Sisig at Aling Lucing
Pampanga's best Sisig at Aling Lucing
Baraosoain's Light Show
Baraosoain's Light Show
Heneral Luna Statue
Heneral Luna Statue
Carino Family paying tribute to the Heneral Luna statue
Carino Family paying tribute to the Heneral Luna statue
Heneral Antonio Luna, based on history books, is regarded as one of the fiercest General who fought in the Phlippine- American War. His life story from 1866 to 1899 is full of interesting and colorful twists. Aside from the Jerrold Tarog's making of the Movie of General Luna, there is the most interactive way of knowing his epic life story.
Lakbayani tours offers a historical road trip tour by the owner himself, Greg Mercado. It is also accompanied with a delectable food journey and hero pilgrimage.
Here are the commerative activities I experienced during the tour:
1) Roadtrip from Trinoma to Malolos

The pick-up point started at 8am in Trinoma. We traveled for almost an hour to Malolos while having a historical discussion about the importance of the Malolos congress and the historical events that led to it.

2) Paseo Del Congreso, Malolos, Bulacan

We met at Paseo Del Congreso where there was a grand parade to celebrate the promulgation of the Malolos Constitution in Jan 23,
1899. Greg related the affair to popular fiction movies that depict an alliance of heroes against a great evil. It was discussed further the different kinds of military contingents marched together with the representatives in Malolos congress to Barasoain Church.


3) Barasoain Church, Malolos, Bulacan

We visited the inside of the church where the Malolos congress was held and Pres. Emilio Aguinaldo's government met to draft the Malolos constitution. We also went to the Museo ng Republika ng Malolos where we saw various exhibits and a light show. Lastly, Heneral Luna's contributions to the Malolos constitution was talked about.


4) Citang's Eatery, Malolos, Bulacan

We went to Citang's eatery where we had the one of a kind Empanada de Kaliskis (a unique Malolos style empanada) and puto.


5) Aling Lucing's, Angeles, Pampanga
My favorite part of the trip was having a taste of Angeles, Pampangas finest sisig. This is also the exact branch Anthony Bourdain featured in his travel show

6) Roadtrip to Cabanatuan

We travelled for two hours while Greg hosted an activity to share our influences in life. We talked about the possible influences of Heneral Luna and traced his life from his early years, to his reformist and scientist years, to his career as military general and the intrigues that led to his assassination.

7) Heneral Luna Statue at Cabanatuan, Nueva Ecijia

We talked more about Heneral Luna and how he wanted to be remembered, and read out loud the actual script depicting his death which was the basis for the scene of his death in the Heneral Luna movie.

8) Hapag Vicenticos, Cabanatuan, Nueva Ecijia

We sampled Cabanatueno delicacies such as cabanatueno garlic longaniza and leche flan gawa sa gatas ng kalabaw.

9) Lakbayani Commitment ceremony

We reflected on a problem in the Philippines that bothers the community and committed to be lakabayanis who will strive to be the answer to our country's problem.
The ceremony ended with a live rap performance of the tour guide, Gregorio Lakbayani's song, "Lakbayani".


10) Everybody's Cafe, San Fernando, Pampanga

We feasted on different types of Kampampangan dishes such as fried itik, kaldaretang kambing, paco salad, adobong itik, murcon, etc.
Overall, we went home nourishing our mind, body and soul. Not only did we feel stuffed but learned and appreciated the biography of Heneral Luna, the brilliant and brusque strategist whose command of troops in the Philippine-American War.
For bookings and interested parties you may check:
Email: [email protected]
facebook page: https://www.facebook.com/lakbayaniroadtours/
contact number is +63905488402
---
Read Related Articles:
What Did Aguinaldo, Plaridel & the Katipuneros Love to Eat?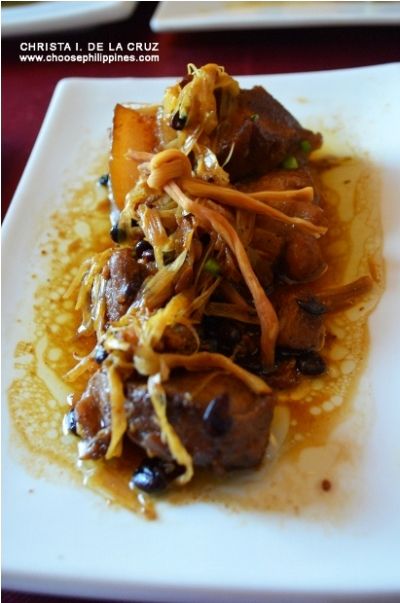 The Pride of the Culinary Capital of the Philippines: Pampanga's Sisig

Minalungao National Park: Nueva Ecija's Pride
Be a Pinoy Wanderer!
Choose Philippines encourages writers, photographers, travelers, bloggers, videographers and everyone with a heart for the Philippines to share their discoveries and travel stories.
Share Your Journey
Other Stories by Fabi Carino