History and Culture
Age Old Art of Patadyong Weaving
Antique
the view when you sit in front of the wooden handloom
the view when you sit in front of the wooden handloom
threads arranged neatly and orderly
threads arranged neatly and orderly
old threads on display
old threads on display
tubaos you can buy at their store
tubaos you can buy at their store
olorful threads ready for use in making patadyong
olorful threads ready for use in making patadyong
a member of BLWA focusing on weaving
a member of BLWA focusing on weaving
green is one of the standard colors used
green is one of the standard colors used
a member of BLWA preparing the thread to be used
a member of BLWA preparing the thread to be used
patadyong wallets and products for sale and on display
patadyong wallets and products for sale and on display
this is how a member of BLWA arrange the threads for weaving
this is how a member of BLWA arrange the threads for weaving
Barangay Bagtason is known for its handwoven patadyong. Its bestsellers are handkerchiefs called "tubao", the plain patadyong known as "yano" and the patadyong with embroidery called as "pinilian".
The Bagtason Loom Weavers Associations (BLWA) is the producer and makers of quality loom woven products in Antique.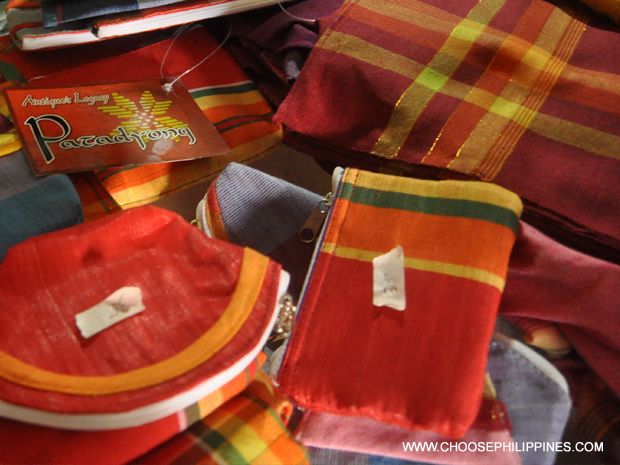 The patadyongs are also made into shawls, leis, scarfs, wallets, hats, bags and table runners which BLWA can also personalize the designs and colors according to your liking.
The art of patadyong weaving is very intricate. The weavers start by determining how many meters and pieces can be made with or without the design. Then they combine different colors of the threads according to the color combination of your choice if you want it personalized and trendy. For the standard patadyong design, the threads are mixed to capture the tones of nature and also to show personal status. The weaving is done by interlacing the different colors of threads through a wooden handloom which is locally called as "tiral" or "habulan". Earth colors are a standard pick in making the patadyong: blue, green, yellow are among those.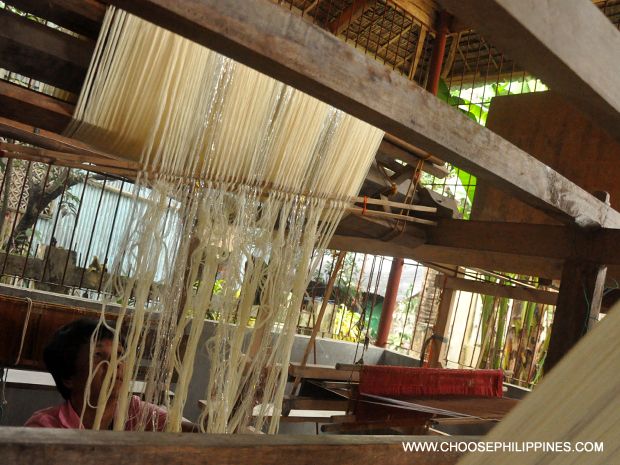 this is how a member of BLWA arrange the threads for weaving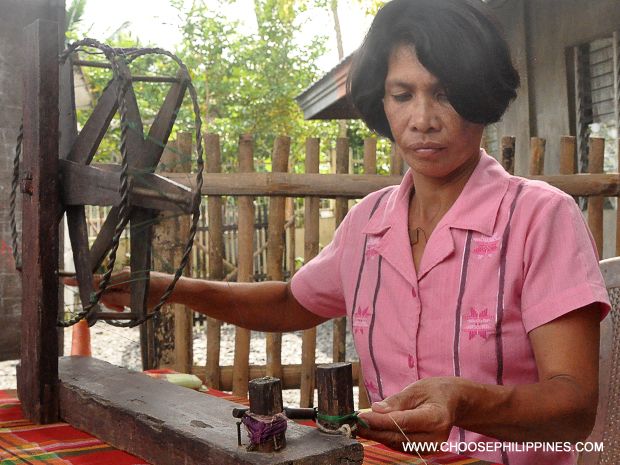 a member of BLWA preparing the thread to be used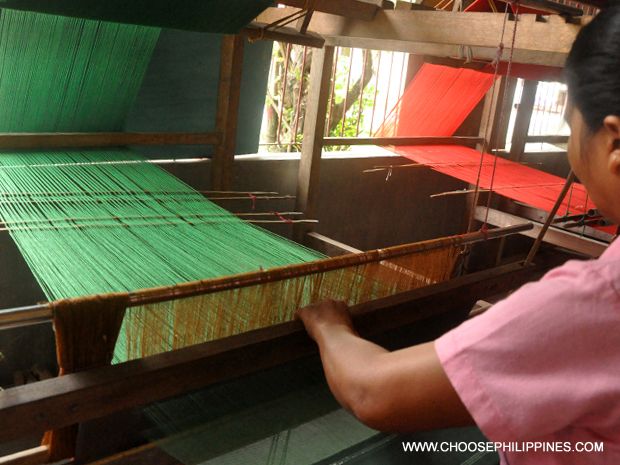 You can buy finished products at their compound for a cheaper price. Out in the market: shawls can go as much as Php 450.00, leis at Php100.00, scarfs at Php180.00, patadyong at Php850.00.
The old process of patadyong weaving has remained unchanged and is still being practiced by BLWA weavers despite the availability of modern weaving machines. You can visit their compound to see firsthand how they make the patadyongs.
Bagtason Loom Weavers Association is located at Bagtason, Bugasong, Antique. For more information and orders, contact BWLA President Mr. Mario E. Manzano at (+63) 906-843-8687.
How to Get There
Antique is accessible from major cities of the country through Iloilo City from where buses leave for San Jose, the province's capital town. Travel time is approximately 2 hours.
From Manila, you can fly to Iloilo (estimated cost of Php3,000++, round trip, one hour). From Iloilo Airport, you can hail a cab and ask to be dropped off at your destination.
Be a Pinoy Wanderer!
Choose Philippines encourages writers, photographers, travelers, bloggers, videographers and everyone with a heart for the Philippines to share their discoveries and travel stories.
Share Your Journey
Other Stories by Belle Piccio