Lists
How to Tour the Philippines' Biggest City in Just 5 Days
---
Day 1
Take an early morning flight to Davao and right after you land, begin your walking tour of Davao City.
San Pedro Street is where the local seat of government is -- the City Hall and the Sangguniang Pambansa Building. It's also where the San Pedro Cathedral is found.
Right across the church is the Freedom Monument. Take photos or light a candle at the cathedral. From there, it's just a short walk to the Museo Dabawenyo and the nearby Bone Museum.
Soak up the history and culture of Davao City at the Museo Dabawenyo, and its natural history at the Bone Museum.
If you still want to walk, go to People's Park and take shelter from the heat of the sun under its trees. Take selfies with the huge and awesome lumad sculptures of the Mindanaoan artist, Kublai Millan.
Hungry? Have lunch where Davao region's major agricultural product, the banana, is showcased. Where else, but at Saging Republic!
---
VIEW: See what else to eat with the Choose Philippines Davao Food Guide: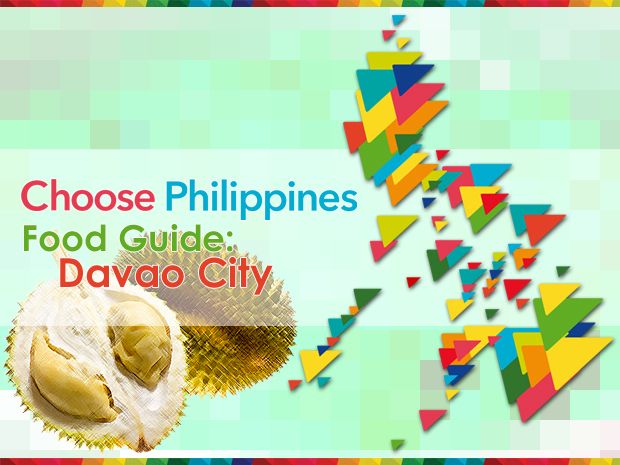 ---
When you've had a bananariffic fill, ride a jeep or taxi to Uyanguren or Ramon Magsaysay Avenue ("Uyanguren" is the street's old name) and explore Chinatown.
It's just a short walk to where dinner and bargain shopping is, at Roxas Avenue.
Time to head to your hotel, pack your bag for a day at the sea and sand tomorrow. Get some sleep!
Day 2
Wake up early for breakfast at Dencia's along Juan Luna St. You've never been to Davao unless you've savored the resto's "lugaw at tokwa't baboy."
Charter a boat for the Giant Clams Sanctuary, snorkeling and swimming at Angel's Cove and Coral Garden, before having lunch at Babu Santa.
All the things you can do on a beach-hopping day at Talicud Island, do so!
Swim and relax then go back to the city by 4 PM.
Have dinner at Tiny Kitchen along Torres St., prepare for next day's highland fun, then sleep.
Day 3
Have breakfast at your hotel then jump off at 8 AM for Malagos for the Philippine Eagle Center. Have an encounter with the kings of the Philippine sky.
After that, go to the Malagos Garden and Resort and sample their chocolates and cheese. They also have a bird encounter area.
Have lunch at Santander Hito-an in Los Amigos on your way to the Eden Nature Park and Resort in Eden Bayabas, Toril.
Tour Eden's Butterfly House, catch fresh seafood at its Fishing Village, get an adrenaline rush at its Skycycle.
Have light snacks at its Vista Restaurant before going back to the city, or savor fruits along the highway.
Have dinner at the 100% Organic Balik Bukid farm.
Go on a relaxing baywalk in Ecoland before retiring at your hotel. You have to wake up early for tomorrow's wild water ride.
Day 4
Wake up early for the wet and wild white water rafting. It's one whole day of braving the rapids down the mighty Davao River.
By late afternoon, you'll be back at the Crocodile Park, so get to know its residents through this Crocodile Tale.
Sample the Sweet Spot Artisanal Ice Cream made with either crocodile eggs or simple chicken eggs.
Then have dinner at Kaonanan within the complex and watch the Tribu K'Mindanawan fire dancers.
Day 5
You can't go home without buying pasalubong for your family and friends, so head out to the Aldevinco Shopping Center for batik and pearls, or at Davao City's Pasalubong Center along Palma Gil Street.
---
VIEW: See what else to bring home from Davao with the Choose Philippines Pasalubong Guide:
---
After shopping, have lunch at Jack's Ridge over at Shrine Hills, then visit the Shrine of the Holy Infant Jesus of Prague.
Say a prayer, then it's back to your hotel before flying off to your place of origin.
Five days aren't enough? But of course. All the reason to be back for more!
VIEW: See what else to do with the Choose Philippines Davao Map:
How to Get There
PAL and other major airlines fly daily from Manila and Cebu to Davao City. Travel time is an hour and 50 minutes from Manila and 50 minutes from Cebu.
Taxi flag down rate is PhP40.00 and jeepney fare starts at PhP8.00.
Be a Pinoy Wanderer!
Choose Philippines encourages writers, photographers, travelers, bloggers, videographers and everyone with a heart for the Philippines to share their discoveries and travel stories.
Share Your Journey
Other Stories by Ida Damo