Local Flavors
The Best Chicken Inasal in Sugartown?
, Negros Occidental
Chicken House North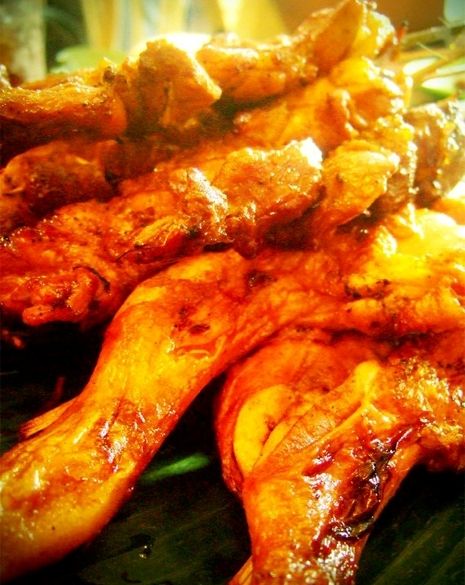 Wash your hands and be one with your food. Dig in!
Her favorite chicken inasal resto in Bacolod is Chicken House. You're sure of the best chicken and you'll enjoy a very good service from "self-assigned" waiters. The only downside is the serving of rice, which is way too small.
When asked by the waiter, Manong Jun, "Pila ka rice 'day?" (How many rice would you like to order?), she'll promptly answer, "seven." The Fat Goddess likes the feel of "seven" as a word, and you'll know what she means when you're at the resto.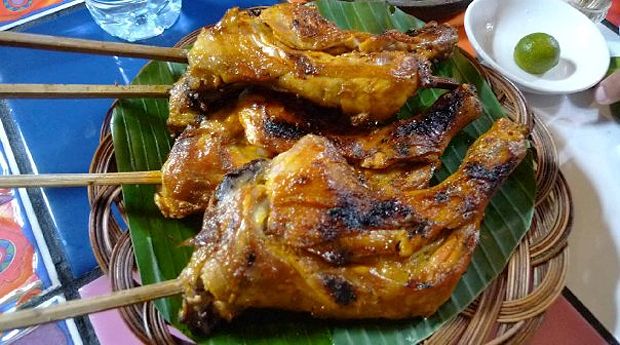 Chicken Paa (thigh).
She usually orders pakpak (wings) or paa (thigh), atay (chicken liver), spare ribs (which you can get for less than Php100.00), and X number (secret!) of garlic rice cups.
Don't forget to mix your own sawsawan (dip). First, squeeze 2-3 calamansi, then put some sinamak (spiced vinegar) and soy sauce to color, but not too much.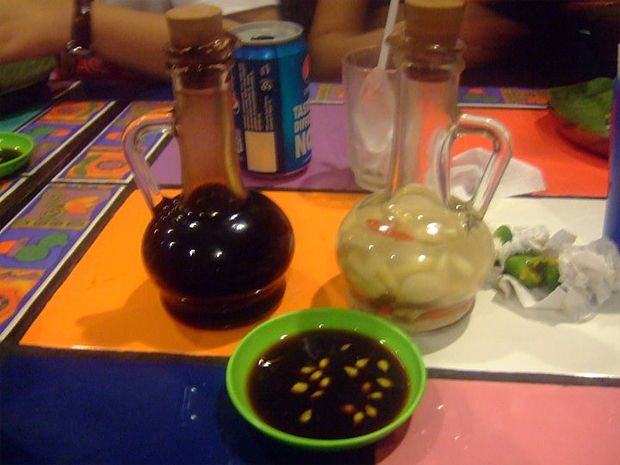 [VIEW: Where to eat in Bacolod City.]
Aida's Chicken Inasal
Aida's Chicken Inasal is located at the Manokan Country, in front of SM Mall Bacolod, Reclamation Area.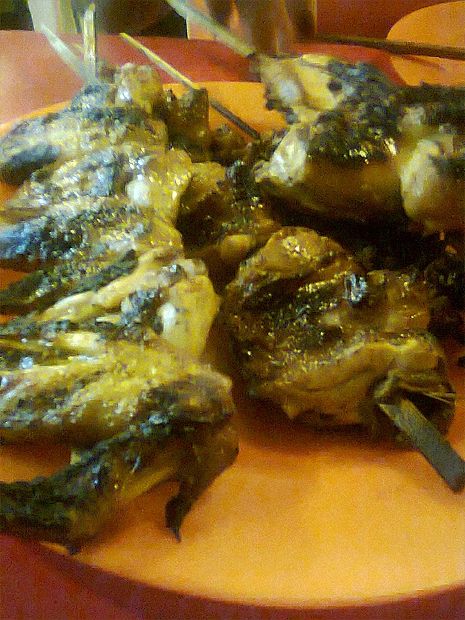 Faves: well-cooked chicken paa (thighs) or pecho (breast), or any part of the chicken for that matter—tinae (intestines), atay (liver), batikolon (gizzard), pakpak (wings), and some that can't be translated well like "bul-o" and isol (the personal favorite of Fat Goddess).
How to make this heavenly barbecued gifts? Just marinate the chicken with calamansi, vinegar, soysauce, lemon grass, rock salt, and garlic. It's also about grilling them the right way.
Another lovely addition to the meal is Aida's garlic rice. It doesn't measure to 1 cup only -- their cup is probably equal to 2.5 cups!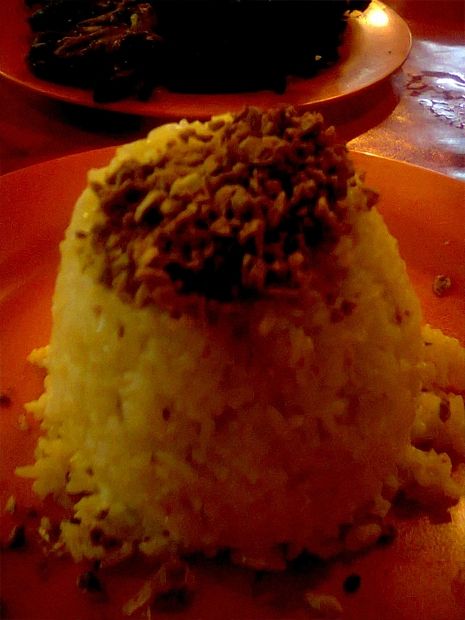 So watch it when you order or you'll get a pile of yellow rice that you can't handle. Very important: don't forget to drizzle your rice with the chicken oil, which is colored with achuete (annatto seeds).
A few reminders from the Fat Goddess: before deciding to eat at Aida's, you have to take a small snack or some candy with you because you'll have to wait a bit. Reason: they cook the chicken well before serving. They don't half-cook like some of the fastfood chains do. They slowly cook the chicken without turning the skin to black.
[VIEW: The humble inspiration to the country's major chicken inasal food chains, Manokan Country.]
Cooking Your Own Chicken Inasal
When Fat Goddess got homesick during her stay in Brunei for a couple of months, she got the chance to cook her own version of Bacolod's chicken inasal in a beach called Pantai Tungku in Jerudong, Bandar Seri Begawan, Brunei Darussalam.
Filipino Fare: Grilled Pork Belly and Bacolod Chicken Inasal complete with sawsawan, sliced red tomatoes and a pot of rice.
She prepared the chicken inasal near the entrance. Other beachgoers came to ask what she was cooking because it smelled super good!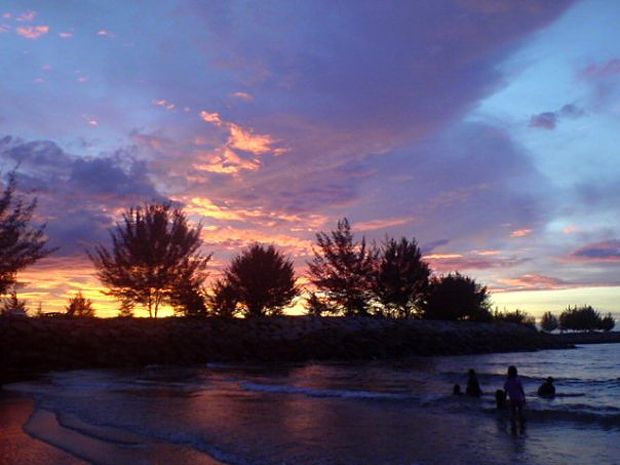 The beautiful sunset near the equator, at Pantai Tungku Beach 2008.
Hope you got a good grasp on how to eat chicken inasal, where to eat the best inasal in Bacolod, what to order, and so on. So now, have we gotten you hungry?
(These travel essay and photos were previously published on thefatgoddesslife.blogspot.com.)
---
VIEW: See what else to eat with the Choose Philippines Bacolod Food Guide: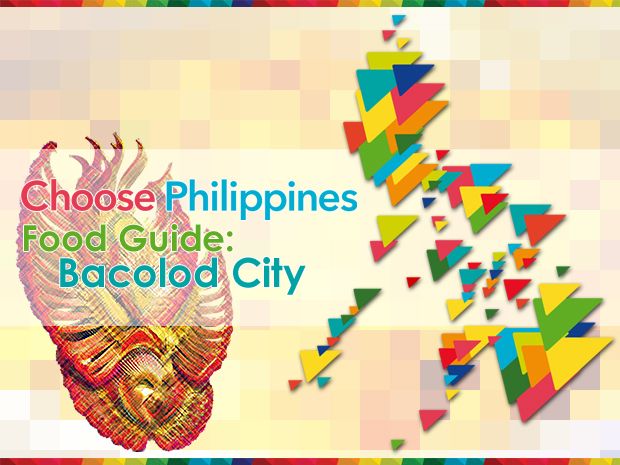 VIEW: See what else to do with the Choose Philippines Bacolod Map: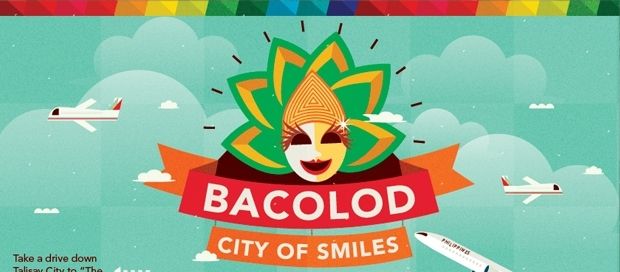 Be a Pinoy Wanderer!
Choose Philippines encourages writers, photographers, travelers, bloggers, videographers and everyone with a heart for the Philippines to share their discoveries and travel stories.
Share Your Journey
Other Stories by Belle Piccio