Local Flavors
Lanzones for 20 Pesos a Kilo? Cheap But Yummy Fruits to Make You Move to Davao
---
From July to September, you can expect the fruits of Davao to be at rock-bottom prices. 2014 has been exceptionally bountiful.
Rambutan, which usually costs 30 to 40 a kilo, can go as low as Php 10. This would be the "supsupin" variety and not the more popular Maharlika which would sell at 20-30 a kilo.
Lanzones price depends on the variety. The native lanzones would cost from Php20 to 30. Ducco is from 40-60 pesos. Longkong is from Php 70 to 90.
Mangosteen, which could go as high as Php 180/kilo off-season, only costs Php 20-30/kilo -- a totally happy time for lovers of this "wonder fruit."
Marang, which not a lot of people are familiar with, costs only Php15-25/kilo. Davao visitors who didn't want to try durian tried marang instead and found it delicious.
Durian varieties are sold for Php 15 to 40 pesos a kilo. Almost every corner in Davao City has a durian hanging from a stall. These are also sold at open jeeps and trucks parked just alongside the city roads.
All year long, bananas, mangoes, guavas, papayas, avocadoes, and pineapples can be had for Php 20 or less a kilo. Guyabano and atis aren't available everyday, but they can also be bought at a reasonable price.
Pomelo(Suha) can also be bought...but definitely not at Php 20 a kilo!
The best place to buy? Bangkerohan Public Market. During the season of lanzones, rambutan, and durian, roadside stalls go to Calinan.
VIEW: See what else to eat with the Choose Philippines Davao Food Guide: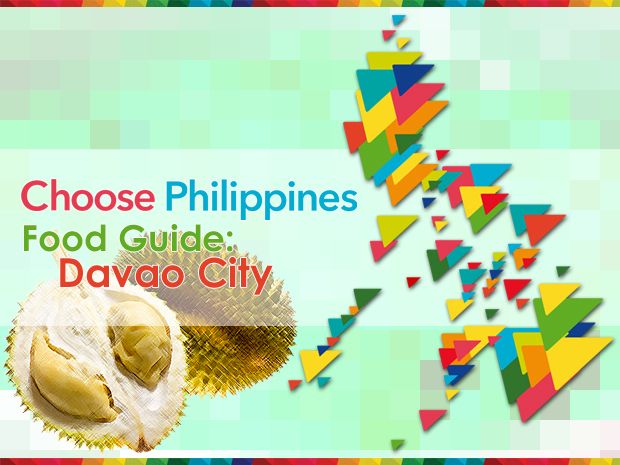 VIEW: See what else to do with the Choose Philippines Davao Map:
How to Get There
PAL and other major airlines fly daily from Manila and Cebu to Davao City. Travel time is an hour and 50 minutes from Manila and 50 minutes from Cebu.
Taxi flag down rate is PhP40.00 and jeepney fare starts at PhP8.00.
Be a Pinoy Wanderer!
Choose Philippines encourages writers, photographers, travelers, bloggers, videographers and everyone with a heart for the Philippines to share their discoveries and travel stories.
Share Your Journey
Other Stories by Ida Damo