Local Flavors
Chinatown Chow: 5 Must-Eats in Binondo, Manila
Metro Manila
(Originally published on Superwomom.net.)
---
How do you feel about eating and walking in Binondo? Consuming calories and attempt to burn them at the heart of the country's Chinatown district?
Well, me and 8 others thought it was a good idea. So one Sunday morning, we took the first bite to a gastronomic treat and an interesting cultural cum culinary adventure.
Actually, it's the first walking food tour that I've experienced in Manila. I wish they have more of this here in the city. It was a good nice out-of-the-mall experience.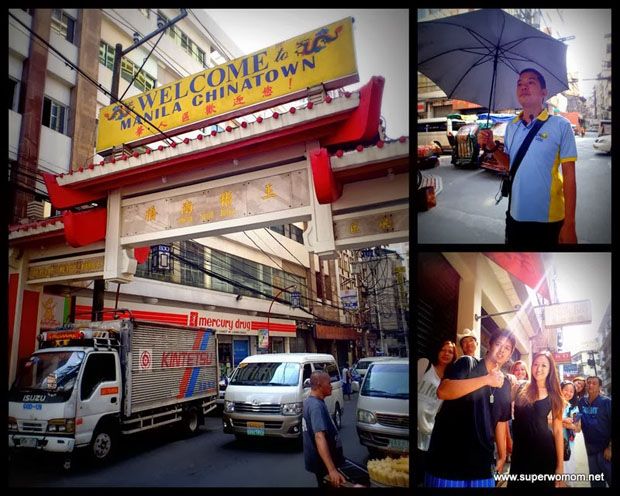 Clockwise from left: One of the entry points to Chinatown, our guide Ivan, and the eight of us (the other one is our photographer)
Here's a rundown of where we went and what we ate. We consumed as much as we can. The food was unlimited. If we liked it, we asked for more. We were also able to bring home some that we weren't able to finish.
I apologize if I get you hungry!
1. Cafe Mezzanine
Volunteer Fireman's Coffeeshop
650 Ongpin St. corner Nueva St. (formerly Yuchengco St.)
(02) 288-8888
This was our first stop. Chinatown's firefighter-themed restaurant donates all its revenues to the Binondo Paco Fire Search and Rescue Brigade.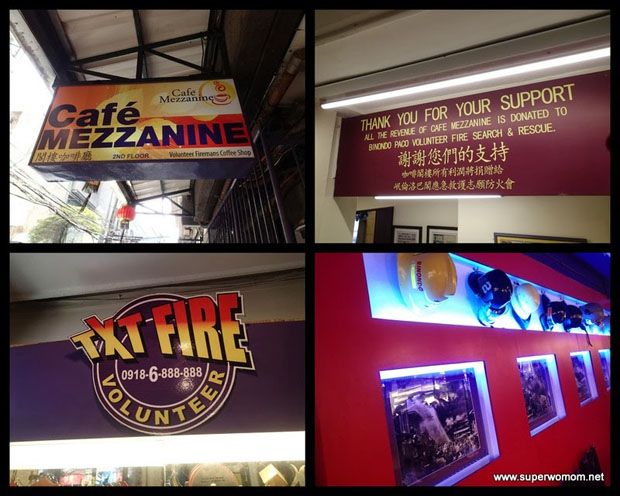 Details at Cafe Mezzanine
They served us 3 soups: Gocong is a five-herbed tonic soup with pork and chicken boiled together; Kamto is concoction of beef innards, radish and ginger. It tasted more like lugaw probably because of the tripe and the ginger; fish ball soup is a clear broth with fish balls.
Among the three, I like the kamto soup minus the tripe. They also served kiampeng rice. It's sticky rice with peanuts and mushrooms.
Ivan Man Dy, our guide, suggested to pour our choice soup in the kiampeng rice. Although I like my rice without the soup, doing what Ivan suggested wasn't bad at all.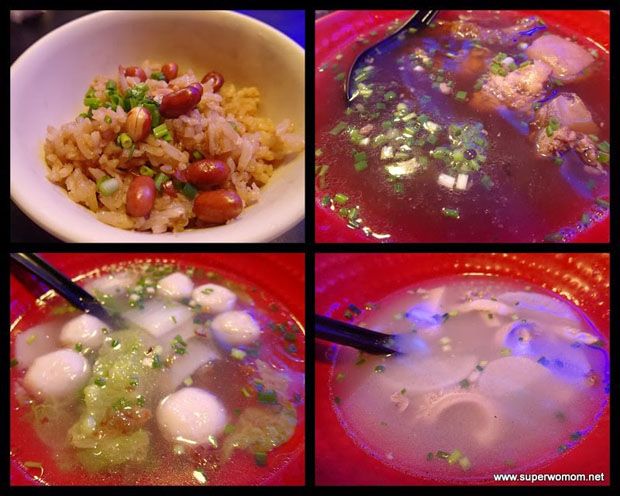 Clockwise from top left: kiampeng rice, gocong soup, kamto soup and fishball soup
2. Dong Bei Dumpling
Along Nueva St. (formerly Yuchengco St) (02) 241-8912; (0917) 745-1617
Our second stop is a short walk from our first. This hole-in-wall dumpling place makes everything from scratch. From the dumplings to the soy sauce to the garlic chilli oil, everything is homemade.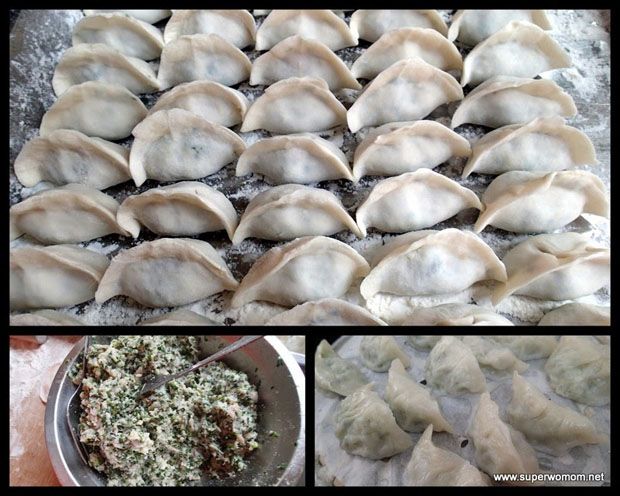 Clockwise from top: handmade dumplings, dumpling mix and cooked dumplings (this one is vegetarian)
We were served jiaozi. Unlike the siomai which is steamed, this Cantonese-style dumplings is boiled. All their dumplings have pork but you can identify the other ingredients that go with it from the color of the dumplings.
The pale ones have cabbage and celery while the green ones have kutchay or chives. All my companions agreed that their dumplings are tasty. I find it sweet of them that since I don't eat meat and pork, they prepared a vegetarian dumpling for me which consisted of thin noodles (sotanghon), celery, cabbage, mushrooms and sesame oil.
It tasted quite bland but their dipping sauce of soy sauce and chili oil was the kicker. It's the perfect dumpling complement. They also served us pancakes. It's not your hotcake, not even close. It's a round, fried flat bun which tasted like fried bread. Not as exciting as the dumpling but tasted ok. I also like the chicken with cumin. This Chinese-Muslim dish was palatable to me.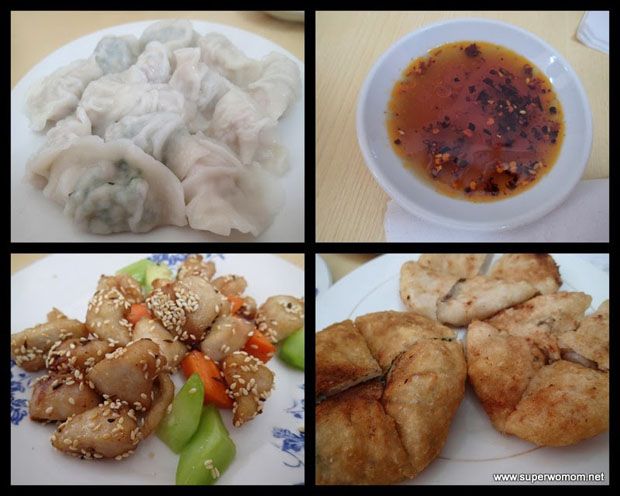 Clockwise from top left: jiaozi, the soy sauce, vinegar and chilli oil for dipping, pancakes and chicken with cumin
3. No Name Water Siopao
808 Benavidez St.
(02) 244-9034; (02)509-9909; (0905)414-6666
We walked past the "Welcome to Binondo" sign and into a carpark before arriving at the next stop. It's one of those stores in a long street of food stores. And it doesn't have a name, only a blue signage with Chinese characters.
They're selling tsien pao (like siopao) and bicho-bicho. I love siopao. Only most of the time, I can't eat it because the filling is either cured pork (asado) or meatball (bola-bola). Just like here. Only theirs is called tsien pao because it's pan-fried siopao.
The buns are put in a large pan and immersed in water. These will be covered until the water has dried out. Then these are pan-fried. Their filling is ground meat with herbs and spices. I ate the bun which I like because it's fluffy.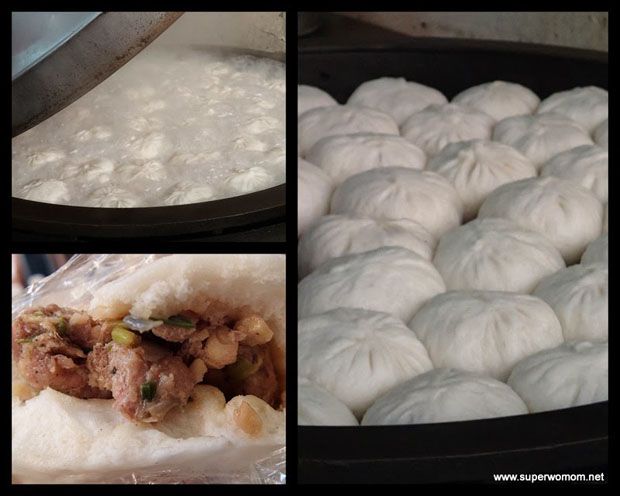 Clockwise from top left: buns while being boiled, ready-to-serve pan-fried siopaos, ground pork with herbs and spices
They also have bicho-bicho which is by far the tastiest I've had. It's soft and crunchy at the same time. According to Ivan, the bicho-bicho is a metaphor for a couple who betrayed a country and as a consequence were tied together and thrown into a river.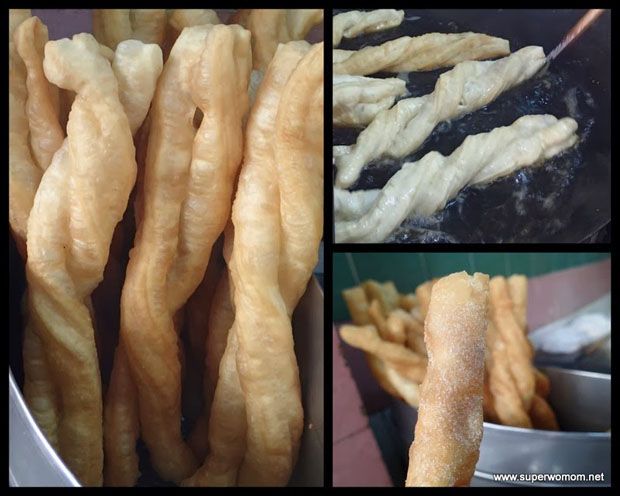 4. Holland Hopia
551 Nueva Street
(02) 242 9709
What is Binondo without a hopia? So we had a hopia sampling at Ho-Land Bakery, known for its best-selling and well-loved hopiang monggo.
We had hopia overload -- mungbean (monggo), pandan-macapuno, baboy, condol (waxgourd), ube (purple yam), one with black bean paste (similar to the filling of the buchi or sesame seed ball). We also had some Chinese delicacies like the peanut cake and the airy but crunchy ampao peanut.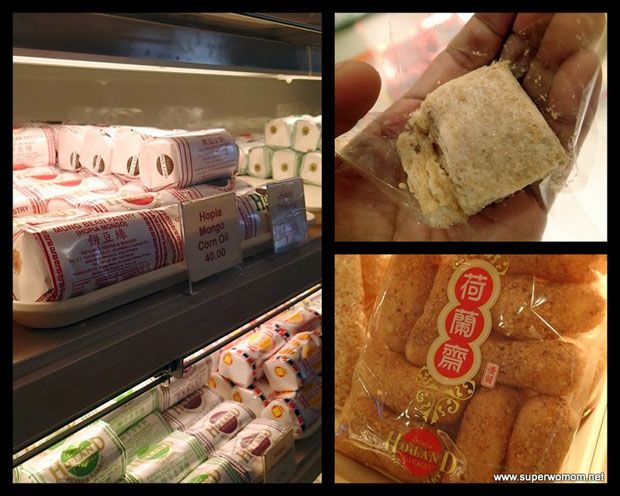 Clockwise from left: an array of hopia, peanut cake and ampao peanut
5. New Po-Heng Lumpia House
531 Quentin Paredes Street
(02) 241-8789; (02) 496-3679
This was supposed to be the appetizer of the tour. But we were late. We missed the first stop, but Ivan was very nice and considerate. At the end of the tour, he was kind enough to bring us to the first stop.
There they served us Hokkien-style lumpia which is largely vegetables with pork and shrimp. It can be served with peanuts and toasted bihon with seaweeds.
It's best enjoyed with their dark sweet syrupy sauce and chopped or minced garlic with vinegar. You may also add a dash of hot sauce for a kick. Ivan ordered a vegetable-only lumpia for me. That was a nice ending for a very filling morning.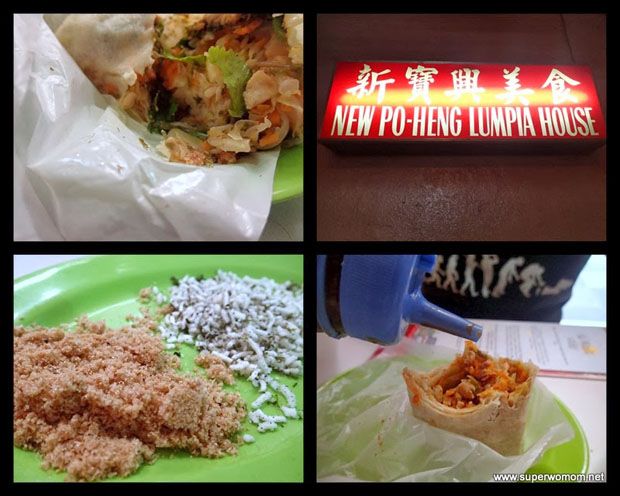 Clockwise from top left: lumpia in half, their signage, lumpia about to be doused with sauce, peanut and toasted bihon with seaweeds
You need to know:
The Big Binondo Food Wok was conducted by Ivan Man Dy of Old Manila Walks. I do hope you get to have him as your guide. He's good. He's nice. And he's Chinese (for more authenticity and credibility).
The Tour costs P1200 on week days and P1300 on weekends. This is their website: www.oldmanilawalks.com
For inquiries and reservations, you may email: [email protected], and call: (0918) 962-6452; (02) 711-3823.
---
For more foodie articles, visit Superwomom.net.
Be a Pinoy Wanderer!
Choose Philippines encourages writers, photographers, travelers, bloggers, videographers and everyone with a heart for the Philippines to share their discoveries and travel stories.
Share Your Journey
Other Stories by Danie Sedilla-Cruz