Local Flavors
5 Pinoy Dishes Perfect for the Rainy Season
Champorado
Beef Mami
Banana Turon
Chicken Sopas
Yummy Dinuguan!
With the summer days over, the sound of raindrops wakes us in the morning. The cool breeze and gloomy atmosphere make it harder to get out of bed and start another busy day. Only a few other forces on earth gets us going than good warm food. Prepare your family's heirloom recipes of the following dishes!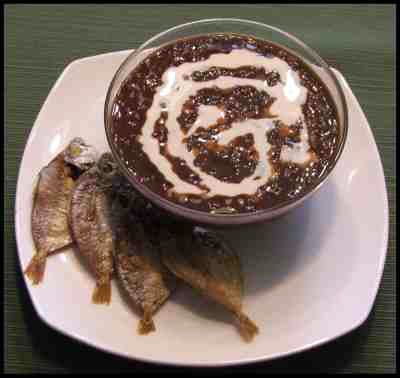 1) Champorado
This chocolate concoction tops our list for the rainy season must-eat! Made from glutinous rice or malagkit, and cocoa powder, or for a more traditional recipe, tableya, this chocolate rice porridge is a favorite merienda (and even breakfast!) for Filipinos.
MAKE IT YUMMIER: serve a warm bowl of this sweet porridge drizzled with condensed milk, then fry a couple of dried fish or tuyo for the perfect meal!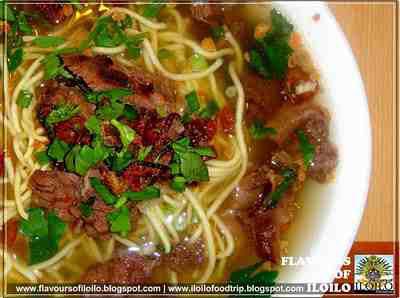 2) Beef Mami
A simple recipe of hot beef stock, egg noodles and cuts of melt-in-your-mouth beef briskets can certainly go a long way. Although of Chinese origin, this dish became very popular to Filipinos from all walks of life. Imagine a big bowl of this yummy goodness on a rainy morning; that certainly will be a piece of heaven on earth.
MAKE IT YUMMIER: Add crushed chicharon for that Filipino twist, and a lot of hot sauce for the added spice and hotness!
3) Banana Turon
Saging na saba coated with brown sugar, wrapped in lumpia wrapper and fried to the heart's content, makes up for one of the most craved merienda of Filipinos. A perfect comfort food, turon can be found anywhere and anytime on the streets of our country. It is a staple street food and can be purchased for 5 to 15 pesos each.
MAKE IT YUMMIER: To add a unique flavor, throw in slivers of jack fruit (langka) in the mix. This will make the turon sweeter and even more irresistible! To make it more sinful, arrange 2 pieces of cooked turon on a plate and top it with a scoop of vanilla ice cream, drizzled with caramel sauce!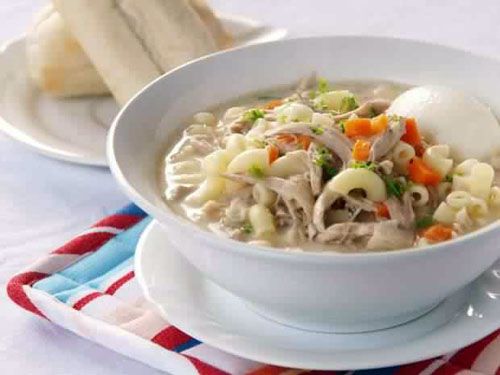 4) Sopas
The perfect soup for the rainy days is sopas. Most Filipino families have their own version and recipe of this delicious dish that is passed through generations. The use of fresh milk or evaporated milk makes this soup based dish unique.
MAKE IT YUMMIER: Throw in a generous amount of cubed chicken meat and double the recipe for milk will make your own version of sopas to die for!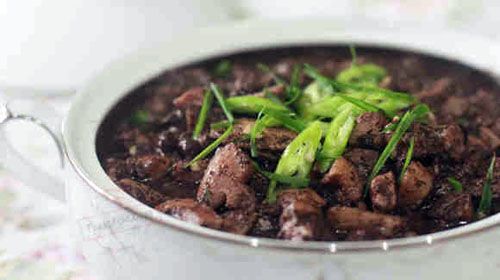 5. Dinuguan
For the more adventurous eater, try the Filipino "Blood Stew". Made out of pork meat, pork innards and pork blood, this is a definite must try for first timers in the country. The use of vinegar and green peppers is very Filipino in taste. With its thick sauce and unique ingredients, a hot bowl of this dish will certainly lift your spirits even on the gloomiest of weathers.
MAKE IT YUMMIER: Dip puto (steamed rice cake) into the dish and the deliciousness of this unusual meal will all make sense on the first bite!
Photos from:
www.yummy.ph
www.angsarap.net
flavoursofiloilo.blogspot.com
cookingwjules.blogspot.com
Be a Pinoy Wanderer!
Choose Philippines encourages writers, photographers, travelers, bloggers, videographers and everyone with a heart for the Philippines to share their discoveries and travel stories.
Share Your Journey
Other Stories by Renzelle Ann Palma