Local Flavors
Suman sa Ibos: Ilonggo's Classic Delicacy
,
Suman sa ibos is one of the varieties of suman in the Philippines. Simply called as "ibos" (can also be spelled as ibus) by Ilonggos, it is usually wrapped in palm or buri leaves and grouped into bundles. We regularly see these kakanin during fiestas or big celebrations and are always present during All Saints' Day.
Ibos refers to the buri leaves used in holding the ingredients that also serves as its wrapper.
Suman sa ibos is often paired with the sweet and savory muscovado sugar, but in a pinch, you can also use regular white sugar. It is also best eaten with ripe mangoes and native tsokolate or tablea. Making suman sa ibos is simple. Here's an easy recipe for you to follow.
Suman sa Ibos
Ingredients
4 cups glutinous rice
2.5 cups coconut milk
1-1.25 tbsp salt
1 cup water
buri leaves for the wrapper
Instructions
Prepare the glutinous rice. Wash and place in a large container.
Pour in water, set aside for 15 minutes up to an hour or until the rice grains are swollen.
To save time while waiting for the soaked glutinous rice, prepare the ibos (buri leaf) container/wrapper. The leaves should be about 1.5 inches in width. In making the container, fold the bottom edge of the buri leaf into a triangle. Then swirl the leaf in an overlapping manner creating a cylindrical mold. To secure the tube, you can lock the leaf using a small piece of wooden pick.
When the glutinous rice is ready, drain the excess water. Add the coconut milk and salt. Mix well and let it stand for about 10 minutes.
Fill the ibos container (tube) with the glutinous rice mixture. Seal the tube by tying the ibos using strips of buri leaves. Take note to fill it just about ¾ of the tube.
In a large pot, arrange and fill it with water covering the ibos. Let it boil to low-medium heat for 1-1.5 hours or until cooked.
Drain the water or remove it from the pot. Let the ibos cool down before serving.
Pair your ibos with sweet ripe mangoes or serve it with muscovado sugar or native tsokolate on the side.
Share and enjoy your suman sa ibos! Manamit guid! (Truly delicious!)
(Suman sa ibos photos from MagTV na Amiga.)
---
VIEW: See what to bring home from Visayas with the Choose Philippines Pasalubong Guide: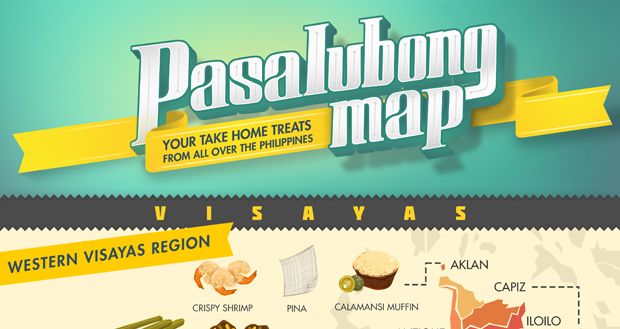 ---
More Pinoy Kakanin
Be a Pinoy Wanderer!
Choose Philippines encourages writers, photographers, travelers, bloggers, videographers and everyone with a heart for the Philippines to share their discoveries and travel stories.
Share Your Journey
Other Stories by Belle Piccio