Recipes
Kinilaw na Tanigue with Lechon-Style Pork: An Easy-to-Prepare Recipe
A unique dish that combines the best of both worlds and will no doubt satisfy the cravings of family & friends!
Ingredients
1/4 tanigue
1/4 pork belly
1 large onion minced
1 and half inches of luya (ginger) minced
1/2 tsp ground pepper
3-4pcs. kalamansi (juiced)
4 tbsp. Pinakurat vinegar
Salt (to taste)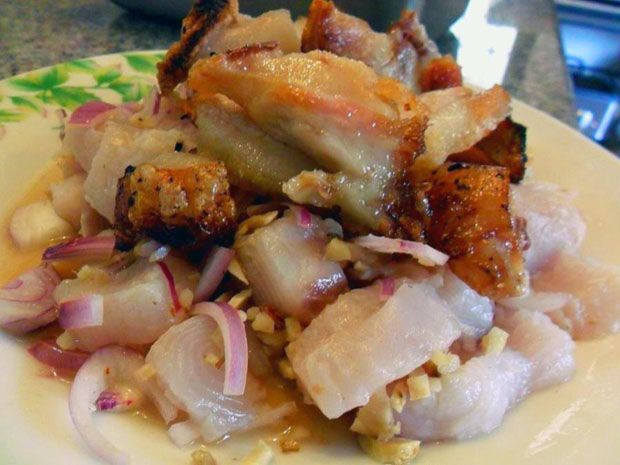 How to Make the Kinilaw
1) Wash the meat of the 1/4 kilo Tanigue fish. Fillet the fish taking off the bones and skin. Chop into squares of about 1 inch in size.
2) Mix with sliced onions, ginger, salt, pepper, 3-4 kalamansi, and 3-4 tbsp. of Pinakurat.
3) Season to taste.
How to Make the Lechon-Style Pork
4) Boil 1/4 kilo of pork with skin (add pepper and salt while boiling) until tender and cooked.
5) Wrap the meat in foil. Leave the skin exposed.
6) Place it in the electric griller or toaster until golden brown. Chop it up and add it to your kinilaw.
(This Kinilaw na Tanigue recipe first appeared on LouiseMabulo.com.)
---
Editor's Note:
Read the Choose Philippines feature on the Teenage Chef Louise Mabulo to learn more about the inspiring story of this beautiful young woman who excels not only in her culinary journey, but also in sports, academics, and a lot more. Truly a role model for the youth!
For more one-of-a-kind recipes that blend international cuisine with what Filipino tastebuds crave for, visit Chef Louise's website, like her Facebook page, and follow her at Twitter!
Be a Pinoy Wanderer!
Choose Philippines encourages writers, photographers, travelers, bloggers, videographers and everyone with a heart for the Philippines to share their discoveries and travel stories.
Share Your Journey
Other Stories by Louise Mabulo