Recipes
Pinoy Panghimagas
Metro Manila
Leche Flan
Buko Pandan
Ube Halaya
Maja Blanca
Biko
1.) Leche flan (the local term for the originally Spanish flan de leche, literally "milk flan"), which is a heavier version of the Spanish flan made with condensed milk and more egg yolks. Leche flan is usually steamed over an open flame or stove top, although rarely it can also be seen baked. Leche flan is a staple in celebratory feasts.
Ingredients
2 whole eggs
4 egg yolks
1 cup sweetened condensed milk
1 cup evaporated milk
1 tsp. vanilla extract
Caramel
10 tbsp. sugar
4 tbsp. water
Cooking Procedure
Medium heat large pan or a steamer with a litre of water, you must cover it to get the maximum heat.
Prepare a couple Llanera's or any deep tins, then divide sugar and water on both tins.
Heat Llanera on a low fire one at a time until sugar starts to melt, dissolved and syrupy. Turn off the heat when the caramel syrup turns light brown.
To coat all sides you must tilt the mold around and continue with the other Llanera and set aside to cool.
In a bowl whisk egg yolks and eggs together, pour in condensed and evaporated milk and whisk, vanilla extract and continue to whisk until combined. Use a strainer and a ladle to transfer milk mixture into tins to get rid lumpy bits and air bubbles.
Steam for about 30 minutes with a cloth under the lid, to catch water drippings and avoid flan from soggy.
Check with a toothpick if it comes out clean your done.
Turn off the fire and transfer on a wire rack and let it cool for 10 minutes.
Refrigerate Leche flan for about 30 minutes before transferring to a plate.
Serve cold
2.) Buko Pandan- is a favorite Filipino salad served in almost every kind of party in the Philippines, originated from Bohol. It can also be in a form of a refreshing drink with buko and pandan flavored gelatin and pinipig toppings or a flavor in the Filipino drink pearl shakes.
Ingredients
8 leaves of Pandan – (must be cleaned well)
5 Buko (Coconut)not too hard, not too soft- Grated to strips
Water approx. 10 cups
3 small cans of Nestle Cream
1 medium can of Condensed Milk
2 bars of Green Gulaman
1 3/4 Cups Sugar (more if you want it sweeter)
1 cup Kaong (optional)
Cooking Procedure
Boil water together with 8 pandan leaves that are individually twisted to break the fibers and expose the juice. Simmer for 20 minutes.
Before adding 2 bars of gulaman, make sure you remove the pandan leaves and check if the remaining water is equal to 8 cups – 1 bar of gulaman is good for 4 cups of liquid. If it is not 8 cups, less will mean hard gulaman and more than 8 cups will result in mushy soft gulaman.
Ensuring gulaman is well-dissolved stir well.
Add sugar while mixing. Do this for 5 minutes.
Pour through a strainer into cooling trays. Wait till it cools and hardens, then put in fridge.
Meanwhile, mix the grated buko with the 3 cans of cream and 1 can of condensed milk.
Add kaong if you prefer.
Get gulaman from ref and cut into 1 cm cubes.
Mix with buko mixture.
Served with Vanilla Ice Cream on top for a more delectable treat.
3.) Ube Halaya - a purple yam, a root crop that grows mostly everywhere in the Philippines. The most popular way of cooking ube is to make it into halaya hence called Ube Halaya. Violet yam (Ube), boiled and grated, mixed with coconut milk and Sugar, and cooked until thick.
Ingredients
1 kilo ube yam root
1 can (14 ounces) evaporated milk
2 cans (12 ounces) condensed milk
1/2 cup butter or margarine
1/2 teaspoon of vanilla (optional)
Cooking Procedure
On a pot, boil the unpeeled ube yam in water and simmer for 30 minutes. Drain and let cool.
Peel and finely grate the ube yam.
Heat a big wok in medium heat.
Melt butter or margarine, add the condensed milk and vanilla flavoring. Mix well.
Add the 1 kilo grated ube yam,
Adjust the heat to low
Keep on mixing the ingredients for about 30 minutes or until sticky and a bit dry (but still moist).
Add the evaporated milk and continue to mix for another 15 minutes.
Let cool and place on a large platter.
Refrigerate before serving the halayang ube.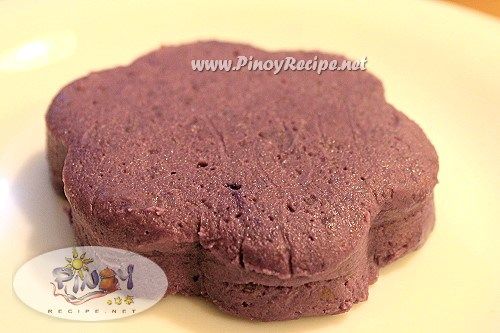 4.) Maja Blanca - dessert made primarily from coconut milk. Also known as coconut pudding, it is usually served during fiestas and during the holidays, especially Christmas.
Ingredients
1/2 cup thick coconut milk
1 cup rice flour
1 c. sugar
1/2 cup cornstarch
3 tbsp sweet corn kernel
4 cups fresh coconut milk
1/2 c. grated frozen buko (optional)
Cooking Procedure
Boil thick coconut milk in a saucepan until the oil is extracted and the precipitate forms into a dark brown color. This is called latik.
Drain the latik from the oil and set aside.
Grease a 13-inch rectangular dish with coconut oil. Set aside.
In a medium saucepan, blend rice flour, sugar,sweet corn kernels, cornstarch, and fresh coconut milk. Stir in grated buko (if used).
Boil over slow heat, stirring constantly to prevent lumps, until mixture is clear for about 3-5 minutes.
Pour hot mixture into prepared dish and allow to set.
Sprinkle latik on top. Cool before slicing.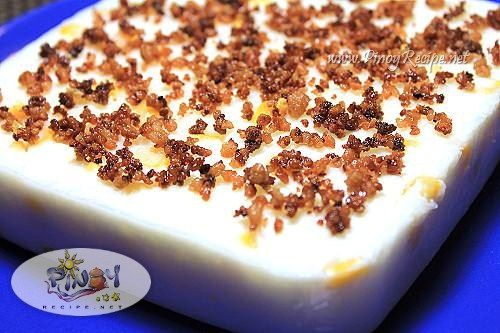 5.) Biko – Panlasang Pinoy described Biko, traditionally, this delicious rice cake is placed over banana leaves in a bilao (round woven bamboo tray) and garnished with latik (cooked coconut milk residue) on top.
Ingredients
2 cups malagkit (sticky rice)
1 cup brown sugar
3 1/2 cups diluted coconut milk
1/8 lb. butter
Topping:
1 can (15 oz.) condensed milk
3/4 cups rich coconut milk
2 to 3 tbsp. flour for quick thickening
Cooking Procedure
Grate and squeeze out milk from 2 coconuts. Save 3/4 cup of the first milk squeezed out (rich milk) for topping.
Dilute the rest of the coconut milk to make 3 1/2 cups. Or use 1 can (12 ounces) frozen coconut milk, saving 3/4 cup of the thick milk for topping and diluting the rest to make 3 1/2 cups.
Boil rice and coconut milk in a heavy pot stirring constantly to keep from burning (about 15 to 20 minutes). When the rice is done and almost dry, lower the heat and add the sugar and butter.
Mix well and set aside.
Scoop the cooked biko and place it in a baking dish or Bilao then flatten the surface.
To make latik or topping:
Combine all topping ingredients in a heavy saucepan and cook over low heat stirring constantly until thick (about 15 minutes) or brown.
then pour topping over rice mixture.
served while hot.
For more recipes visit Filipino Recipes Portal - Pinoyrecipe.net
Be a Pinoy Wanderer!
Choose Philippines encourages writers, photographers, travelers, bloggers, videographers and everyone with a heart for the Philippines to share their discoveries and travel stories.
Share Your Journey
Other Stories by Choose Philippines