Recipes
Soup stars
Metro Manila
1.) Pork Sinigang - is traditionally tamarind based. Seasoning powder or bouillon cubes based on tamarind is also used in place of natural fruits. Pork meat in sinigang is stewed with tamarinds, tomatoes, garlic, and onions. Othervegetables commonly used in the making of sinigang include okra, gabi, daikon (labanos), water spinach (kangkong), yardlong beans (sitaw) and eggplant (talong).
Ingredients
1 kilo Pork into small chunk cubes (you can now buy Pork Sinigang cut in Supermarkets)
2 medium size onion, quartered
2 medium size tomato, quartered
1 radish, sliced diagonally
4 gabi (taro root), cubed
2 medium size eggplant, sliced diagonally
1 bundle sitaw, cut into 2 inches length
1 bundle kangkong leaves
2 tbsp Sampaloc / Tamarind Sinigang mix
3 Siling haba
Salt or Patis
Cooking procedure
Wash the pork cubes thoroughly. Put in a large pot, cover with enough water then let it stay there for 5 to 10 minutes; this process will lessen the scum that rises to the surface when you boil the meat. Now throw the reddish water after minutes.
Add water again enough to cover the meat and bring to a boil, and simmer for 1 to 1 1/2 hours or until pork meat are tender. Take out all scum that rises to the surface. To add more water, make sure you add boiling water not just tap water, adding tap water will cause the meat shrink back.
When the meat is already tender add gabi (taro root), and simmer for 8-10 minutes or until gabi are tender and start to disintegrate.
Add onion, tomato and sinigang mix and simmer for 3-5 minutes. Season with salt or patis (fish sauce). Add in eggplant, sitaw, and radish, cook for 3-5 minutes.
Then add kangkong leaves and sili haba. Cook for another 2 minutes or until vegetables are cooked. Serve hot.
2.) Chicken Tinola - is best served with rice during cold and rainy seasons. It eventually becomes a highlight since it provides a warming effect. More so, the soup of Chicken Tinola Recipe is a good and delightful option for sick individuals. It contains the essential nutrients that the body needs during the recuperation process.
Ingredients
1 kilo Chicken drumstick choice cuts
1 small young papaya, cut into small pieces.
2 tablespoons ginger, crushed and sliced into strips
1/2 cup Chili leaves
1 liter of water
3 siling haba ( chili )
1-2 stalk lemongrass
5 garlic cloves, minced
5 pieces of tomatoes small sized, sliced ( optional )
1 red onion, diced
4 tablespoons oil
2 tablespoons patis (fish sauce)
Cooking procedure
In a large pan, heat oil and saute' garlic, onion, tomatoes, chicken and ginger.
When the tomatoes are cooked add water and lemongrass.
Bring to a boil and simmer for about 20 minutes or until chicken is almost done.
Season with patis or salt.
Add papaya and Siling Haba ( chili ) and continue to simmer for an additional 5 minutes or until papaya softens but not overcooked.
Add Chilli leaves then turn off the heat.
Serve steaming hot with plain rice.
3.) Beef Stew - an everyday dish that can be found in carinderias (small eatery) which is highly appreciated by every one, most especially those tired jeepney and cab drivers who never eat without "mainit na sabaw" (hot soup).
Ingredients
1 kilo beef, cut into 1 1/2? x 1 1/2? cubes
8 potatoes cut the same size as the beef
1 bundle Pechay (Bok choy) cut into 2 pieces
1 small cabbage, quartered
5 onions, diced
1 head garlic, minced
4 tablespoons of patis (fish sauce)
3 tablespoons of cooking oil
10 corns of black pepper
1 liter of water
Salt and pepper to taste
Cooking procedure
In a big casserole, heat oil and sauté the garlic and onions.
Add water, the beef, black pepper and patis. Bring to a boil then simmer for 1 hour or until the beef is tender.
Add the potatoes. Continue to simmer until potatoes are cooked.
Add the cabbage then the pechay. Do not overcook the vegetables.
Salt and pepper to taste.
Serve steaming hot in a bowl and plain white rice.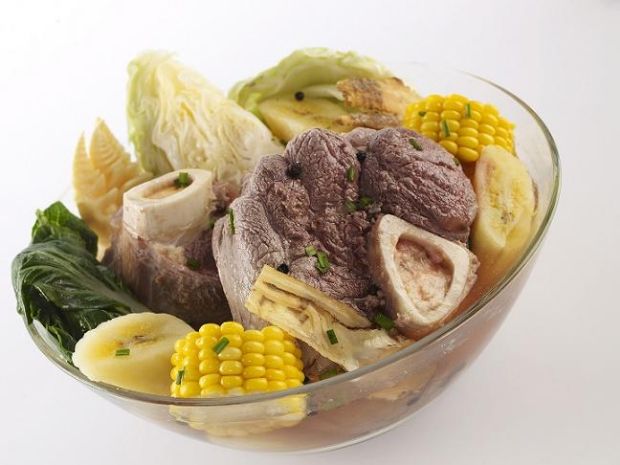 Photo: www.filipinovillage.com
4.) Bulcachong - according to joahnadiyosa "bulcachong" is a buffalo meat recipe which can be similar to bulalo (Filipino beef shank and bone marrow stew) but is uniquely different when it comes to appearance, aroma, and taste. Certified Davao delicacy! =)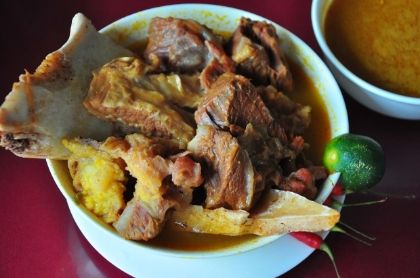 5.) KBL - an authentic Ilonggo dish! The kadyos gives the broth a light purplish hue and enhances the taste of soup. Baboy. In this recipe the pata (hocks) is the choice cut and you must choose the lean-fat-cartilage/tendon combo. The pork will give KBL a distinct taste. Langka. Unripe or raw jack fruit is required for this dish, it is usually cut into large cubes and boiled until cooked before adding the souring ingredient. Bat-wan is the recommended souring agent for this recipe but if its not available you can use Sinigang mix or Tamarind. Batwan or batuan is a tiny green fruit grows abundantly in the Western Visayas region and oftenly used as souring ingredients in soups and fish dishes.
Ingredients
1 Pork Pata (Hocks), sliced
1 /4 kilo unripe jack fruit, cut into large cubes
1 cup pigeon peas (kadyos)
5 pieces large sized Batwan or 1 pack sinigang mix
2 bundled tanglad or lemongrass
1 medium sized Onion
1 piece beef cube
6 cups of water (per batch)
3 pieces Siling haba or Red Pepper
salt and pepper to taste
Cooking procedure
Prepare Kadyos by soaking it overnight.
Pour water in a cooking pot (first batch) then add the Pork, Lemongrass and a little salt and.
Bring to a boil and simmer for 5 minutes then throw away the liquid this will remove the bad odor from the pork skin.
Next Pour another 6 cups of water to the pot for second batch, add the onions and let boil.
Add beef cube then on a low heat simmer for 40 to 45 minutes until the pork is tender.
Once the pork is tender add the Kadyos or pigeon peas then cook it for 20 to 25 minutes or until the peas are tender.
Then add Batwan or sinigang mix, salt, pepper, and Langka or jack fruit.
Cover the cooking pot and cook for 15 minutes until the jackfruit is cooked.
Add salt and season to taste.
Serve and enjoy!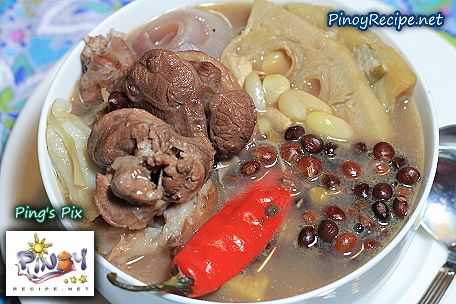 Recipes by PinoyRecipe
Be a Pinoy Wanderer!
Choose Philippines encourages writers, photographers, travelers, bloggers, videographers and everyone with a heart for the Philippines to share their discoveries and travel stories.
Share Your Journey
Other Stories by Choose Philippines