Restaurants
Where to Eat in Davao City: 20 Must-Try Restaurants
Must-Eat Places Series: Davao City
As diverse as its peoples of various ethnicities and faiths, Davao City offers a wide range of culinary delights, from street food to fine dining. Check out these restaurants, which are arranged in no particular order. This list will continue to grow as we continue to explore the city's culinary terrain.
1. Puto Maya at Tsokolate
Bangkerohan Public Market
When you need a quick upper for cold days, go to Bangkerohan Public Market for a comforting cup of tsokolate and a slice of puto maya.
http://www.choosephilippines.com/eat/local-flavors/3226/ulan-puto-maya-tsokolate-tayo/
2. Rekado
Jacinto Extension
Filipino dishes cooked with a twist and with a taste of home are what are going to fill your tummy at Rekado.
http://www.choosephilippines.com/eat/restaurants/3101/rekados-davao/
3. Wild Berry
BuDa Road, Marilog District
With a menu of adobong baboy ramo, tapang usa, chili con carne, and the freshest juices and herbal teas, Wild Berry is worth the hour-long trip from the center of Davao City.
http://www.choosephilippines.com/eat/restaurants/3074/wild-berry-davao/
4. Garden By The Bay
Maryknoll Road, Lanang
Grilled food and other Filipino dishes are more delicious when you dine in this restaurant by the beach.
http://www.choosephilippines.com/eat/restaurants/2699/garden-by-the-bay-samal-davao/
5. Kaonanan Sa Tribu K'Mindanawan
Crocodile Park Complex, Diversion Road
Meatless PaloSebo meal, Crocodile Hamonado and Sungkaan are just three of the unique delicious dishes that Kaonanan Sa Tribu K'Mindanawan offers.
They also have dishes cooked in a bamboo chamber or nilotlot.
http://www.choosephilippines.com/eat/local-flavors/2191/meatless-dishes-on-a-pole/
6. White House
Camella Northpoint, J.P. Laurel Avenue, Bajada
Fusion Cuisine blends well together at the White House. Each dish complements the other.
http://www.choosephilippines.com/eat/restaurants/2452/rsvp-dinner-white-house/
7. Tori Grill
Quirino Avenue
Tori Grill might just be Davao City's most affordable Japanese restaurant. You get quality and delicious Japanese dishes for less the price.
http://www.choosephilippines.com/eat/restaurants/2443/turning-japanese-twist/
8. Roxas Avenue
Night time food cravings can be satisfied in Roxas Boulevard as rows of stalls offer different food from grilled meat to fresh fish soup.
http://www.choosephilippines.com/eat/local-flavors/1715/night-dining-and-eating-at-roxas-avenue-davao-city/
9. Marina Tuna Seafood Restaurant
Km. 9, Sasa and Quimpo Boulevard, Sandawa Avenue near 911
Davao may not be the tuna capital of the Philippines but it has ten amazing and delicious ways to cook tuna. Marina Tuna Seafood Restaurant has been getting all the praises for coming up with their 10 Way Tuna. You get to eat tendon, crispy tail, sashimi, kinilaw, kare-kare, grilled belly, eye soup, bihod, grilled jaw (panga) and bagaybay in one restaurant. So next time you're in Davao, better try and experience this tuna treat!
10. Cecil's Snack Inn & Bakeshoppe
198 Anda St., 3-A Poblacion, Davao City
Photo from bacontunamelt.com
When you say Pancit Luglug in Davao City, there's no other place to go but Cecil's in Anda. Its just one of their bestsellers and Davaoeños look forward to having it for snacks along with their cheese bread or pan de siosa. If you would opt for a hot steaming bowl of batchoy, they also have it in the menu. Their chicken and durian pies are great for pasalubong. So if you want to experience a Davao snack favorite, try Cecil's treats.
11. Chippens
Roxas Avenue, Davao City

.
There are two places in Davao where you can get value for your money eat-all-you-can buffets. One of them is Chippens. They have a wide array of food choices from appetizers to desserts. The most requested is the Baby Back Ribs which is baked to the bone tender meat. And for those who crave for buko-pandan, you can always go back and back and back and back to the buffet table. At 348/head, prepare yourself for a gastronomic overload.
12. Lachi's Sans Rival, Atbp.
Marfori Heights, Davao City.
Bloggers rave about it, those who know swear by it. This little piece of culinary heaven is Lachi's. Their sans rival really has no rival and its unforgettable grilled pork ribs' taste stays in your mouth even after a long time, really unforgettable. There isn't a day when vehicles are not parked infront of the resto. When you get inside, people are happily having their fill of their meals if not the snacks. If you come in late, you have to wait. Which reminds me, I have to be there again! Paging, Mike and Melvin Aviles.
13. Café Teresita
Shrine Hills, Davao City.
The newest addition to cozy and relaxing home-cooked dining is Café Teresita's in Shrine Hills. Tucked under the trees of green Shrine Hills among all the radio and tv stations, it has Native Tinolang Manok, Kare-Kare, Pinakbet with Chicharon and Camote. Those are just samples of the delicious dishes that they cook. The price is so affordable and you get your buko juice straight from the nut.
14. Davao Dencia's Restaurant
General Luna St., Davao City.
You have not tasted Davao food until you have eaten at Davao Dencia's Restaurant. As far as I can recall, Dencia's has figured in a lot of special occasions in my life--- confirmation, first communion, graduation from both elementary and highschool and on days and nights that I needed my comfort food of lugaw and tokwa't baboy. There's nothing fancy about how they cook their pancit, lumpiang shanghai, chopsuey, lomi or the famed lugaw and tokwa't baboy but its going back to a place that reminds you of a noisy kitchen in the comfort of your home. Dencia's is synonymous with Davao.
15. The Vista Restaurant at Eden Nature Park and Resort
Eden, Bayabas, Toril, Davao City.
The Vista Restaurant at Eden Nature Park and Resort offers the freshest vegetables, herbs and fruits straight from its gardens and orchards. The cool mountain air would whet your appetite as the buffet table is laden with choice meat viands, crunchy vegetables in different herb infused sauces, freshly squeezed fruit juices and sweet desserts.
http://www.choosephilippines.com/eat/loca-flavors/663/ubod-salad-pineapple-vinaigrette/
16. Saging Repablik
Tiongko corner V. Mapa Streets, Davao City.
All the dishes that you can think of that have banana on it, such as banana sisig, banana bibingka, humba banana -- and you can create your own banana cue! You'll say goodbye, Banoffee Pie, and say hellow to Banana Walnut Torte itow!
Appetizers, main dishes, desserts, drinks, name it…go for a banana overload at the Saging Repablik.
http://www.choosephilippines.com/eat/restaurants/1702/go-crazy-over-bananas-at-saging-repablik/
17. Antonio's Bar and Grill
SM City Ecoland and Abreeza Mall in Bajada, Davao City

.
It's not just a bar and grill but a home for fusion dishes. They introduce twists into traditional Filipino food or other cuisines, and make them more palatable, affordable, and definitely more delicious. Since Antonio's is Davao-born and raised, they incorporate Davao ingredients into their dishes like pomelo juice, crispy tuna, buko and durian shake. It's worth eating at!
http://www.choosephilippines.com/eat/restaurants/1651/crispy-tuna-sizzling-squid-buco-durian-kadayawan/
18. Tiny Kitchen
F. Torres St., Davao City.
Whenever I want to treat myself, or my best friends need to treat ourselves to good food, there's no other place to be but at Tiny Kitchen. Chef Vince Rodriguez whips up mean paella (negra, valencia, marisco), chorizo pasta, salpicao, and all those dishes that make my mouth water just by thinking of them! Out of their kitchen comes huge delicious dishes that satisfy your cravings for hot and uber-delicious treats. Oh, and their cakes from Dulce Vida are the perfect and best treats to cap your meal. I'm giving Tiny Kitchen more than two thumbs up!
19. Vista View Restaurant
Diversion Road, Brgy. Langub, Davao City
It isn't called Vista View for nothing. You really do get a view of the Davao City vista from this dining place. There are cottages all around the hill to give you privacy and different perspectives of the city. And they do have this delightful boodle bilao where grilled chicken, fish, squid and pork, steamed vegetables, kinilaw (ceviche) is put on top or around dried salted fish rice.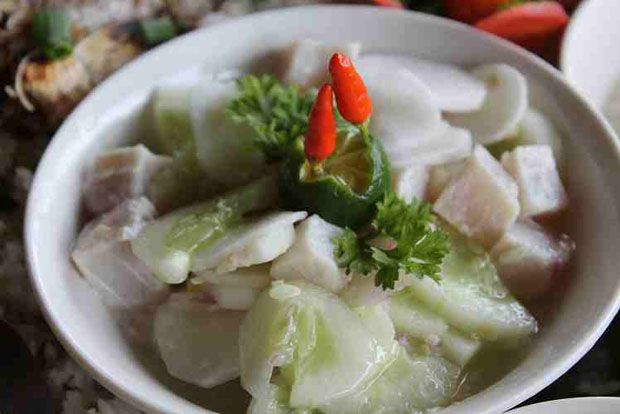 You can enjoy good food, good company and good view from Vista View.
http://www.choosephilippines.com/eat/local-flavors/82/boodle-bilao-fight/
20. Balik Bukid
Quimpo Boulevard near Ecoland Drive, Davao City.
Going organic has never been tastier than in Balik-Bukid. You get the freshest vegetables and herbs for your salad, farm-bred meat, freshly squeezed and concocted juices, dressings that hint of different herbs, homemade ice cream, and yummy chocolate. Don't forget the overall ambience that's environment-friendly.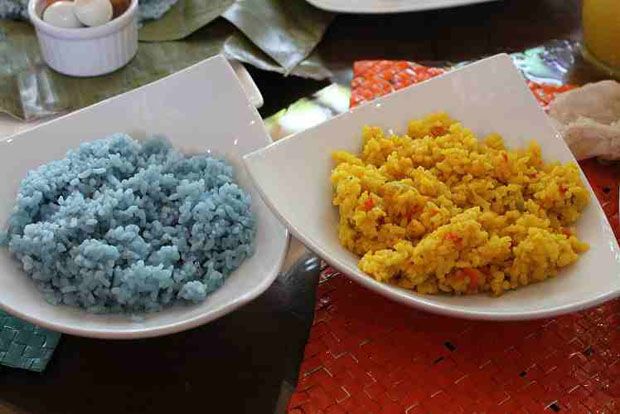 What's more interesting is that they're continually serving new dishes or improving on the others. Definitely a you-can't-get-enough dining place. My favorites: The Balik-Bukid Salad in Pesto Dressing, Blue Rice, and their signature juices!
http://www.choosephilippines.com/eat/restaurants/987/lets-go-balik-bukid/
How to Get There:
PAL and other major airlines fly daily to Davao from Manila and Cebu. Taxi flag down rate is Php 40 and jeepney fare starts at Php 8.
Be a Pinoy Wanderer!
Choose Philippines encourages writers, photographers, travelers, bloggers, videographers and everyone with a heart for the Philippines to share their discoveries and travel stories.
Share Your Journey
Other Stories by Ida Damo