Restaurants
A Quickie by the Beach in Roxas City
Capiz
---
We're Ramil Delos Reyes and Edgar Co of Pinas Muna. We first explored the seafood restaurants that lined Baybay Beach of Roxas City, Capiz during our early years in the blogging community.
The story: we took the 12:00 noon Ceres aircon bus for Roxas City (Php162.00 each) from the Tagbac Terminal in Jaro, Iloilo City.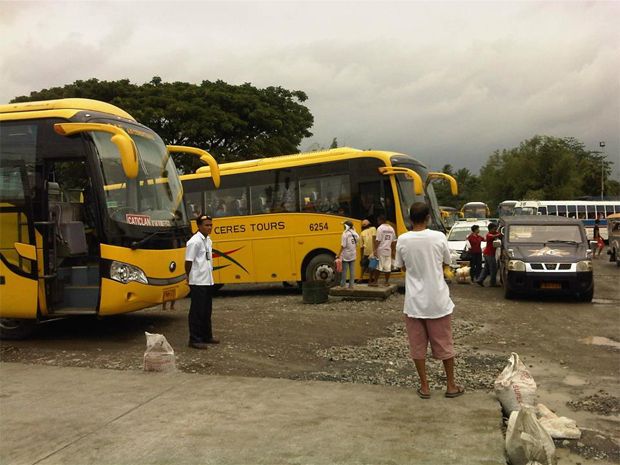 Tagbac Terminal in Jaro, Iloilo
The bus left the station 30 minutes behind schedule. The 2-hour bus ride along the Iloilo-Capiz road had a 15-minute stopover at Passi City. We arrived at the Ceres Bus terminal in Roxas City at 2:45 in the afternoon.
Since the last trip back to Iloilo City would leave at 5:00pm, this visit to Roxas City, the seafood capital of the Philippines, had to be a quick one (unfortunately). From the bus terminal, we arranged a round-trip tricycle ride to the Baybay Beach and back to the Ceres bus terminal for Php200.00. The trike drove through the town proper, passing by the city hall and the provincial capitol, and along Arnaldo Blvd. leading to Baybay.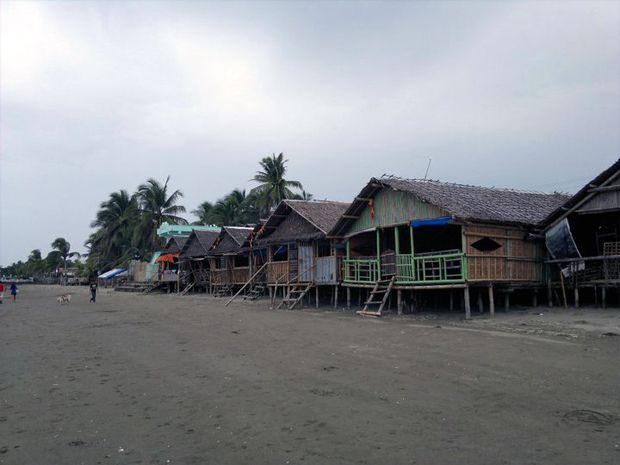 The seafood restaurants along Baybay Beach.
At 3:15pm, we reached the seafood restaurants along Baybay Beach.
We ordered scallops, squid, and pork liempo (Php50.00).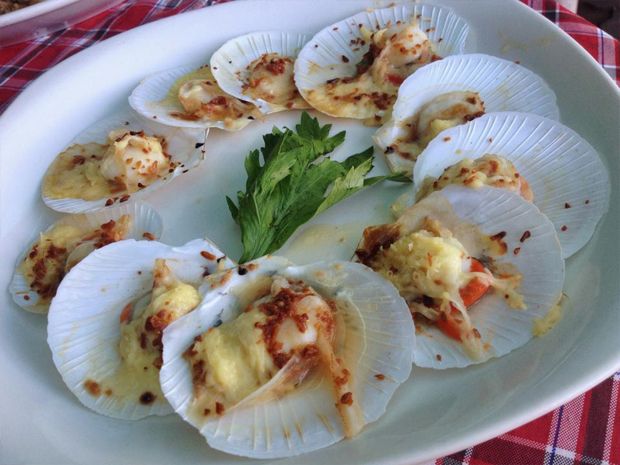 10 pieces of scallops at Php140.00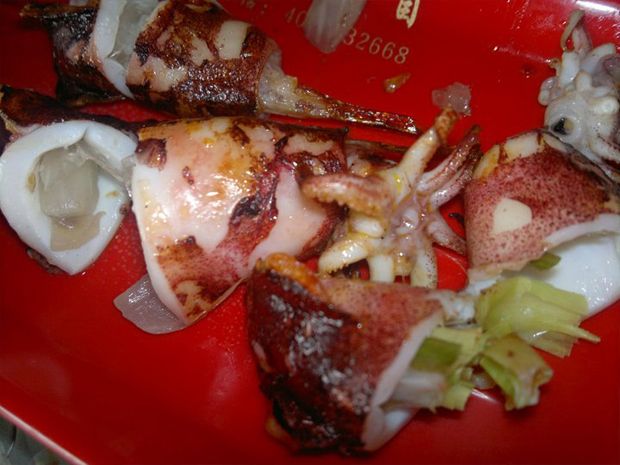 2 pieces of squid at Php50.00
While waiting for our late lunch to be cooked, we strolled along the grey sands of Baybay Beach.
The clean grey sands of Baybay Beach.
There was nothing much happening other than local kids playing by the beach.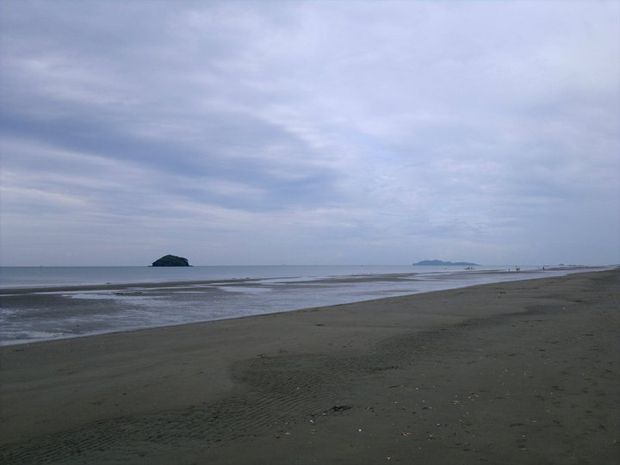 Lunch was served around 3:30pm.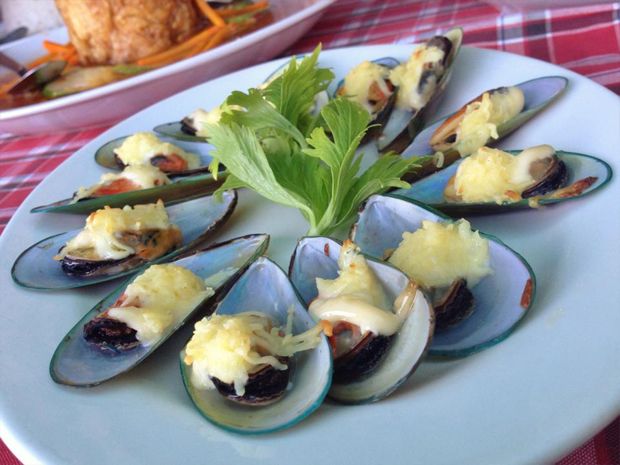 More seafood, green shells.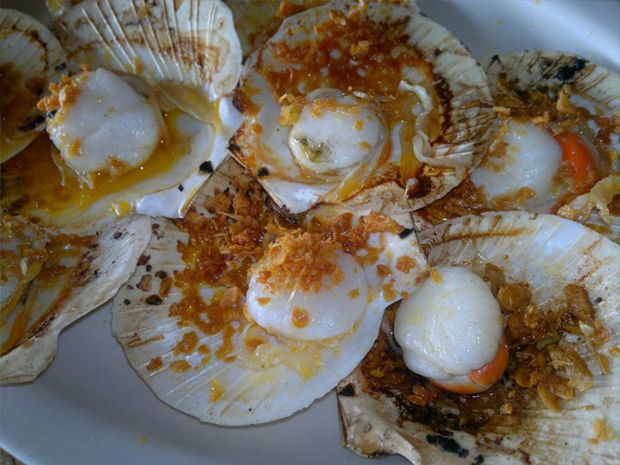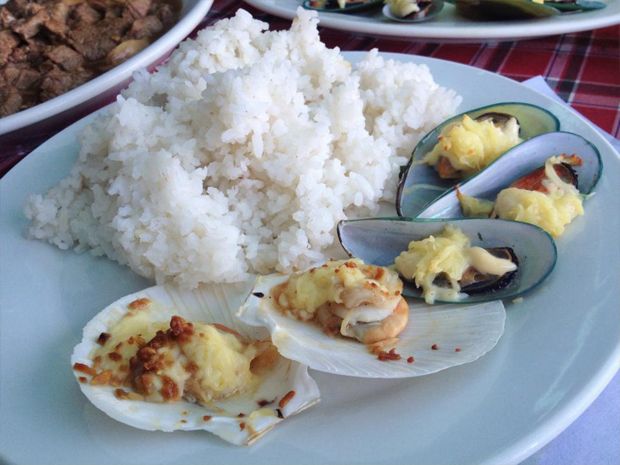 We wanted to order for grilled fish but we were already full. So we planned to reserve the grilled fish for our next visit.
By 4:00pm, we were ready to go back to the bus terminal.
It was definitely a quickie by the beach -- all we spent for the experience was 30 minutes.
For our next trip to Roxas City, we'll surely make time to visit the town proper, the Libas fish port, the Pan-ay Church, and hopefully spend an evening in the city to sample its nightlife.
---
Speaking of spending more time in Capiz:
VIEW: The virgin mountaintop waterfalls of Pilar, Capiz.
READ more Pinas Muna articles on Choose Philippines.
(These travel essay and photos were previously published on www.pinasmuna.com. For more features about Philippine travel destinations, food, delicacies, festivals and products, as well as hotels, resorts and restaurants, like the Pinas Muna FB Page.)
Be a Pinoy Wanderer!
Choose Philippines encourages writers, photographers, travelers, bloggers, videographers and everyone with a heart for the Philippines to share their discoveries and travel stories.
Share Your Journey
Other Stories by Pinas Muna