Restaurants
9 Ways to Take Your Lover to Cloud 9: Baguio Escape
Baguio, Benguet
The perfect place for a charming weekend getaway, Baguio has become a personal favorite despite the long bus ride from Manila. Going on a food trip at the new restaurants, strolling at the parks, doing selfies at "pang-turista" destinations, and even just staying in for some R&R in this fog-laden city up the mountains never gets old. More so, if you're bringing someone to stay warm with. Suddenly, everything becomes a first. Here's a list of things to do in the City of Pines, all from a lovely (or in-love??) perspective.
1) Rest on each other's shoulders while watching the sunrise at Mines View Park.
Getting up from under the sheets when it's still dark (and cold) outside is probably one of the hardest things to do in Baguio. But the spectacular view from Mines View Park's observation deck makes the 4-kilometer travel from downtown worthwhile.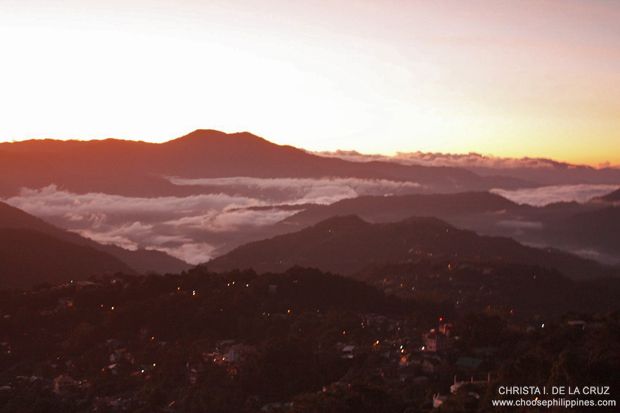 The view deck overlooks the mining town of Itogon (thus the name 'Mines View') and offers a glimpse of the Amburayan Valley.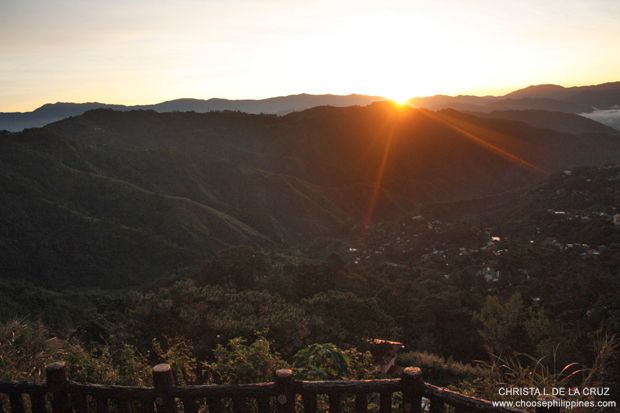 2) Stop and smell the flowers at Botanical Garden.
Located east of the city, the Botanical Garden features native huts typical of dwellings in the Cordilleras, a variety of plants and flowers, and structures that represent Baguio's sister cities all over the world. Its entrance can be found along Leonard Wood Road (between Teacher's Camp and Pacdal Circle).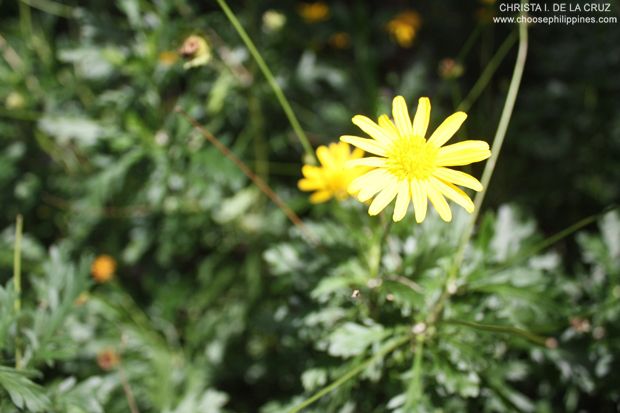 Don't pick the flowers inside the park. Buy your own bouquet!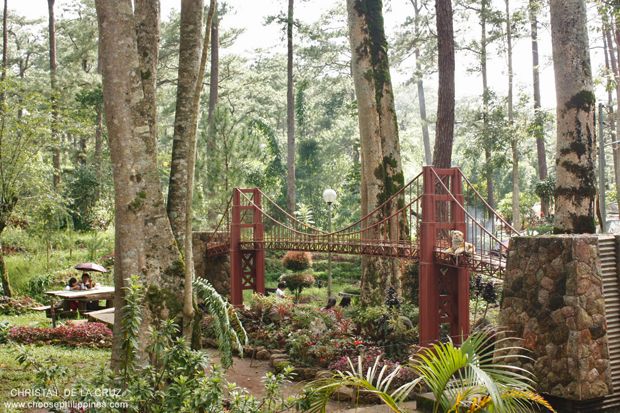 Representing Vallejo, California, a sister city, is the famous Golden Gate Bridge of San Francisco.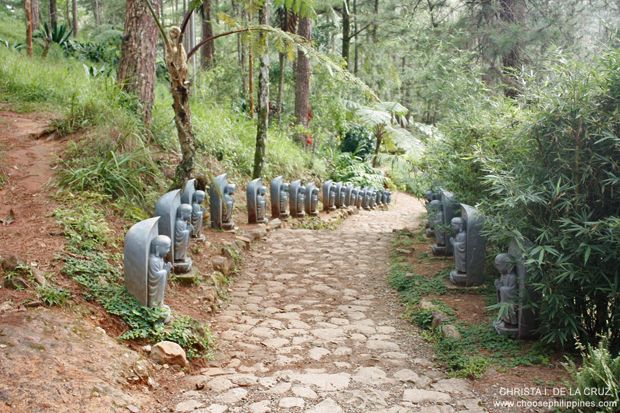 A pathway of the monk statues represents Wakkanai, Hokkaido, Japan, another sister city.
3) Steal a kiss while strolling under the pine trees at Camp John Hay.
Named after US President Theodore Roosevelt's secretary of war, John Hay Air Station or Camp John Hay is a recreational complex that houses gardens, picnic areas, an amphitheater, hiking trails, an 18-hole golf course, hotels, and restaurants.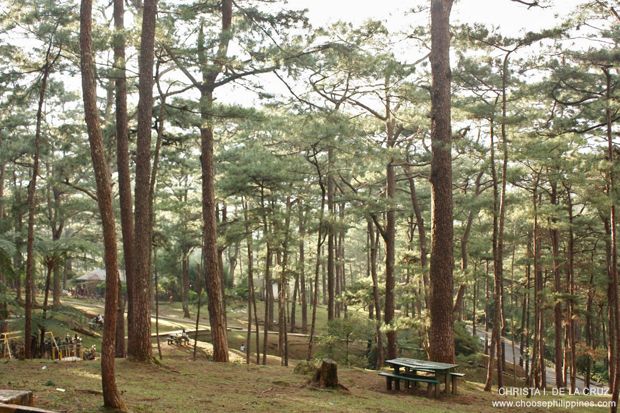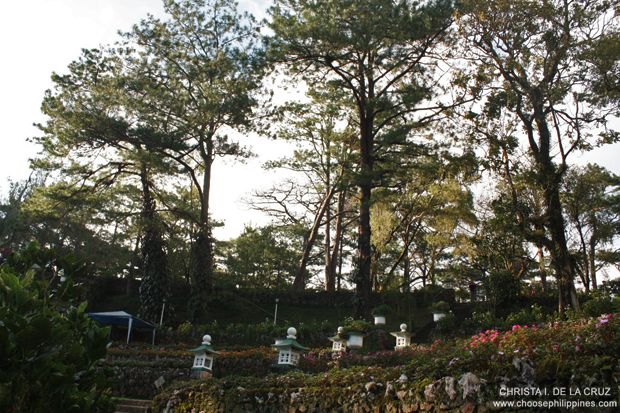 A section of the park seems to be frozen in time as it features the well-preserved vacation quarters of General J. Franklin Bell, the Commanding General responsible for transforming Camp John Hay into a military resort.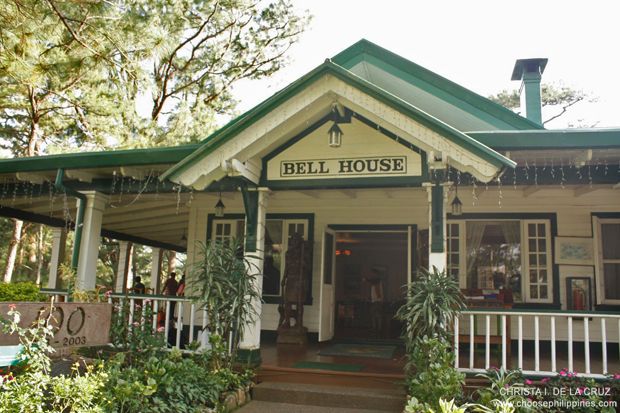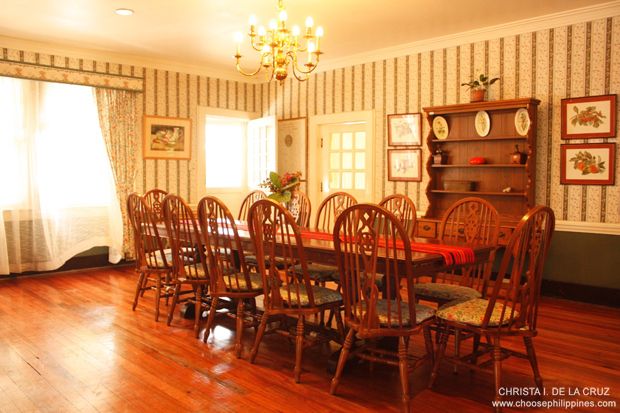 The warmth of the rooms is very inviting. One can just imagine spending the whole of summer vacation in this place. Unfortunately, the house is available only for viewing.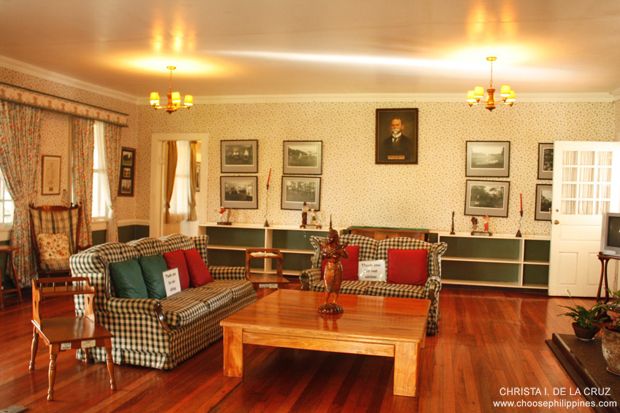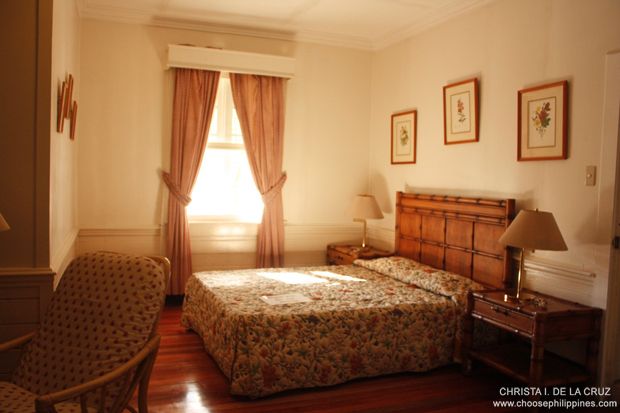 4) Sip a warm cup of tsokolate at Choco-latè de Batirol.
Tucked away in a garden, this Filipino café uses the traditional process of tsokolate-making, which is using a wooden rod called the "batirol" for mixing the concoction of local cacao beans. This produces the hot, thick, and bittersweet drink. The café sometimes features live music you can dance along with while under the moonlight.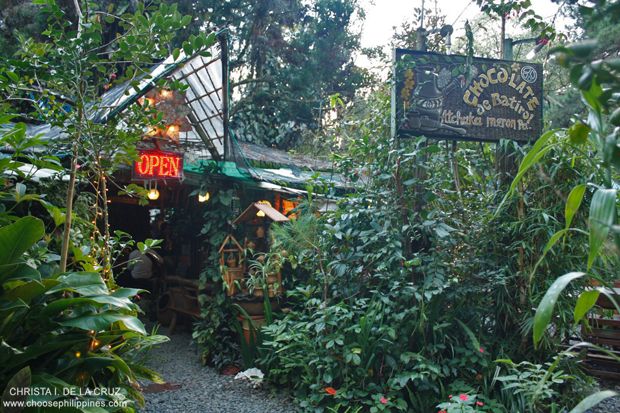 Gate 2, Igorot Park, Camp John Hay (near Baguio Country Club)
Open: Mon-Thurs (9am-8pm), Fri (9am-9pm), Sat-Sun (9am-10pm)
Bibingka goes well with a cup of "Baguio Classic," strawberry-flavored, of course!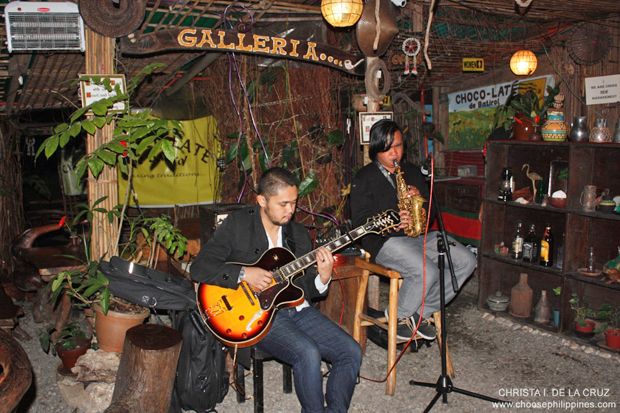 Dedicating a song for her? The Sunset Sound duo (Ian & Luis) can play it for you.
5) Ride the swan boats at Burnham Park.
Named after the city's planner, Daniel Burnham, this park is probably the most photographed Baguio destination because of its location at the heart of the city. Aside from rowing a boat at the man-made lake, couples can also have a picnic, go biking or skating, and do other cliché things.
6) Hold hands while on a unique movie date at Baguio Cinematheque.
The Cinematheque screens mainstream and independent, classic and contemporary Filipino films. They also screen foreign films especially those that you may have missed during the Cine Europa/Eiga Sai/Pelicula film festivals back in Manila.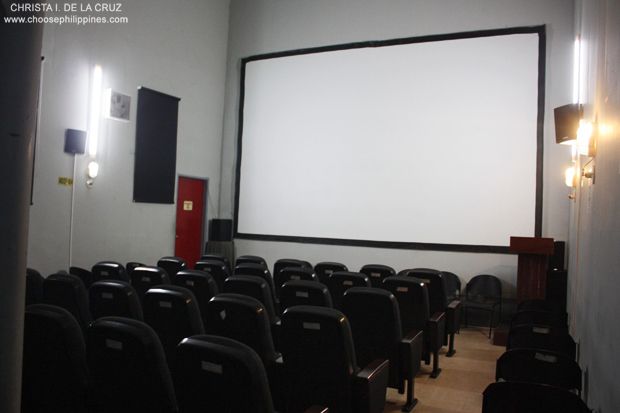 Casa Vallejo, Upper Session Road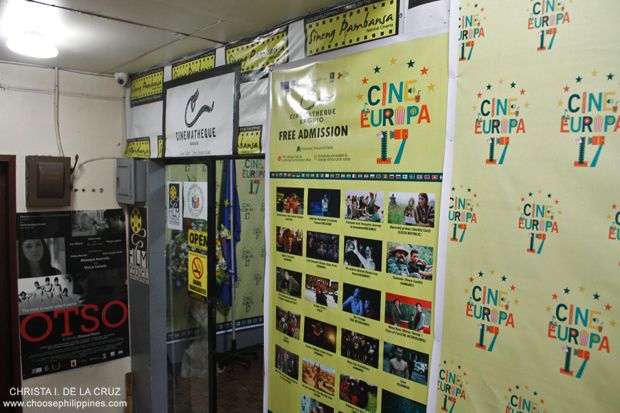 Follow on Facebook for screening schedule.
7) Impress your date with a poetry performance at Mt. Cloud.
Right in front of Cinematheque, this bookshop sells well-curated books and even hard-to-find ones. Some nights are reserved for poetry slam, storytelling, and even some soft music jamming.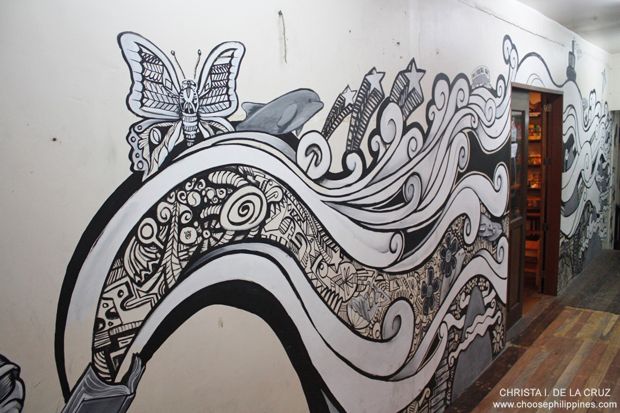 Casa Vallejo, Upper Session Road | Open: Mon-Sun (10:30am-8pm) | Phone: (074) 424-4437
If you're not the performing type, you can just sit back and relax. Enjoy the shows in this intimate bookshop cum library, where you can even spend hours skimming through books without anyone shooing you off.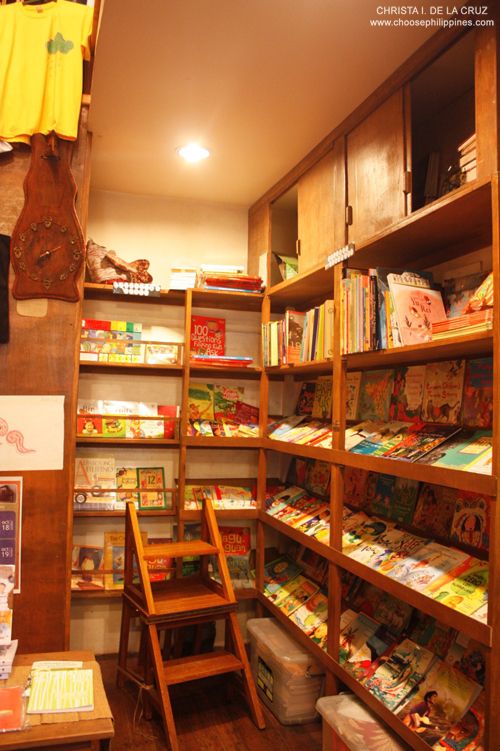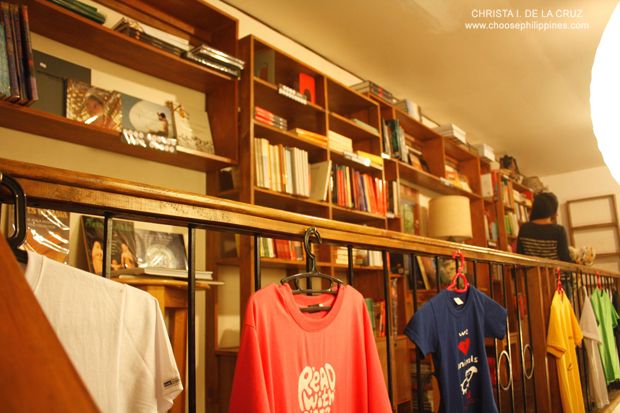 8) Listen to jazz during a candlelit dinner at Café by the Ruins.
Café by the Ruins is an all-day breakfast restaurant and features Filipino cuisine. A classic in the Baguio food map, it maintains its countryside ambiance with its bamboo fences, sculpted furniture, and greenery amidst the broken down wall of what was once the house of the first American Governor General of Benguet, Phelps Whitmarsh. The site was bombed during World War II and its scars remain on the foundation as part of the rich history of the café, even giving it a romantic jungle-in-the-city feel.
25 Chuntug Street | Open: Mon-Sun (7am-9pm) | Phone: (074) 442-4010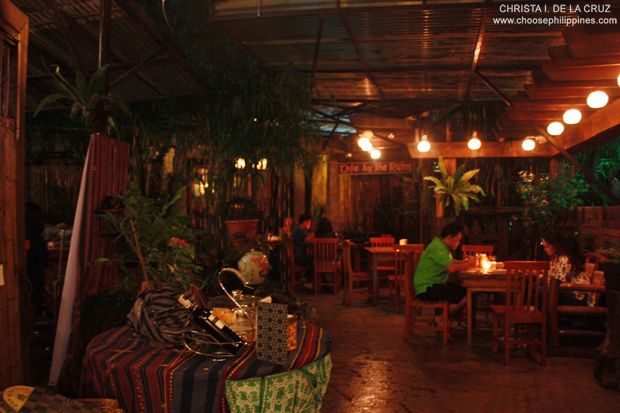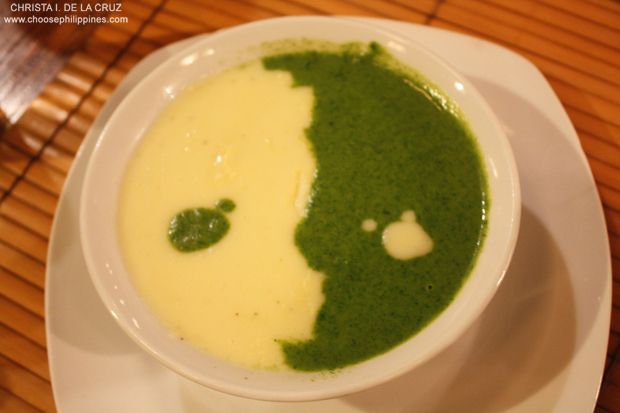 Potato Leek and Watercress Soup
Bistek with Herbed Butter | PhP 320
9) Cuddle at a bed & breakfast.
Optional but encouraged: Take a hot shower together. *wink wink*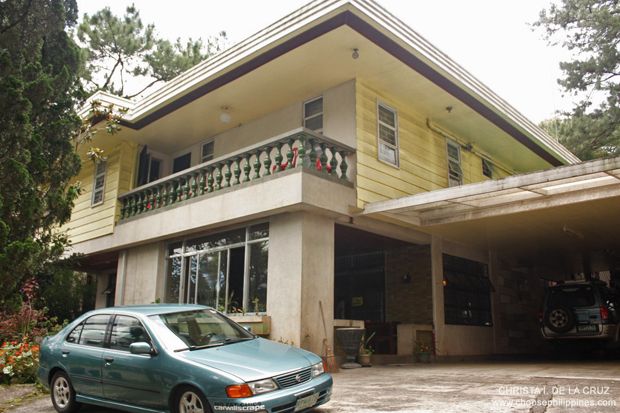 1896 Bed & Breakfast | 47 Kisad Road | Phone: (0917) 861-0724
One such place would be 1896 Bed & Breakfast. It has four rooms, each named after a Philippine hero: Rizal, Mabini, Del Pilar, and Jacinto. Rooms can fit couples, families, or barkadas as needed, with prices ranging from PhP 1500 to PhP 2000 per night. During the rainy months of July to September, they offer a limited promo of PhP 800 per night for two, breakfast included.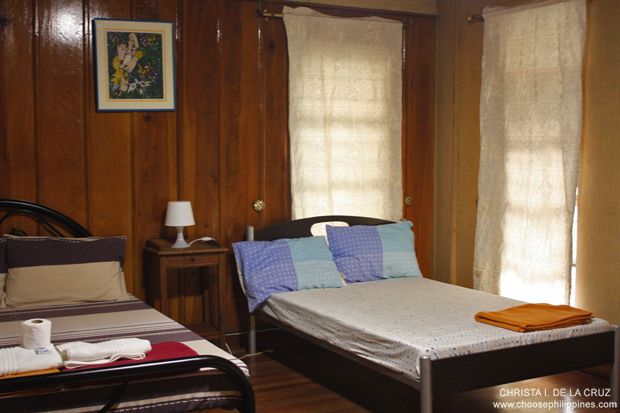 The garden-facing Mabini Room can fit up to 8 persons…but why would you do that??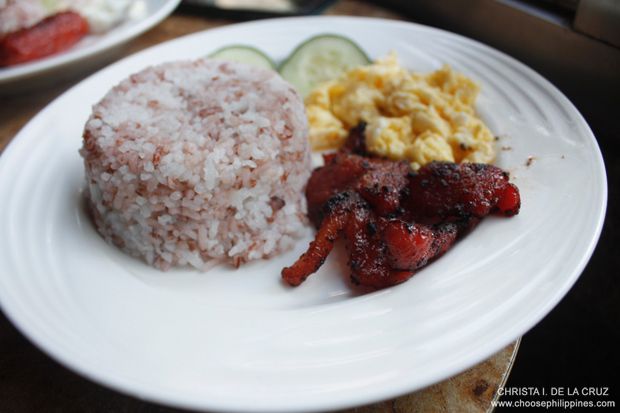 Gat. Andres Café and Restaurant serves Filipino meals, and even cocktail drinks of your choice.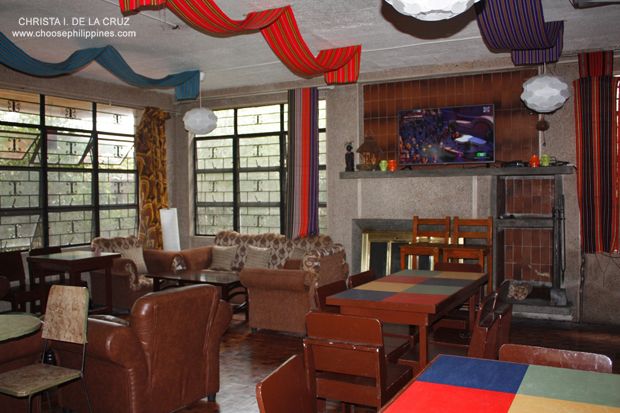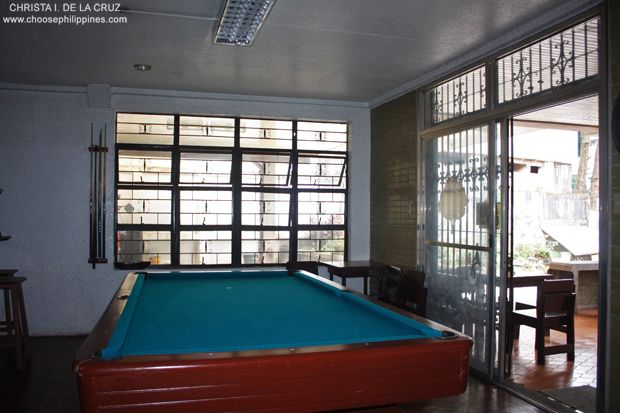 ---
Can't get enough of her or him? I mean…of the Cordilleras? Baguio City can be a jump-off point to nearby provinces and more romantic spaces.
Go strawberry picking while singing The Beatles' "Strawberry Fields Forever."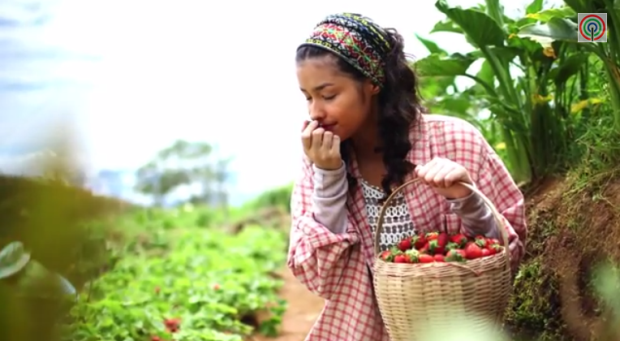 LaTri's romantic appeal has even made it to primetime TV. Coming soon on ABS-CBN, starring Enrique Gil and Liza Soberano: Forevermore, a love story that blossomed right in the strawberry farm of just outside the "Strawberry Capital of the Philippines".
"Ang teleseryeng magpapaalala sa 'yo what it feels like to fall in love for the very first time."
Battle the cool weather together at Yoghurt House.
Sagada's revered Yoghurt House is just one of the mountain restaurants where you can enjoy peace, great food, great weather, and each other's company.
Soak up art and culture at the BenCab Museum.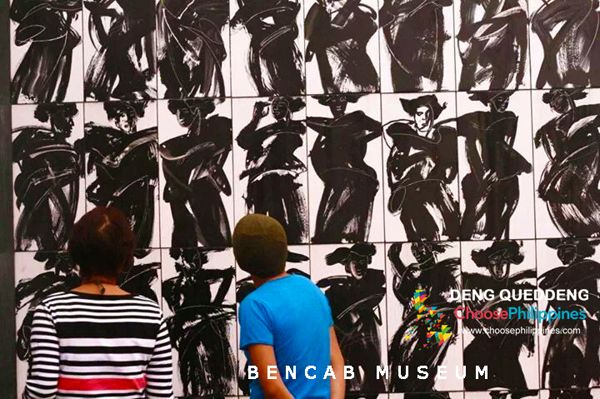 Aside from the BenCab Museum, Baguio has a multitude of other charming art centers to make you a cultured couple.
---
VIEW: Check out the treats you can bring home from Baguio & the mountains with the Choose Philippines Pasalubong Map: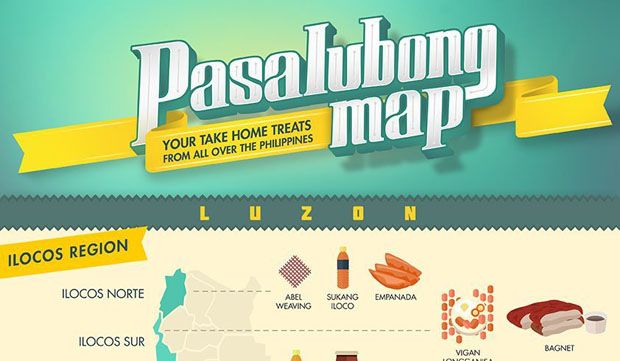 ---
Where on Earth is Baguio City?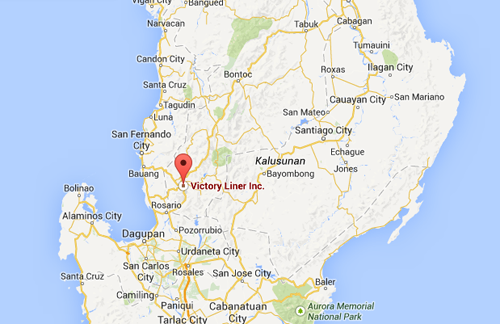 It is located in the province of Benguet in Northern Luzon. (Courtesy of Google Maps.)
---
How to Get There
Baguio is a 4 to 7-hour bus ride from Manila, with the travel time depending on the schedule of the trip you'll take from Cubao, Quezon City or Pasay City. It is best to leave around midnight to arrive just in time for the sunrise at Mines View Park.
Option 1: Victory Liner - First Class
has no stops
4-5 hours
10:15am / 12:20pm / 8:15pm / 11:15pm
PhP 750
Option 2: Victory Liner - Regular A/C Bus
has two stops
6-7 hours
leaves every hour, 24 hours
PhP 450
Be a Pinoy Wanderer!
Choose Philippines encourages writers, photographers, travelers, bloggers, videographers and everyone with a heart for the Philippines to share their discoveries and travel stories.
Share Your Journey
Other Stories by Christa De La Cruz