Restaurants
Where to Go on #TakawDates in Metro Manila
Metro Manila
---
Most of my friends can attest to fact that I am not a fan of food. (As if you need to be a fan of the most basic in the hierarchy of needs, right?) I eat at a very slow pace, I get confused when there's too many viand options on my plate (much more if it's a buffet), and I'm not too keen on eating vegetables (which I call rabbit food).
But the recent #TakawDates in various places in Metro Manila are slowly (but surely) changing my eating habits and putting in the much needed weight — one (insta)gram at a time.
Here's a list of restaurants in Quezon City, Pasig, Makati, and Manila perfect for after-work dates or just weekend dine outs:
1) Grub
Sgt. Esguerra cor. Mo. Ignacia Street, Quezon City (inside ABS-CBN)
Mon - Fri: 11:00 am - 9:00 pm
Using the tagline "Eat what you love, love what you eat," Grub offers DIY options for your comfort food.
Diners can create their own sandwich combinations by mixing and matching roastbeef, bacon, or grilled chicken with parmesan or mozzarella, lettuce or mushroom, and top it all off with tomato gravy or lemon butter. Set meals are a no-no in this place since you can also mix-and-match your choice of main entree with your sides and everything else.
2) Kamuning Bakery
43 Judge Jimenez Street cor. K-1st Street, Kamuning, Quezon City
Mon - Sat: 5:00 am - 11:00 pm
Sun: 5:00 am - 9:00 pm
The historic Kamuning Bakery was the very first bakery to open in QC (1939). The quaint bakery uses an authentic pugon or wood-fired oven to prepare its bestsellers like pan de sal, fist-sized pan de suelo, pan de coco and cinammon rolls.
As of recent, the bakery has undergone improvements in its interiors.
3) Handuraw Pizza
2nd Floor, 1A Masunurin Street corner Anonas Extension, Sikatuna Village, Quezon City
Tues - Sun: 1:00 pm - 12:00 am
Handuraw Pizza traces its roots back to 2004 in the island of Cebu. According to its website *, Handuraw (han-doo-rau) was coined by the family's matriarch Becky Pestaño Smith. The old Cebuano word translates to "the power to imagine," which is perfect for the restaurant and events place vision of embodying creativity.
They have also developed their own line of thin-crust pizza through the efforts of siblings Gina Pestaño-Castro and Marissa Pestaño-Basilad. On music nights, regulars flock to the café to listen to up and coming local artists, feast on the number of food choices, and hang out with friends.
It has four branches in Cebu, one in Capiz, and two in Metro Manila (the other being at the Moonwalk Access Road in Parañaque City).
4) Gerry's Jeepney
154 Maginhawa Street, Quezon City
Tue - Thu: 11:00 am - 10:00 pm
Fri - Sun: 11:00 am - 11:00 pm
Relive your childhood while playing sungka, checkers (kanto-style), cards, and pick-up sticks as you wait for your food.
After a game (or five), you're surely ready to battle it out with your date, boodle-fight style. If eating on banana leaves isn't your thing, you can order plated viands from their menu of everything Filipino: inihaw, sisig, binagoongang lechon kawali, and their own leche flan.
5) Mesclun Bistro
Ground Floor, Eastwood, Quezon City
Mon - Sun: 11:00 am - 11:00 pm
The Eastwood branch is the third of its kind — the first being inside Linden Suites (2012) and the second launched in Serendra (2013).
Behind the bistro's sumptous menu is Chef Katrina Arce Kuhn-Alcantara, part of the family behind the renowned local ice cream Arce Dairy. (Remember Pope Francis' favorite Mantecado?) Her culinary training from France is a welcome twist in the restaurant's global menu infused with the Filipino touch.
6) Mang Larry's Isawan
Inside University of the Philippines-Diliman, Quezon City (near the College of Law)
Mon - Sun: 10:00 am - 9:30 pm
Famous among UP students, alumni, and basically, everyone else, Mang Larry's Isawan could be a date place if you're trying to be cute (or just kuripot). The street food stall has been around since 1984 and people say that Mang Larry has sent his kids to school just by selling these grilled treats.
7) Locavore
10 Brixton St., Kapitolyo, Pasig
Mon - Sun: 11:30 am - 2:30 pm; 5:00 pm onwards
According to Locavore's IG, a "locavore" is a person who makes an effort to eat food that is grown, raised, or produced locally.
Opened last December 2014, their must-try dishes are ginisang sugpo (served with fried organic cherry tomatoes), pakbet (sautéed eggplant, zucchini, squash, okra, and french beans in shrimp paste broth), and oyster sisig. Chef Mikel Zaguirre is the man behind the hip interpretations of these Filipino food.
8) Juanito's Bistro
50 East Capitol Drive, Kapitolyo, Pasig
A house that doubles as a restaurant, Juanito's Bistro provides a cozy ambiance for "Fridates" — perfect for capping a stressful work week. You have the option to sit on their couches or dine al fresco.
9) Pomodoro
6G San Rafael corner Sta Rosa St. Kapitolyo, Pasig
Mon - Sun: 11:00 am - 12:00 am
Seemingly plain as it may be with its corner location, simple tables and chairs, and checkered table cloths, this pizzeria serves hand-rolled thin-crust pizza that would make you get a slice after another.
10) Filling Station
5012 P. Burgos St., Makati
Always open
A 24/7 joint in Downtown Makati transports couples to US diners of the 50s. From the booths to the telephones, the whole place just screams of that interesting decade in history — rock-and-roll, Golden Age of Television, pop art, and the space race between the Soviet Union and America to name a few.
Complementing a replica of an oil barrel, specialties at Filling Station were named after cars and oil companies like "Cadillac" for the chicken barbecue with hichory sauce, "Fairlane" for the pan-fried fish fillet, and "Chevrolet" for the grilled salmon. They serve the usual burgers, fries, shakes, steaks, pizza, pasta, waffles, toasts, salads, and the list just goes on and on in this "always open" diner. Filipino dishes are also available — from the beef tapa, daing na bangus, and longganisa staples for breakfast, to the kare-kare, adobo, and sinigang for lunch/dinner.
And, of course, the milk shake for sharing (or not)!
11) 12 Monkeys
5th Floor, Century Mall, Kalayaan Avenue, Makati City
Tue - Sun: 5:00 pm - 4:00 am
12 Monkeys Music and Pub Hall is owned by 12 personalities, thus the name. It is the brainchild of Parokya ni Edgar vocalist Chito Miranda, Hale's former vocalist Champ Lui Pio, car aficionado DJ Keith Haw, JB Music's Jerico Fernando, veteran radio man DJ Tony Toni Bueno, sportscaster Jinno Rufino, and other luminaries in both the entertainment and business industries.
As a music hall with an intimate setting, it features live bands from various genres.
---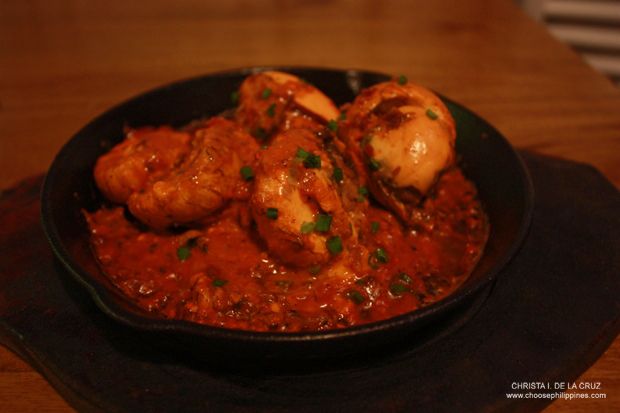 ---
12) Casa Roces
1153 J.P. Laurel cor. Aguado Sts., San Miguel, Manila
Mon - Sun: 10:00 am - 10:00 pm
Casa Roces serves heirloom recipes that are given modern interpretations. In this heritage house transformed into a restaurant, family history — as well as the Philippines' publishing industry — is put side-by-side with the Filipino-Spanish dishes being served.
The house built in the late 30s is owned by the Roces Family, a prominent clan and owners of Manila's old publishing houses. Alejandro Roces, the family patriarch, purchased the Spanish language daily La Vanguardia and the Tagalog Taliba from their original owner Don Martin Ocampo in 1916.
He founded the Tribune in 1925, completing his newspaper triumvirate T-V-T (Taliba for the Tagalog readers, La Vanguardia for the Spanish readers, and Tribune for the English readers).*
In 1922, Don Alejandro's eldest son, Don Ramon, became a publishing magnate himself after establishing the Liwayway in 1923. Starting with the Tagalog magazine, he later built a chain of vernacular magazines and continued with Bikolnon Magazine, Hiligaynon Magazine, Bannawag, and Bisaya Magazine.
The original structure still stands and it was Ms. Peachy Prieto who suggested to convert the white-washed house into the restaurant that it is today.
---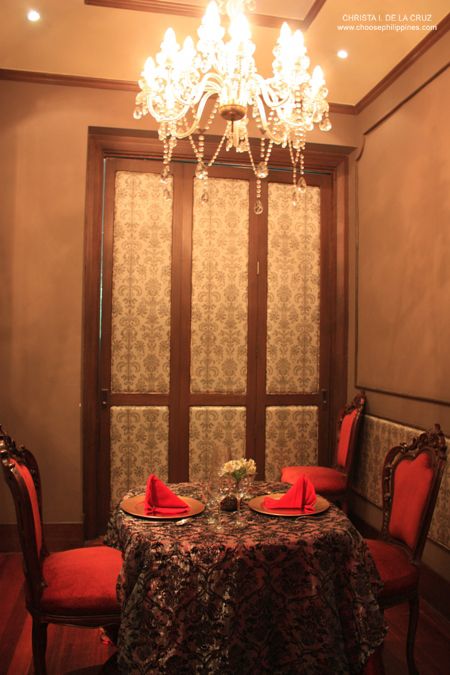 ---
What do you have on your list (and Instagram)? Share it with us!
Be a Pinoy Wanderer!
Choose Philippines encourages writers, photographers, travelers, bloggers, videographers and everyone with a heart for the Philippines to share their discoveries and travel stories.
Share Your Journey
Other Stories by Christa De La Cruz