Restaurants
Baler Surfer Grill: The One & Only Car Grill in the Philippines
Baler
"Pendong! Peace!"
If you are familiar with these words, then you probably grew up in the 80s. Also known as Pendong Kotseng Kuba, the once-popular game is a favorite pastime among kids (and kids-at-heart) while traveling. Whenever a player sees a Volkswagen Beetle (a.k.a. Kotseng Kuba for its hunchback look), he or she taps another player lightly on the head and shouts "Pendong!" A declaration of "Peace" with the peace sign on one's fingers follows right after to avoid being tapped back. The said two-door German-designed car is a rare sight especially today so imagine the excitement when one sees a Beetle and gets an opportunity to "pendong" a seatmate.
In Baler, however, the Kotseng Kuba is not only a subject of the game but also a grilling station!
The Baler Surfing Grill is one of the most photographed restaurants in the birthplace of Philippine surfing. After all, where else can you see a working iron griller right in an engine compartment of a vintage car?
In Memory of Tatay Zaro
The late Lazaro Urfano (a.k.a. "Ka Saru" or "Tatay Zaro"), one of the early mechanics in Baler, first came up with the seemingly-impossible idea of putting a griller under the hood of a car. This finally became a reality in the summer of 2013 through the efforts of his children and grandchildren.
The red car grill was tested and driven around Sabang on March 30, 2013. A few days later, on April 5, Tatay Zaro passed away. Operations were put on hold for a while until the whole Urfano family came together to tune up the recipe and redesign the place. The plate number of the car grill is ZARO 13 as a tribute to Tatay Zaro.
Baler Surfer Grill is now a laid back grilling station fronting the beach offering diners the very relaxed ambiance that is truly Baler. Surrounding the Beetle is a couple of nipa huts, a row of coconut trees, surf board decors, and a few wooden benches and tables.
Lutong Akkaw
Branding it as "Lutong Akkaw," Baler Surfer Grill offers dishes that is nothing short of amazing. "Akkaw" is a local expression in Baler spoken to convey delight, awe, or surprise. I first heard it from local surfers whenever the ocean gives a beautiful glassy wave.
One of their unique dishes is the Bulalo BBQ, which we didn't get to try. That's what you can expect from a bestseller dish if you come by late in the evening.
Listed on their menu are various full-set meals one can try after hours of surfing. Aptly called "Surfer Meals Pro," their bbq dishes with rice and sides are priced at PhP 200.
My friends and I tried the Grilled Fish, Liempo BBQ, and Chicken BBQ. The fish and liempo got the most thumbs up since the third is just what you expected it to be—a plain ol' barbequed chicken.
To complete the chillax Baler experience, order a glass of fresh fruit juice (PhP 40) or shake (PhP 80) from Surf2Chill. The juice bar is also within the compound.
The next time you're in Baler, be sure to tag along your friends to this a one-of-a-kind grilling experience! And, maybe, play Pendong after...not!
Baler Surfer Grill is located at the Baywalk Area along Sabang Beach, near Baylerview Hotel.
---
Where on Earth is Baler?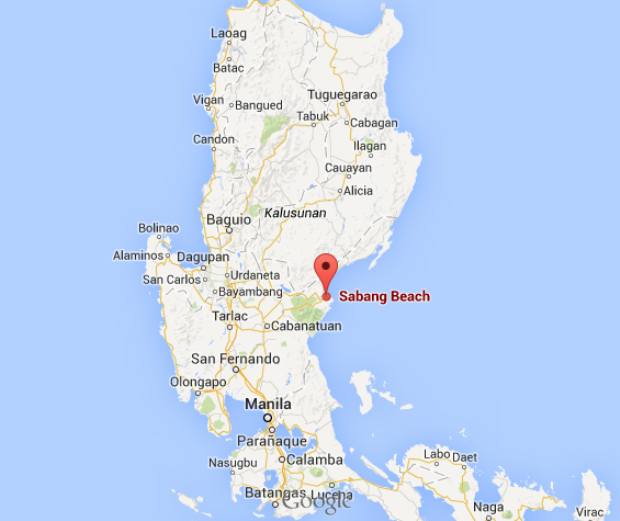 How to Get There
Baler, Aurora is a 5 to 7-hour bus ride from Manila, with the travel time depending on which bus you'll take from Cubao, Quezon City.
Option 1: Joybus Deluxe Bus (Genesis) - has no stops, 5 hours
Option 2: Regular Genesis A/C Bus - 7 hours
Option 3: Genesis or ES Transport bus to Cabanatuan City then transfer to Aurora Bus Line at the Cabanatuan terminal.
Experience More of Baler:
WHERE TO EAT:
Be a Pinoy Wanderer!
Choose Philippines encourages writers, photographers, travelers, bloggers, videographers and everyone with a heart for the Philippines to share their discoveries and travel stories.
Share Your Journey
Other Stories by Christa De La Cruz