Restaurants
Where to Go on #TakawDates in Baler: Surf and Satisfy Your Tummy
Baler
In the last five years, I've been to Baler only thrice.
The first trip was for a week-long writers' workshop (2010) wherein we spent two whole days on the road (from and to Manila), three days for the actual workshop, and a day for checking out the town's historic places, spectacular rock formations, and, of course, the centuries-old balete tree. The roads weren't as paved down and everyone was aboard a huge pickup truck where we sat on coconut husks.
The second one was for a weekend getaway (2014) to finally learn how to surf. Or, at least, try to.
The most recent was for an outreach program for the benefit of an elementary school in Sabang. Between preparing the lootbags for the kids and going out into the sea, my girlfriend and I spent a lot of time eating.
Here's a list we came up with for our #TakawDates in the birthplace of Philippine surfing.
Buton St., Sitio Labasin, Brgy. Sabang (right beside Ruperto R. Zubia Sr. Elementary School)
Mon - Sun (4:00 am - 8:00 pm)
Enticing locals and tourists with fresh bread and mouthwatering cakes in the last three years, the local bakeshop sells goods at a very affordable price range, with treats starting at PhP 10. If you're looking for the town's best pandesal, only at PhP 3 each, then you should arrive at daybreak as stocks run out early.
Baywalk Area along Sabang Beach (near Baylerview Hotel)
Where else can you see a working iron griller right in an engine compartment of a vintage car?
The laid back grilling station fronting the beach offers diners the very relaxed ambiance that is truly Baler. Surrounding the Beetle is a couple of nipa huts, a row of coconut trees, surf board decors, and a few wooden benches and tables.
T. Molina St. (near the municipal hall)
Mon - Sun (8:00 am - 9:00 pm)
The local pizzeria boasts itself in having the first pugon-baked pizza in Aurora. The fresh tomatoes and generous amount of mozzarella cheese make every slice as delicious as it looks like. One of their signature dishes is the tuyo pizza!
4) Rolling Store
The rows of carinderias at the town plaza is a crowd-favorite especially after a surfing session in Baler's various breaks. It was said that these started as food carts wheeled in by owners during lunch time at the same spot. With its hodgepodge of viands (from paksiw to ginataang isda), choices of lugaw and mami, and street food such as isaw and tonek-tonek, the Rolling Store can just be your permanent stop for breakfast, lunch, and dinner.
5) Hungry Surfer
80 Buton St., Sitio Labasin, Brgy. Sabang
Open 24 hours
The restaurant with an amazing view of the sea offers a menu of appetizers, lunch meals, desserts, and shakes. It's also an all-day breakfast hotspot for the silog-loving guests.
Pro-tip: The food arrives after 45 minutes to an hour so be sure that you're not too hungry (and have extra time to spare) when you get here.
What's your favorite date place when out there in the Philippines' east coast? Share with us your post-surf sesh #TakawDates!
Where on Earth is Baler?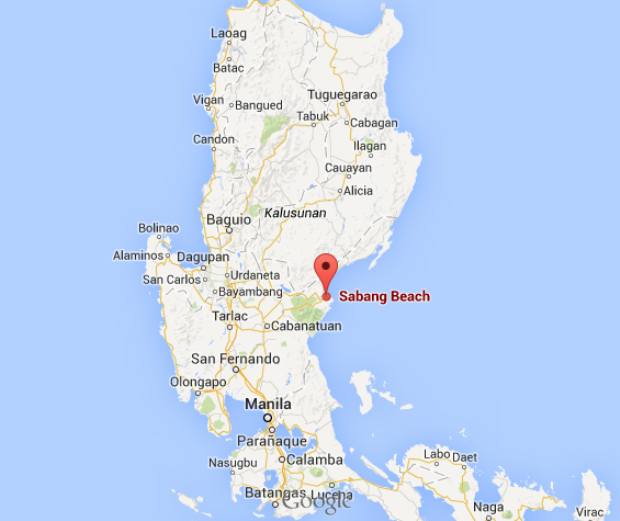 How to Get There
Baler, Aurora is a 5 to 7-hour bus ride from Manila, with the travel time depending on which bus you'll take from Cubao, Quezon City.
Option 1: Joybus Deluxe Bus (Genesis) - has no stops, 5 hours
Option 2: Regular Genesis A/C Bus - 7 hours
Option 3: Genesis or ES Transport bus to Cabanatuan City then transfer to Aurora Bus Line at the Cabanatuan terminal.
---
More of our #TakawDates Series:
Be a Pinoy Wanderer!
Choose Philippines encourages writers, photographers, travelers, bloggers, videographers and everyone with a heart for the Philippines to share their discoveries and travel stories.
Share Your Journey
Other Stories by Christa De La Cruz