Restaurants
The Healthiest Delicious Food in Davao City: Balik Bukid
Let's Go Balik Bukid!
Let's Go Balik Bukid!
Let's Go Balik Bukid!
Let's Go Balik Bukid!
Let's Go Balik Bukid!
Let's Go Balik Bukid!
Let's Go Balik Bukid!
Let's Go Balik Bukid!
Let's Go Balik Bukid!
Let's Go Balik Bukid!
Davao is rich in natural resources. Its fertile land is lush with vegetation and its trees bear fruits and its plains the freshest vegetables. Cows, pigs, goats and chicken can freely roam on farmlands. Thus it is an ideal place for going organic.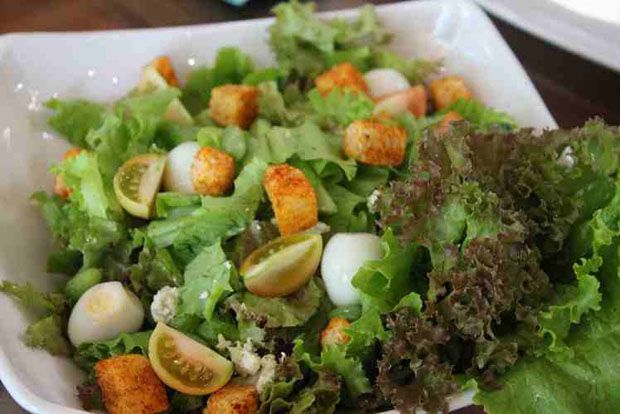 Balik Bukid's homey, "recycled and reuse" atmosphere in its restaurant sent the foodie network abuzz. Even its exteriors of a containerized herb garden using recycled plastic containers plus the "bahay kubo" feel made it more interesting.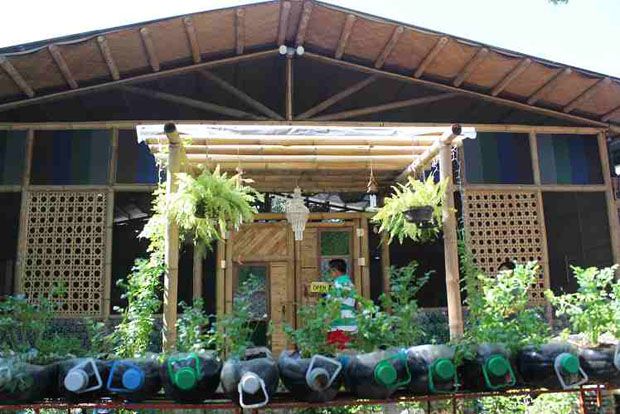 Inside the restaurant are wooden chairs and benches, native woven baskets serve as shades for the light overhead and at the counter they have vinegar, cocoa, coffee and eggs for sale.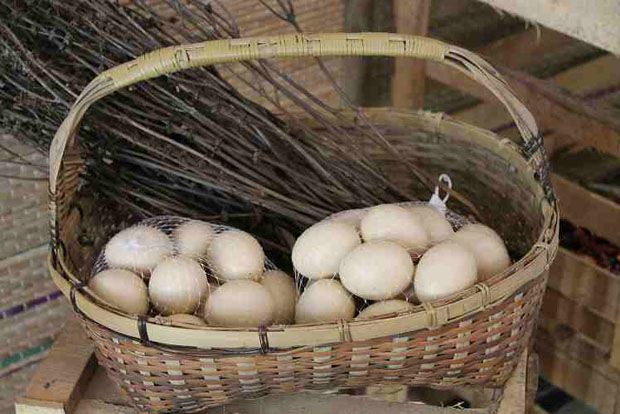 You can see what's cooking and how it is prepared through a looking glass window.
What capped the delightful find was the food: Freshest lettuce and tomatoes with pesto mayo dressing for the Balik Bukid Salad, Tender Salpicao, Binalot na Adobong Manok, Sinugba Ensalada, Fish and Patatas (Fish and Chips), Nilagang Baka and the pleasant surprise, Blue Rice.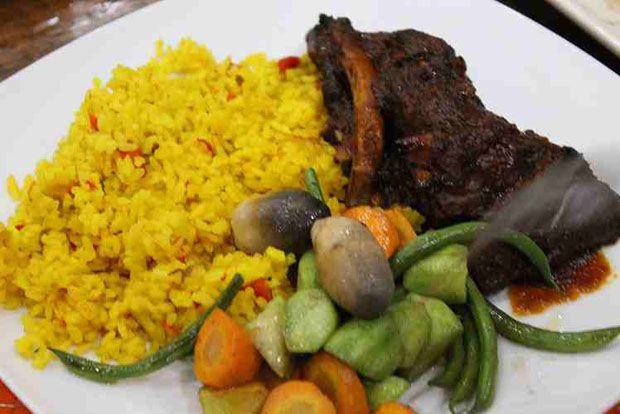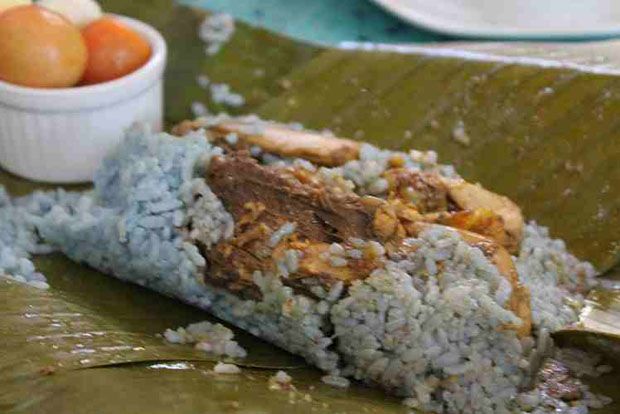 What makes it blue is the Blue Ternate Flower. Others incorporate the flowers into salads. You can either have your rice blue or yellow because of the turmeric or luyang dilaw.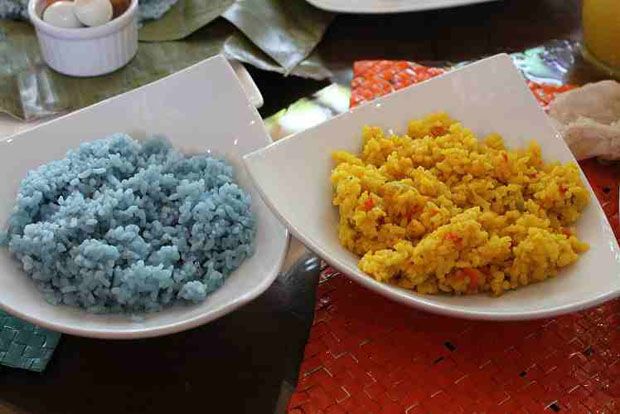 Quench your thirst with these juices: cucumber, passion fruit, mango--- whatever is available. It is guaranteed fresh and healthy.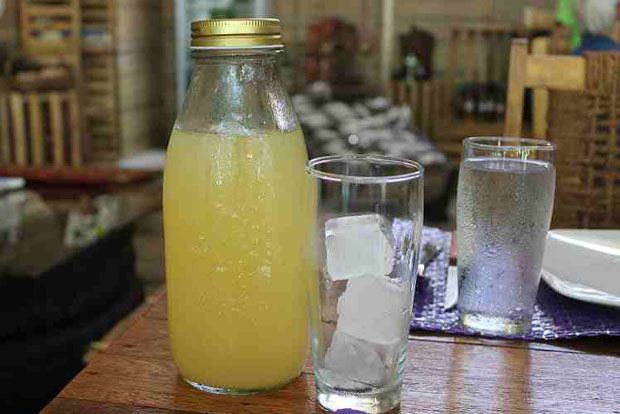 And the ultimate dessert? Chocolate Island! It is actually three scoops of ice cream sandwiched in puffs and dripping with tableya (native chocolate).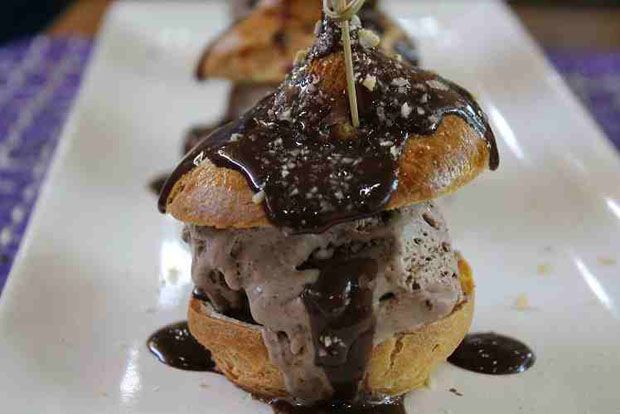 Have a cup of fresh native coffee or sikwate (chocolate drink) to wind down before going home.
Great food, great conversations in one great location at Balik Bukid.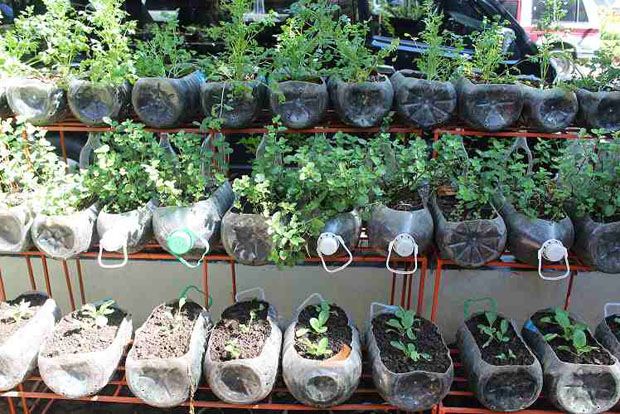 So when in Davao, don't forget to be delighted at Balik Bukid in Quimpo Boulevard, Davao City. Contact them at 0917-302-1208 or through their Facebook page.
They also have a farm where all the freshest ingredients come from. Great thing is, it's also a bed and breakfast place! Contact Balik Bukid sa Wangan, Calinan, Davao City at 0917-541-8886.
---
VIEW: See what else to eat with the Choose Philippines Davao Food Guide: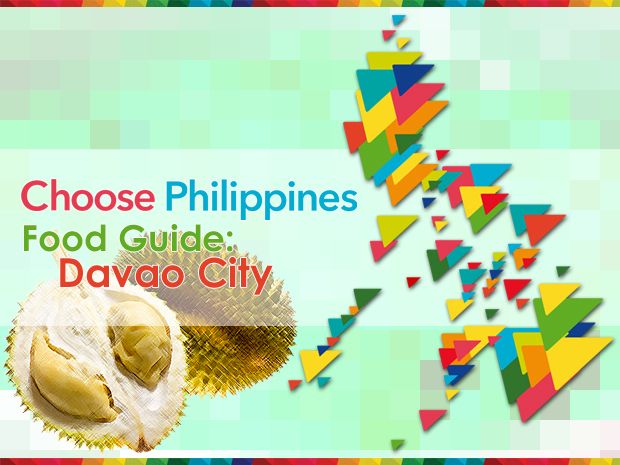 VIEW: See what else to do with the Choose Philippines Davao Map:
How to Get There
PAL and other major airlines fly daily to Davao from Manila and Cebu. Balik Bukid is located at Quimpo Boulevard just 20 minutes away from the Francisco Bangoy International Airpoprt.
Taxi flag down rate is Php 40 and jeepney fare starts at Php 8.
Be a Pinoy Wanderer!
Choose Philippines encourages writers, photographers, travelers, bloggers, videographers and everyone with a heart for the Philippines to share their discoveries and travel stories.
Share Your Journey
Other Stories by Ida Damo