Heritage Sites
What to Do With Tacloban's Grounded Ships, a Year After Yolanda?
Leyte,
---
Seventy years ago, Tacloban and Leyte took the world's attention when the General Douglas MacArthur-led Allied forces landed on its shores and purged the land of the Japanese Imperial Forces.
A year ago, Leyte did it again -- but this time, it was the largest natural disaster to hit Philippine soil in 2013 (and one of the worst, ever).
In the coastal community of Anibong in Tacloban City, homes and lives were annihilated by a wall of water 5 to 8 meters high. Aside from the wreckage of homes, the community has a reminder of hell over water -- three ships that ran aground, and which also destroyed homes and lives in the process.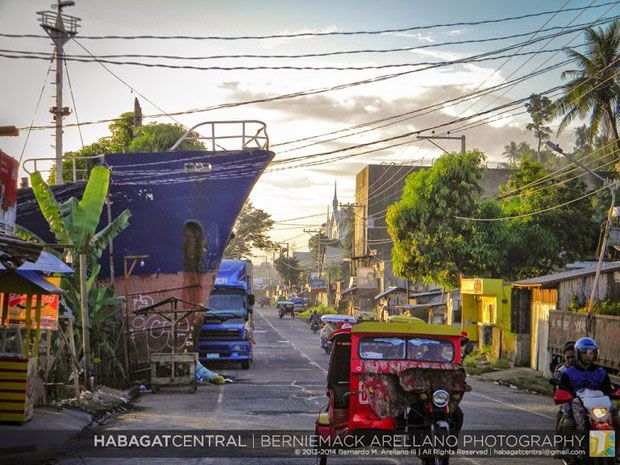 The ship that nearly ran aground in Anibong.
The three ships of Anibong, together with the washed-out communities, have become a landmark in Tacloban's image of struggling through the immense relief, recovery, and re-development efforts of the capital city of Eastern Visayas. This image was in the newspapers, social media, international TV, among others.
In the months to come, these ships have even become a tourism attraction of their own right.
The Ships: Scrapped or Salvage?
Online and offline, people have registered mixed opinions whether the ships of Anibong should be removed or not. Should they be preserved as landmarks and remembrances to the survivors and victims of Typhoon Yolanda? Or should they be scrapped and removed for safety, as well as for "moving on" reasons.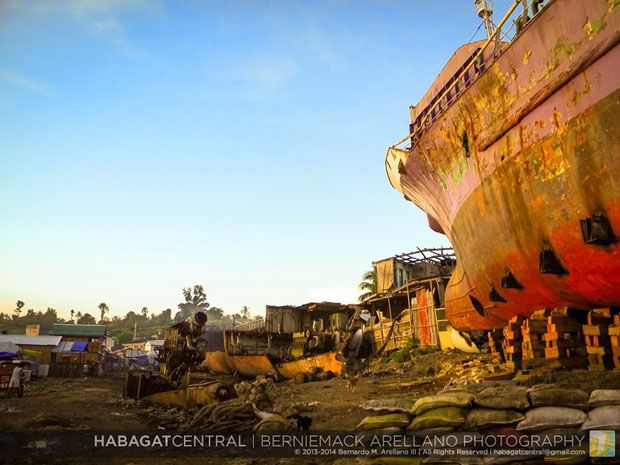 Informal settlers have started to rebuild their homes in Anibong District, despite the fact that the community was wiped out by the storm surge in Typhoon Haiyan/Yolanda, leading to death of thousands, and there are still more missing.
Two of the ships, one which nearly blocked the road in Anibong, is being scrapped.
The other is being salvaged for operations (salvage here is to save, not kill, as with the Filipino slang). They plan to refloat it again on the sea, but it has been hard.
Even if it has already been a year, bodies and bones are still being unearthed.
"Bali-balita may nakitang motor at saka bungo doon sa ilalim ng isang barko," said one of the residents.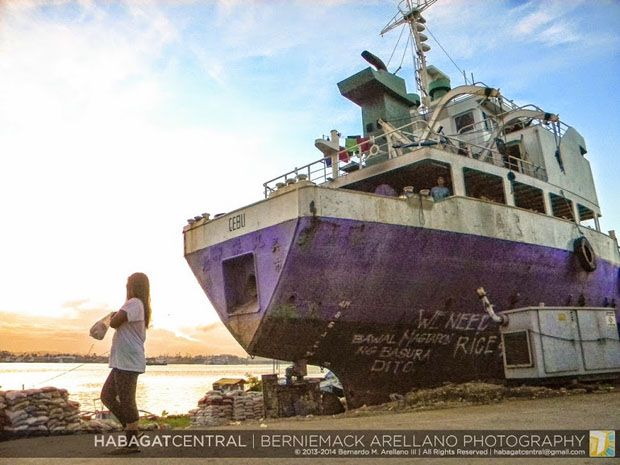 The last of the remaining ships in Anibong with graffiti seeking aid and order.
One thing's for sure, these ships that have become a reminder of the painful experience of the Taclobenyos might soon disappear in a matter of days or weeks.
The immense wall of water
"On ordinary days, ships are anchored off the coast since the port and the depot is just near the community," said one of the residents.
"Pero hindi namin aakalain na aabot pa dito ang barko kasama ng malakas na tsunami," another added.
People have a perception of a tsunami, but not a storm surge. Even up to now, some people think that a tsunami and a storm surge are one and the same thing.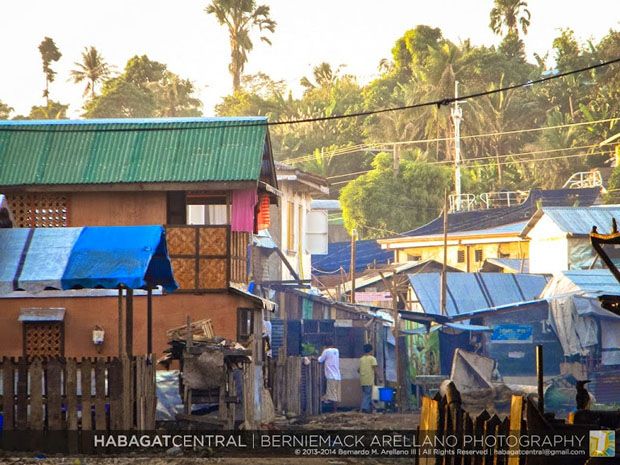 The informal settlers went back to the coastal community that was washed away by the storm surge, killing thousands in Tacloban City alone. One of the ships that went ashore is in the backrground.
"Hanggang ngayon nawawala pa rin ang asawa, anak, at pamilya ko," (Until now, my husband, children, and family are still missing), a lady living beside the ship said to us that morning.
Before Yolanda came, she lived in the same area.
Asked why they came back to Anibong despite the fact that her community was wiped out by the ocean, she answered, "Where do we go?" She has still yet to come into terms with what happened a year after. Like most residents, they lost their loved ones on that November morning.
Much of the people in Anibong's coastal communities are poor and informal settlers who depend on the sea and the city for a living.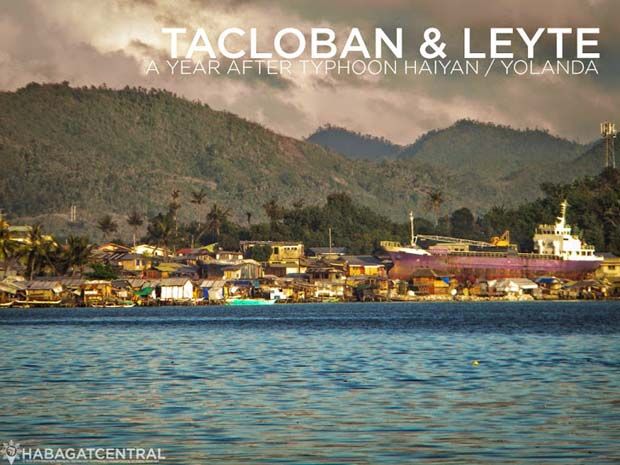 The ships and the rebuilt coastal community in Anibong as seen from downtown Tacloban City. The Government has set a "no build zone" 30 meters away from the coast. However, residents have rebuilt their own homes in the said area, a year after Haiyan.
Supertyphoon Haiyan (Yolanda locally) unleashed her full fury over the islands, killing more or less 6000 people, rendering a thousand missing, and making millions either homeless or with their properties damaged.
The city of Tacloban alone has suffered a severe and soaring storm surge that drowned and washed away communities and people. We can't forget the image of this city a few hours after the storm had passed -- littered with dead people, plagued with looting, and rendered helpless with no power, no water, frustration, anger, and even desperation.
A year later, it is recovering slowly but surely. It was only recently that the multi-billion peso recovery budget was approved by Philippine Government. Still, a lot of the infrastructure remains damaged.
However, it is the question of "what happens next and how we learn from this experience" that lingers in every Filipino's mindset.
A barangay councilor said in jest referring to the ships, "Dati may isang kapitan lang ang sa Anibong, ngayon lima na, hehe!" (Back then, there was only one barangay captain, today there are five captains!). I guess it takes an immense bayanihan spirit to recover.
---
READ more HabagatCentral articles on Choose Philippines.
(These travel essay and photos were previously published on www.habagatcentral.com. For more features about Philippine travel destinations, food, delicacies, festivals and products, as well as hotels, resorts and restaurants, LIKE HabagatCentral.com.)
Be a Pinoy Wanderer!
Choose Philippines encourages writers, photographers, travelers, bloggers, videographers and everyone with a heart for the Philippines to share their discoveries and travel stories.
Share Your Journey
Other Stories by Berniemack Arelláno