Heritage Sites
The Philippines' Biggest Art Gallery is an Entire Town: Angono
Rizal
Photo credit: Winfred Arman Lati
Photo credit: Dindin Lagdameo
---
When one thinks about art galleries, artist studios, and the best museums, the places that would come to mind are the bold art spaces of New Jersey, the sophisticated gallery cafés of Paris, the Renaissance capital of Florence, and modern art hub of New York City.
Little do we know that not too far from the Metropolitan Manila is the artistic town of Angono, Rizal where buildings don't crowd the skyline, where leaves are greener, and where the streets are less hostile.
Photo credit: Danny Briones
Frequenting this municipality a few years back, I remember being amazed by the sunset that would always blanket everything in a yellow orange glow. It's probably just an effect of the rain showers, but the amber color might be nature's way of suspending time in this charming rural setting.
(Remember the amber cane preserving a fly's DNA in the movie Jurassic Park or "Amber 31422" in the TV series "Fringe"?)
Such play of orange hues is apt for this small town dubbed as the "Arts Capital of the Philippines."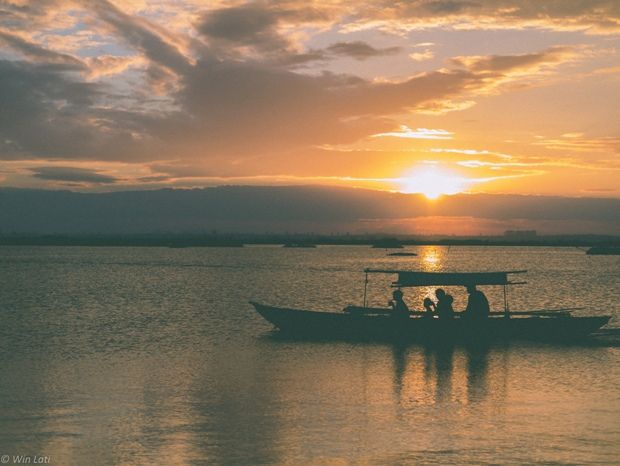 Photo credit: Winfred Arman Lati
Angono is the birthplace of two National Artists -- visual artist Carlos "Botong" Francisco and composer Lucio San Pedro. Their graves are in a cemetery near the Taytay-Angono border, right after the former's Barangay Muñoz.
Doña Aurora Street in the town proper, a place commonly referred to as the "bayan" (making things very provincial), is dedicated to the two artists.
Photo credit: Bona Rae Villarta
Their bust can be found at the entrance of the street, which is designed with Botong's murals preserved through concrete by Charlie Anorico. At the end of the street is San Pedro's famous "Sa Ugoy ng Duyan" made into concrete mural.
Inscription by Charlie Anorico based on Lucio San Pedro's composition "Sa Ugoy ng Duyan"
Mural by Charlie Anorico based on Carlos "Botong" Francisco's painting
Complementing this mural-laden street are family-owned galleries and studios with stories of their own.
The Nemiranda Arthouse is a family heritage housing the creations of Nemesio R. Miranda Jr.'s clan. He designed the art space by himself, making use of local materials bamboo, sawali, and old wood. Mythical relief murals and folk art make up most of the interiors.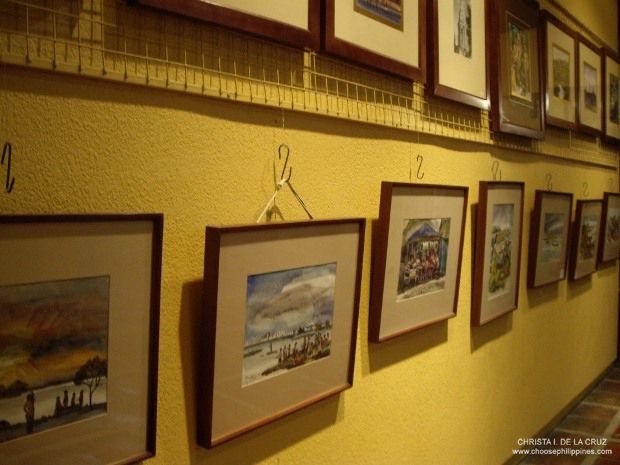 Another gallery owned by Nemiranda, Atelier is a newer exhibit space for new local artists. The gallery has a contemporary ambiance similar to the small art galleries in Manila.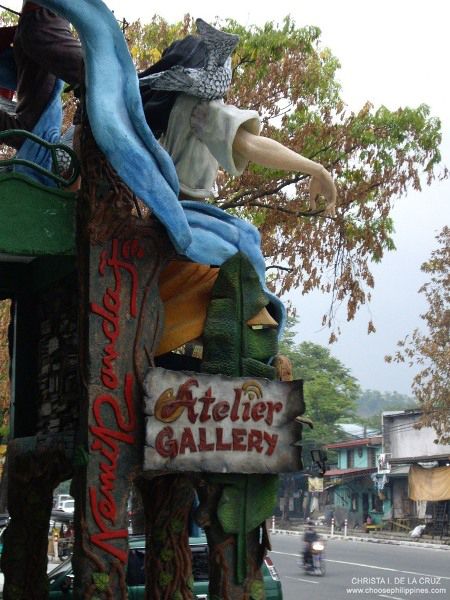 Balaw-balaw Restaurant/Ang Nuno Gallery is known for its unique menu of exotic dishes. It also houses the works of the late sculptor/painter Perdigon Vocalan and other up and coming local artists.
There are a lot more galleries in and around Angono. Just walk from one corner to the next and surely there are doors to art spaces waiting to be opened.
The oldest known work of art in the Philippines can be found in Angono (or, at least, three and a half kilometers southeast of the said municipality). Known as the Angono Petroglyphs of Binangonan, the shallow rockshelter contains the engravings of more than 100 human and animal figures that date back to 3000 BC.
Photo credit: Butch Dalisay
Public art, interactive painting sessions, and cultural performances are also fairly common events happening on the streets -- and even basketball courts -- in Angono.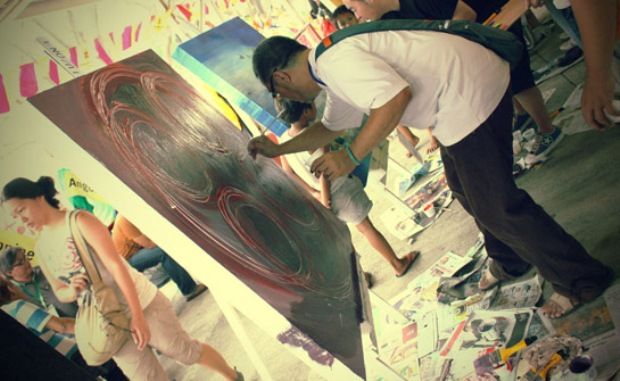 Photo credit: NCCA Official
Photo credit: NCCA Official
Photo credit: Dindin Lagdameo
The month of November is a busy month for Angono as it celebrates both the Higantes Festival and the Feast of San Clemente, with dates only a week apart. Which festival will you pick?
Photo credit: Dindin Lagdameo
Then again, you can stay for the whole of the intervening week to give yourself enough time to explore the town and its environs. An Angono vacation bookended by two fun fiestas!
---
VIEW: Schedule of Angono's Higantes Festival 2014
---
VIEW: More on Creativity in the Province of Rizal: Isang Luntiang Pasko ng mga Rizaleño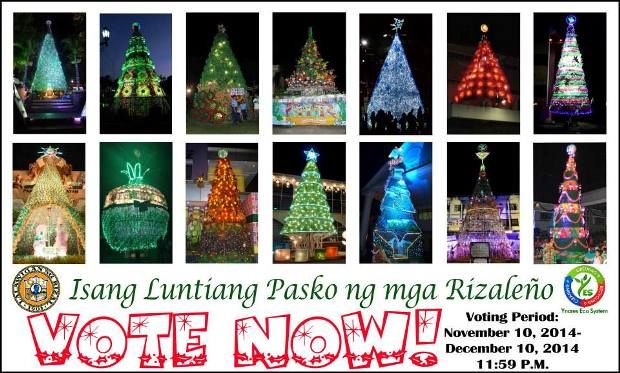 ---
Where on Earth is Angono?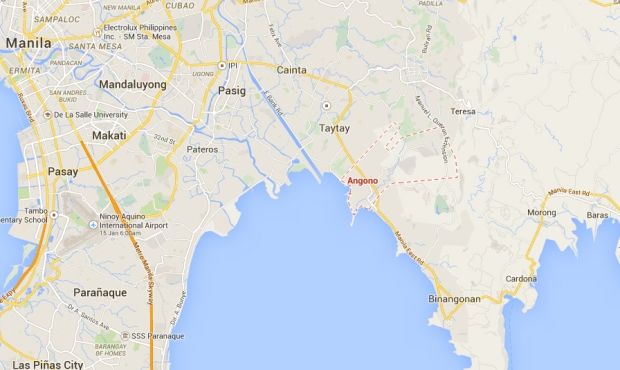 Angono is a first-class urban municipality in the province of Rizal. | Image courtesy of Google Maps
How to Get There
Jeepneys and FX vans with the signage 'Tikling' can be found in plying the streets of Makati, behind the Farmers' Market in Cubao, and near EDSA Central/Crossing in Mandaluyong. From Tikling, ride a jeepney going to Angono.
---
Watch out for our coverage of the town's biggest (and higante) fiesta! See you there this weekend!
Be a Pinoy Wanderer!
Choose Philippines encourages writers, photographers, travelers, bloggers, videographers and everyone with a heart for the Philippines to share their discoveries and travel stories.
Share Your Journey
Other Stories by Christa De La Cruz