Heritage Sites
A Unique Map of Leyte
Leyte
Matching the shape of the image of the crucified Christ at the front and the map of Leyte at the back in a closer view; photo by Dustin Mijares
Matching the shape of the image of the crucified Christ at the front and the map of Leyte at the back in a closer view; photo by Dustin Mijares
Crucified Christ and the Map of Leyte Pilgrim Monument; photo by Dustin Mijares
Crucified Christ and the Map of Leyte Pilgrim Monument; photo by Dustin Mijares
The Crucified Christ and the Map of Leyte Pilgrim Monument is located at Kanhuraw Hill, Tacloban City, Leyte. You can also find in the area a fountain with wishing pond adorned with floating candles.
The Crucified Christ was designed by sculptor Nemesio R. Miranda, Jr. The 40-45 feet high sculpture was unveiled last 2002. Nemiranda, as what he is popularly called, he's inspiration about the art is when he saw a map of Leyte – he envisioned the shape of the island as the crucified Christ, the image of Jesus hanging on the cross. The sculpture is made of concrete, fiberglass and steel.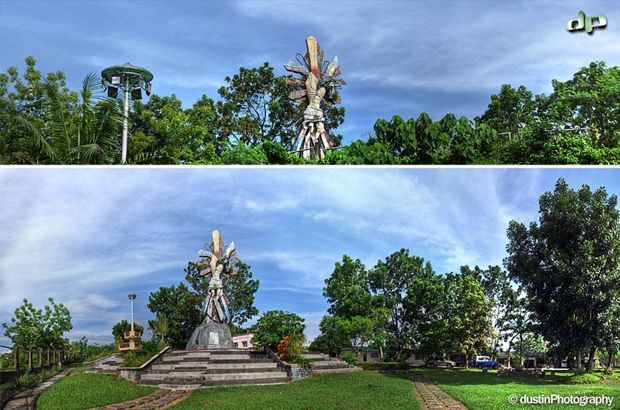 Crucified Christ and the Map of Leyte Pilgrim Monument; photo by Dustin Mijares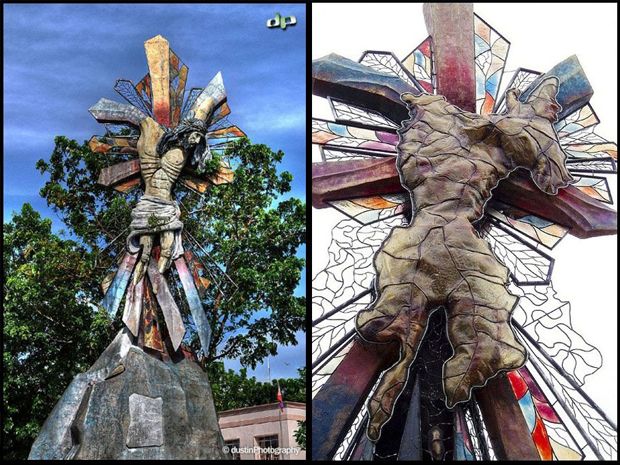 Matching the shape of the image of the crucified Christ at the front and the map of Leyte at the back in a closer view; photo by Dustin Mijares
---
Inscribed on a stone tablet:
MAP OF LEYTE
In 1521, Magellan discovered the Philippines, and held the first mass in Limawasa Island, in 1945, MacArthur made true to his promise through his words "I shall return" for him to save the country from invaders and set foot on the shore of Palo, Leyte.
Leyte is indeed blessed for being the gateway to Christianity and the liberation of the Philippines. The Lord Jesus must have planned it the people is in search for paradise not knowing that they are standing on a blessed Island, the sculpted image of Christ.
(Signed)
Governor Remedios L. Petilla
Province of Leyte
The Image of the Crucified Christ
"Upon seeing the map of Leyte, I had visualized an image of a crucified man. The Map of Leyte is indeed the crucified Christ."
(Signed)
Nemiranda
Artist
---
How to Get to Tacloban
From Manila, you can fly to Tacloban (estimated cost Php2,700++, round trip, 1 hour 15 minutes).
Be a Pinoy Wanderer!
Choose Philippines encourages writers, photographers, travelers, bloggers, videographers and everyone with a heart for the Philippines to share their discoveries and travel stories.
Share Your Journey
Other Stories by Belle Piccio