Heritage Sites
Basilica Minore del Santo Nino Cebu
Cebu
The Basilica Minore Del Santo Nino is the country's oldest Roman Catholic Church , built in 1565 by Miguel Lopez de Legazpi as the San Augustin Church. It was made of hard wood, mud and nipa
Destroyed by fire it was rebuilt twice in 1602 and in 1735. Between 1735 and 1737 by the orders of Cebu Governor Fernando Valdes Y Tamon it was constructed out of hard stone materials.
Photo from: Arnel Manlises
Now the Church is known as the Basilica of Santo Nino because its conversion ordered by the Pope in 1965 in recognition of its importance and that of Cebu City as the cradle of Christianity in the East.
Inside of the Basilica del Santo Nino is the most famous religious icon in the Philippines, a statue of the Santo Nino. The statue was given to Queen Juana of Cebu by Magellan.
Earthquake hits Visayas
Visayas was by a shake by a 7.2 magnitude earthquake yesterday. According to Philippine Institute of Volcanology and Seismology (PHILVOCS) struck at 8:12 am, and was centered 2 kilometers southeast of Carmen, Bohol (09.80°N, 124.20°E).
Home of Sto Nino
Devotees wept and uttered prayers outside the Basilica Minore Del Sto. Nino as the birthplace of Catholicism was jolted by a 7.2 magnitude quake destroying the bell tower of the church.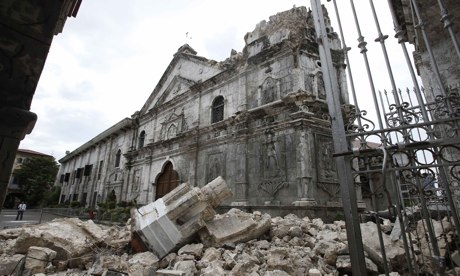 Photo from: www.theguardian.com
Sources: http://lifestyle.inquirer.net, http://basilicasantonino.org.ph/
Be a Pinoy Wanderer!
Choose Philippines encourages writers, photographers, travelers, bloggers, videographers and everyone with a heart for the Philippines to share their discoveries and travel stories.
Share Your Journey
Other Stories by Choose Philippines