Heritage Sites
Standing Strong: Cebu Metropolitan Cathedral
Cebu
Details of the main altar retablo; photo from cebuheritage.net
Details of the main altar retablo; photo from cebuheritage.net
Cebu Metropolitan Cathedral after it was partly damaged by an earthquake last October 15, 2013; photo by Jose Farrugia
Cebu Metropolitan Cathedral after it was partly damaged by an earthquake last October 15, 2013; photo by Jose Farrugia
Cebu Metropolitan Cathedral after the October 15, 2013 earthquake; photo by Yannah Lapinid Szacsuri
Cebu Metropolitan Cathedral after the October 15, 2013 earthquake; photo by Yannah Lapinid Szacsuri
An earthquake with a 7.2 magnitude was felt across Visayas and Mindanao last October 15, 2013 damaging structures crossing its way. Cebu and its surrounding areas impacted by the quake are among the country's popular tourist destinations.
The Cebu Metropolitan Cathedral has not been spared. But don't despair! It only suffered "aesthetic" damage as what civil engineers call it.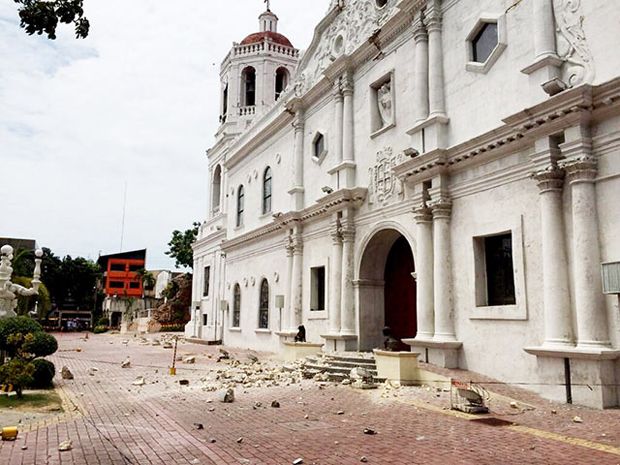 Cebu was established as a diocese on August 14, 1595 and was elevated to an archdiocese on April 28, 1934 with Gabriel Reyes as the first archbishop and the dioceses of Dumaguete, Maasin, Tagbilaran, and Talibon as suffragans.
A suffragan is a bishop elected or appointed as an assistant to the bishop or ordinary of a diocese, having administrative and Episcopal responsibilities but no jurisdictional functions. It is also a bishop regarded in position as subordinate to an archbishop or a metropolitan.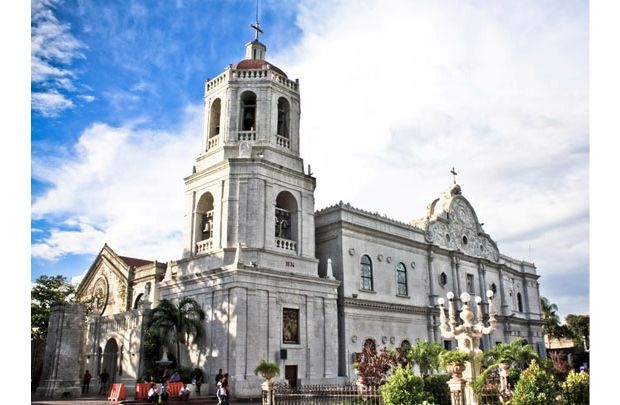 The patron saint of Cebu Metropolitan Cathedral is Saint Vitalis, an early Christian martyr whose feast day on April 28 coincides with the very same day the image of the Sto. Niño de Cebu was found almost 450 years ago by one of Miguel López de Legazpi's men and the elevation of Cebu to an archdiocese.
The architecture of the church is typical of Spanish colonial churches in the country, namely, squat and with thick walls to withstand typhoons and other natural calamities. The facade features a trefoil-shaped pediment, which is decorated with carved relieves of floral motifs, an IHS inscription and a pair of griffins. The Spanish Royal Coat of Arms is emblazoned in low relief above the main entrance, reflecting perhaps the contribution of the Spanish monarch to its construction.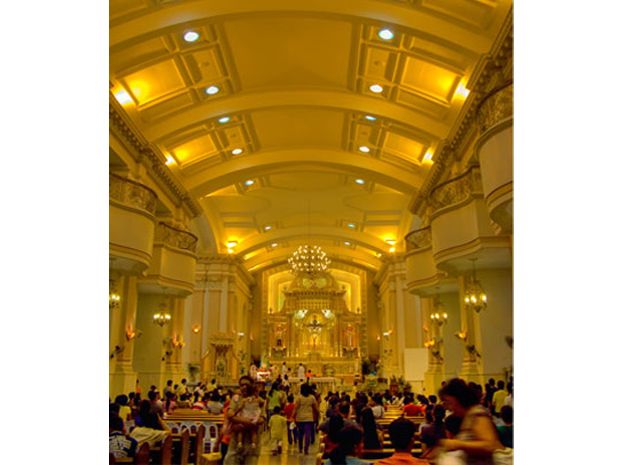 Much of the cathedral was destroyed by Allied bombings of the city during World War II. What only remained were the walls, the façade and the belfry which was built in 1835. During the 1950s, the damage was rebuilt under the supervision of architect Jose Ma. Zaragosa.
A mausoleum was built in 1982 at the back of the sacristy at the initiation of Archbishop Julio Cardinal Rosales. It serves as a final resting place for the Cebu's bishops and clergy remains. Three months after the mausoleum's inauguration, Cardinal Rosales died. He was interred there along with Archbishop Manuel Salvador (coadjutor archbishop of Cebu) and Archbishop Mariano Gaviola (1981-1993 archbishop of Lipa). The remains of Bishop Juan Bautista Gorordo, the first Filipino and Cebuano bishop of Cebu, are also interred there.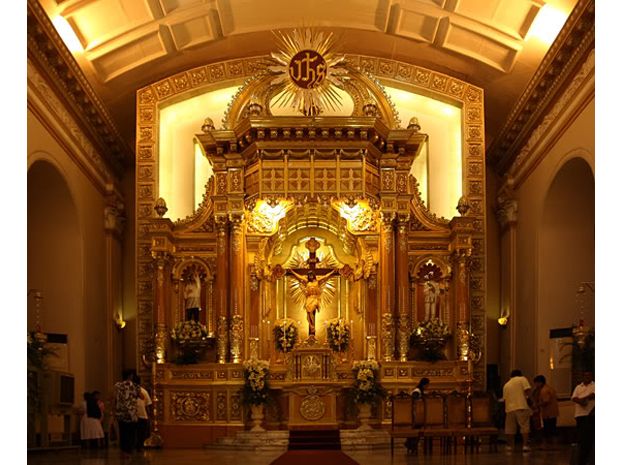 On April 28, 2009, the Cebu Metropolitan Cathedral underwent renovation for the 75th anniversary celebration of the elevation of Cebu into an archdiocese. On that day, a petition was also sent to Pope Benedict XVI for its elevation into a basilica minore in honor of St. Vitalis.
In 2010 the cathedral was again renovated for the installation of Jose Serofio Palma as the new archbishop of Cebu, succeeding Ricardo Cardinal Vidal who had been archbishop for 29 years.
Cebu Metropolitan Cathedral Schedule of Masses, Baptisms, Confirmation, Mass Wedding, Confessions and Novenas
Visit also the Cathedral Museum which houses religious relics and artifacts.
How to Get There
From Manila, you can fly to Cebu (estimated cost of Php3,000++, round trip, 45 minutes).
(photo from cebuheritage.net; cebuwedding.net)
Be a Pinoy Wanderer!
Choose Philippines encourages writers, photographers, travelers, bloggers, videographers and everyone with a heart for the Philippines to share their discoveries and travel stories.
Share Your Journey
Other Stories by Belle Piccio