Hotels
Avenue Plaza Hotel: 7 Ways It Makes You Feel Like an A-Lister
Camarines Sur,
To put it simply: Naga City is one of my favorite travel destinations. It abounds with heritage landmarks, natural wonders, culinary delights, and sporty activities, all held intimately together by the sleek streets of this dynamic city that manages to maintain its rustic, relaxed atmosphere.
And as if these weren't enough, every Naga day which I know will end in a comfortable sleep in Avenue Plaza Hotel is a day I look forward to conquering and expending each drop of energy for.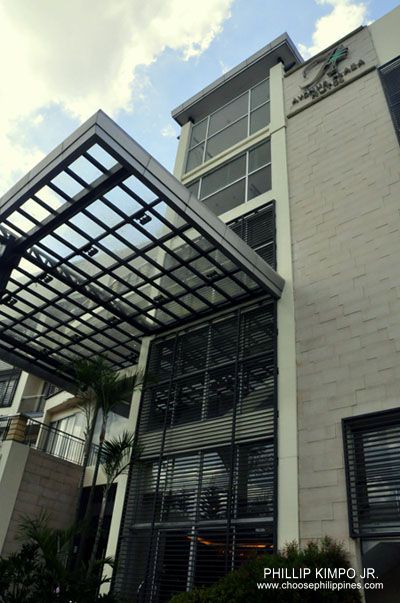 I've enjoyed Avenue Plaza's a-list treatment during two stays—first, as a delegate to the 9th National Parliament of Youth Leaders in May 2012, and second, for Choose Philippines' Bicol tour last February 2014. In between, I've visited Naga a couple more times and enjoyed other accommodations—and I've gotten to know the difference between a "good experience" and an "excellent experience."
That excellent service is what Avenue Plaza Hotel aims to provide every visitor, and the following shows how.
1) Regal rooms
Needless to say, the rooms make or break a hotel. Avenue Plaza's accommodations easily pass muster; they're roomy, well-furnished, and very comfy.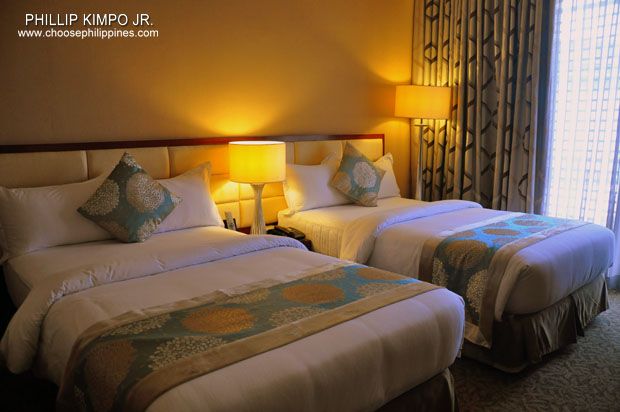 The Deluxe Twin room really places a premium on the word "deluxe."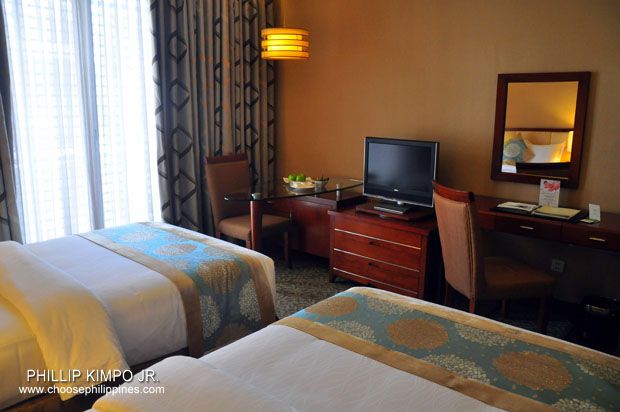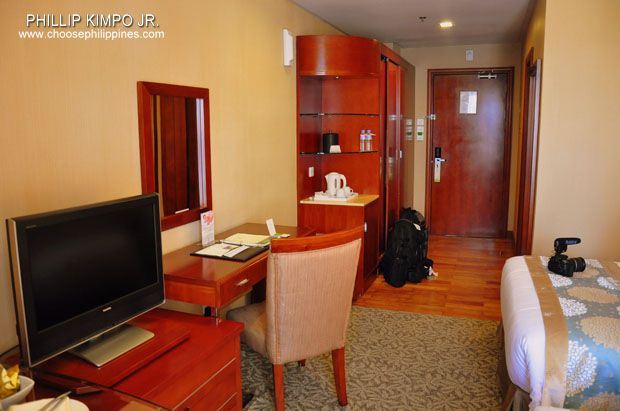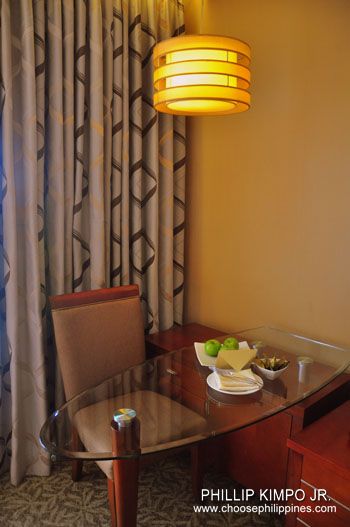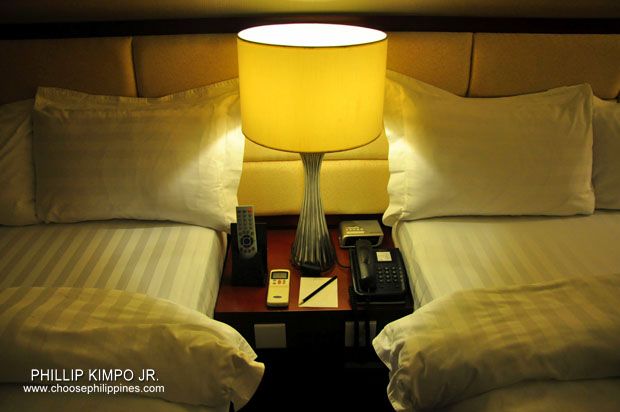 2) Bathrooms like bedrooms
You won't find any beds inside the bathrooms, of course. But I won't hold it against you if you'll sneak in a friend with a mattress.
The Avenue Plaza bathroom isn't a place to just get your business over with, so to speak, but to relax and feel at home.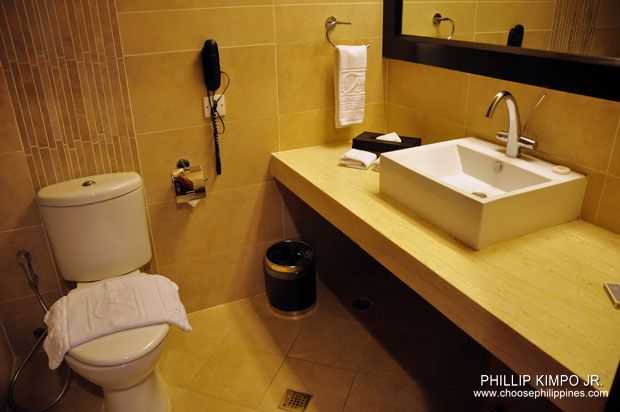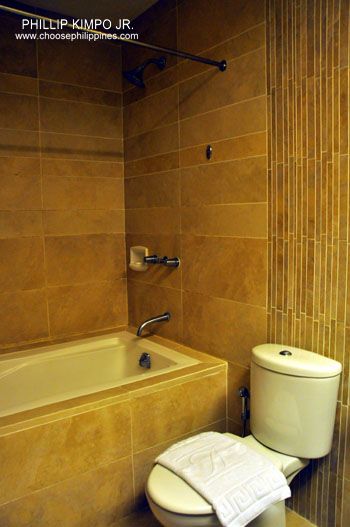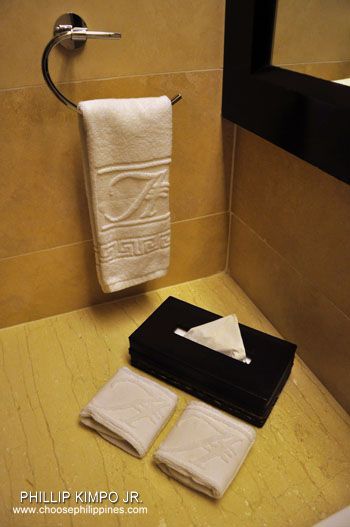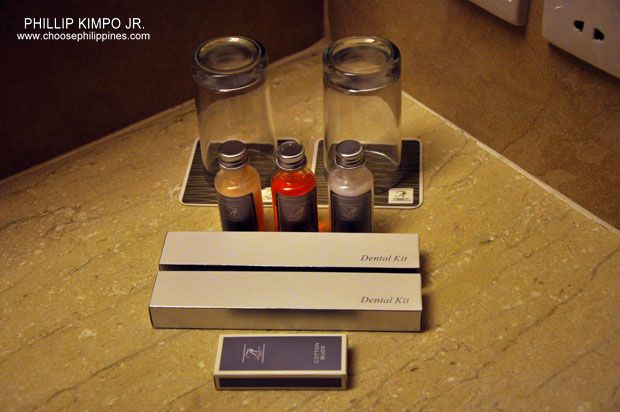 3) The devil is in the details
Given that many hotels offer the same great looking rooms, it's the attention to detail that sets some brands apart from the rest.
Judging by the extra attention given to service, Mr. Allan S. Cu, the hotel's president and general manager, seems to espouse that line of thinking as well. From how they welcome new arrivals—if time permits, Mr. Cu himself does the welcoming at the door, without the guest even knowing that it's the owner right there extending a warm, firm handshake—to the thoughtful gifts placed on your bed before you sleep, the hotel succeeds in pampering the client, from sunrise to sunset.
Which is why it came as a pleasant surprise to learn that Mr. Cu had no prior experience in the hotel business before Avenue Plaza. He and his wife, Ms. Gwen Cu, have been very hands-on with the business, from interacting with the guests to choosing which furniture and fabric to use. Allan handles the operations and management, while Gwen, an interior designer, takes care of her domain.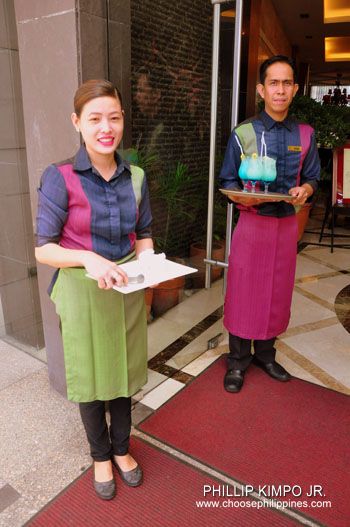 Some cool juice to welcome you to Naga.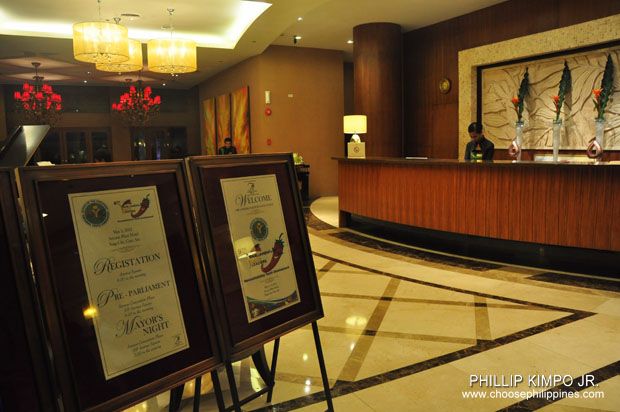 The hotel makes sure to welcome its group guests with these panels, as was our experience during the 2012 National Youth Parliament…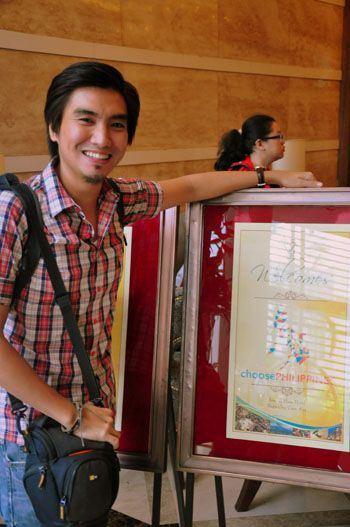 …and with the 2014 Choose Philippines tour of Bicol.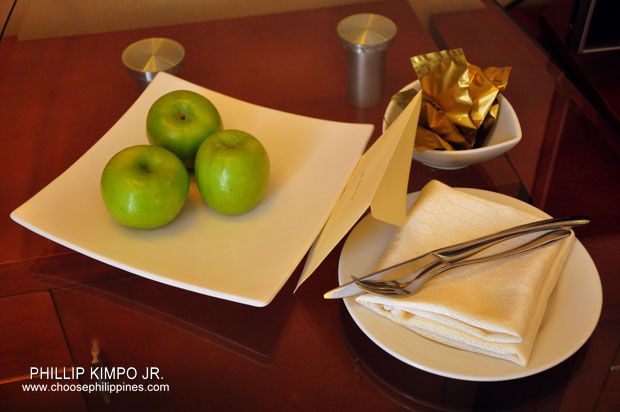 Gifts on your desk: fresh apples on the left, samples of Naga's famed pili nut products on the top right.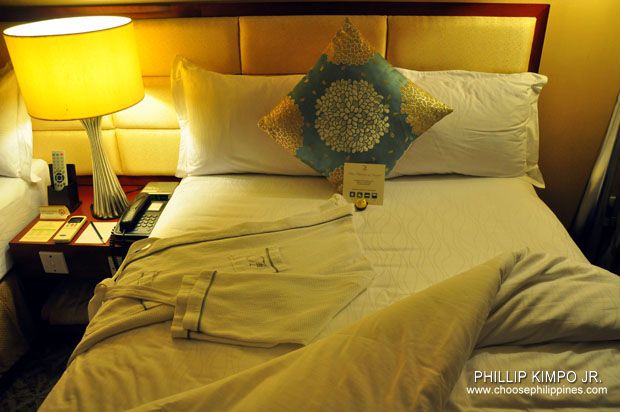 When I came home in the evening, I was welcomed by a bathrobe on my bed…and what's that by the pillow?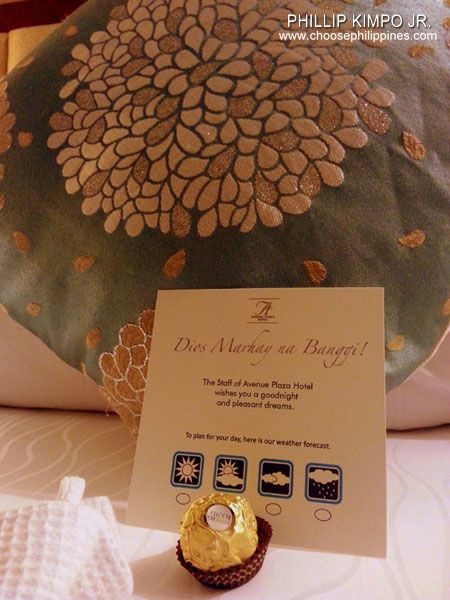 Ah. Nothing like some luscious chocolate to cap off the night.
4) Chic & posh: Café Plazuela
Right beside the hotel lobby is Café Plazuela, which serves great food come breakfast, lunch, merienda, or dinner. You also have the option of dining just outside the restaurant, right beside the swimming pool.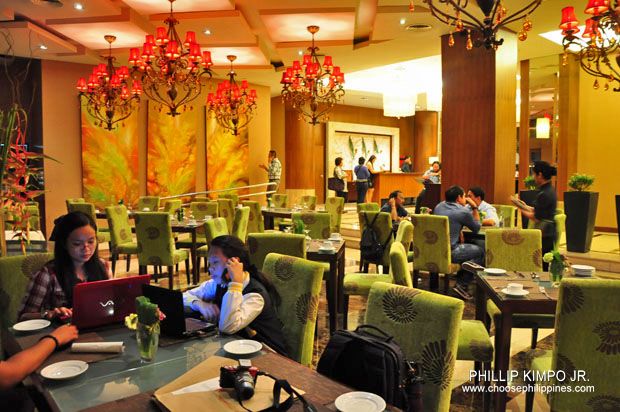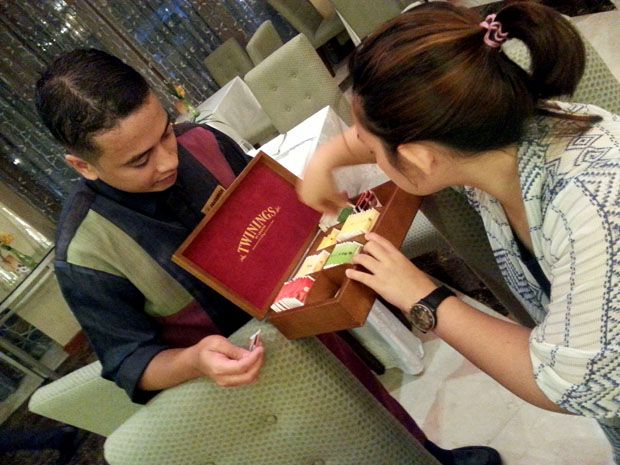 Avenue Plaza is perfect for afternoon tea. Pick your pleasure!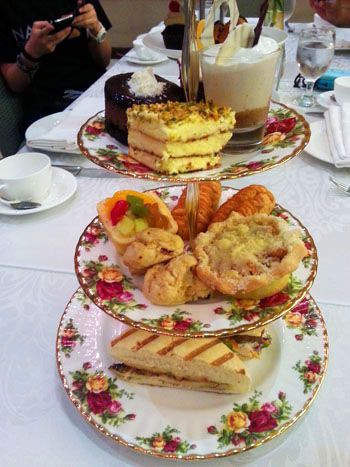 Trays of goodness to go along with your tea.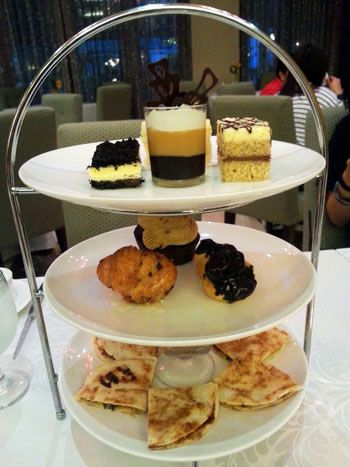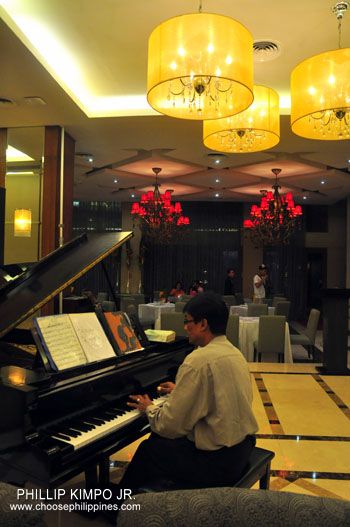 Be regaled by musicians while you're having dinner…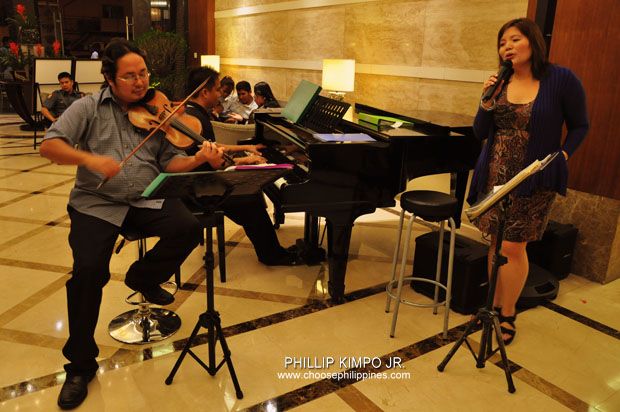 …or jam with them, as former NYC commissioner Georg Nava had a great time doing so.
5) Fab facilities
Avenue Plaza is one of Naga's favorite convention centers and events places. You just can't go wrong with the combo of great accommodations + great service + great amenities all in one complex.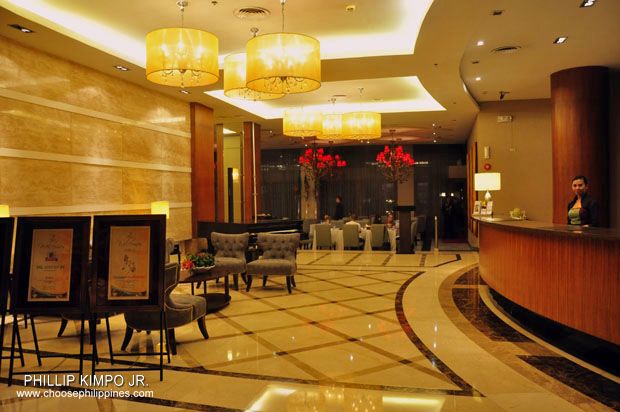 The following are some scenes from the 2012 National Youth Parliament, showing several function halls in action.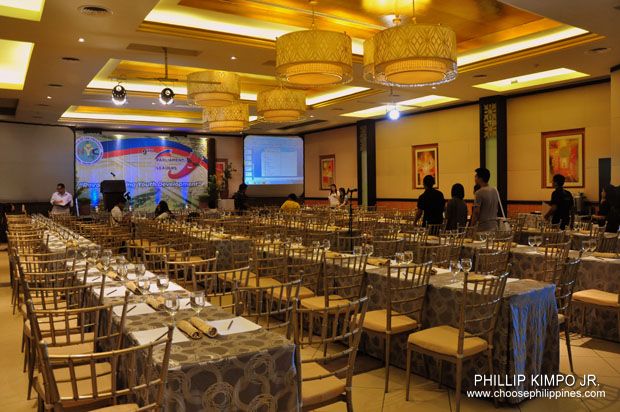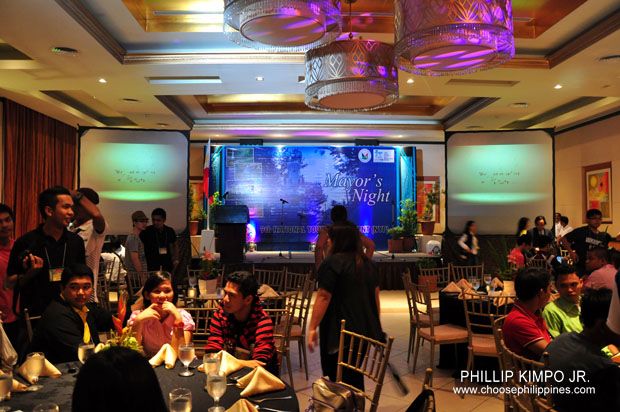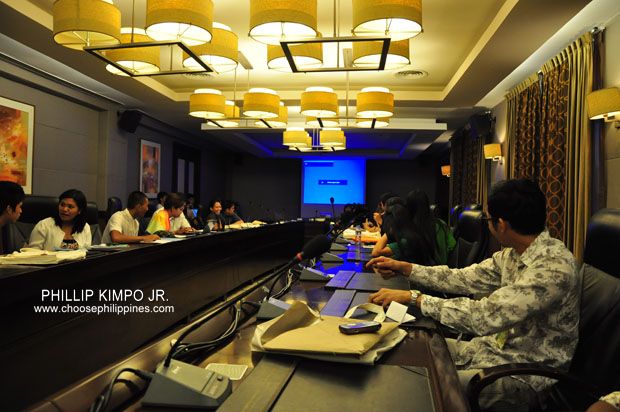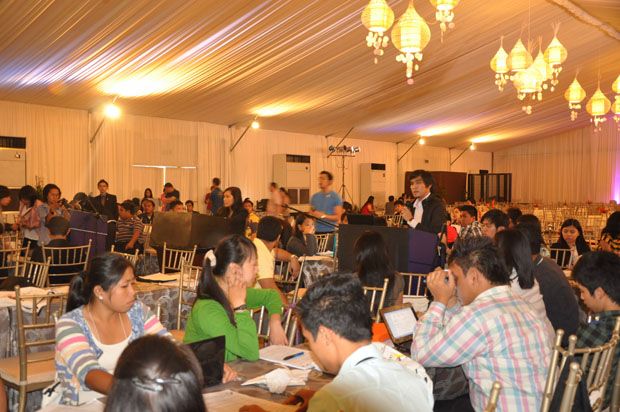 The author delivering a speech during the parliament inside the hotel's "tent" events place, located just a few steps from the main building.
6) A well of relaxation & wellness
In addition to giving its guests a great night's rest, the hotel seeks to be a hub of healthy activities this side of the city.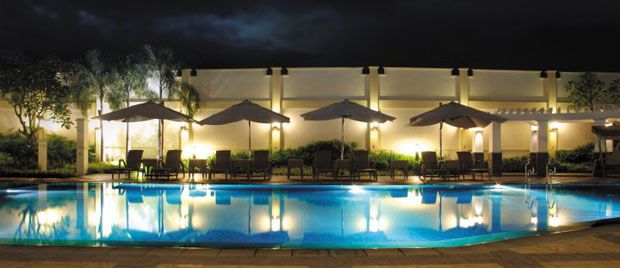 Avenue Plaza's swimming pool is home to its "Aquaero," aerobics in water.
You also have the Olympia Gym and Sauna to sculpt your body worthy of a Greek god/goddess.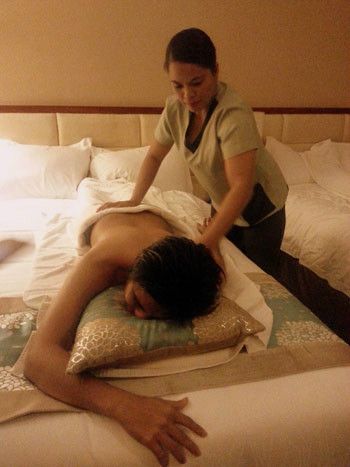 Better yet, avail of the hotel's room massage service.
We're not exaggerating—the thumb-based, Filipino-style hilot massage offered by Avenue Plaza is the best we've experienced so far.
The masseurs and masseuses are experts, able to identify your pain points just by running their palms over your muscles. They'll tell you which spot is problematic, and which spot they'll be "attacking" for the next few minutes.
I use the word "attack" because this is precisely what they do—they don't let up massaging one part until they've "thawed" or straightened out that bad, cold clump of flesh. They'll make sure that even your pinky finger is free from strain. Aside from being meticulous, they're also exhaustive—you'll get treated from head to toe.
The massage might get painful at times (though you can always ask the masseur/masseuse to tone it down), but I tell you, you'll feel at bliss afterwards. Hey, no pain, no gain.
The massage costs Php 1,000 per staying guest—definitely a bargain considering it lasts at least two hours, and given their expertise. Non-staying guests can also get a massage inside a hotel room for Php 1,800.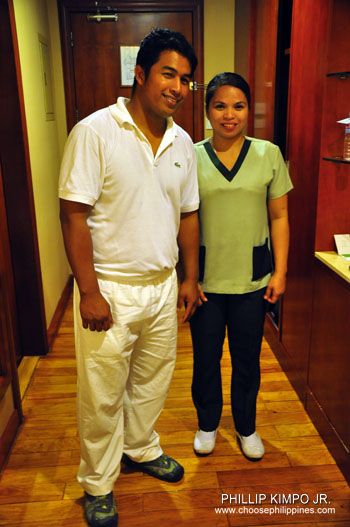 The husband-and-wife tandem of Clark and Arlene Espera were our therapists for the night. These two are massage rockstars in CamSur—they have customers from all over the country that have been loyal to them for the past 14 years. Also, it was no less than the local archbishop, Fr. Leonardo Legazpi, who presided over their wedding, being a client himself.
7) Location, location, location
Avenue Plaza stands right in the heart of Naga City. It's sorta-kinda located along Magsaysay Avenue, which I always describe as Naga's (tamer) version of Quezon City's Tomas Morato. I say sorta-kinda, because while it's a short walk from some of the city's best restaurants and nightlife spots, it's still quiet and private; it's fronted by another building (Avenue Square) that secludes it from the car and foot traffic on Magsaysay.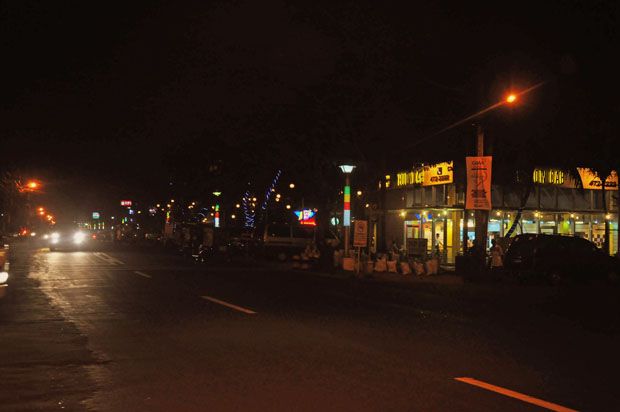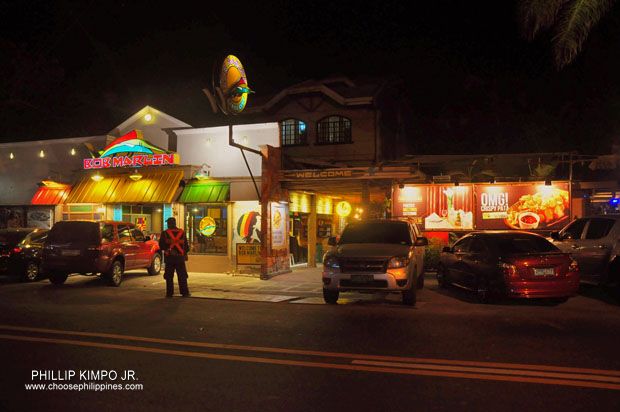 The hotel is on the same avenue as one of our favorite Naga restos, Bob Marlin.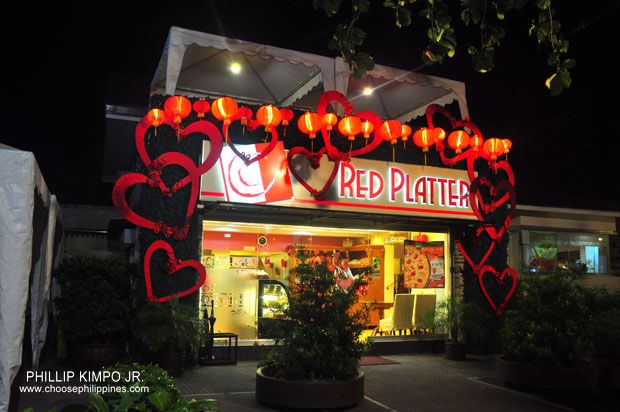 Another popular restaurant along Magsaysay Avenue is Red Platter.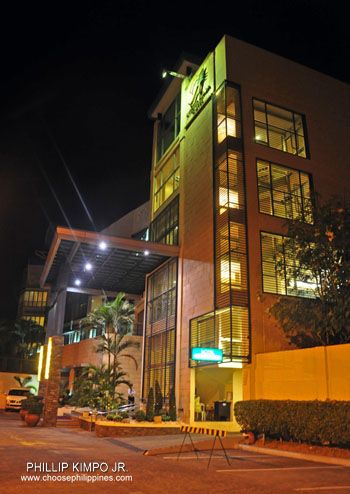 Aside from being within striking distance of shopping, entertainment, and dining centers, the hotel is a quick tricycle ride from Naga's historical attractions, such as the Naga Metropolitan Cathedral, Porta Mariae, Plaza Quince Martires, San Francisco Church and Bell Tower Ruins, Peñafrancia Basilica Minore, Our Lady of Peñafrancia Shrine, Plaza de Nueva Caceres, People's Mall, Plaza Rizal, and Plaza Quezon.
---
VIEW: Make Naga City your jump-off point to the rest of the region with the Choose Philippines "Hot Map to Bicol":

How to Get There:
Naga City is located about 377 km southeast of Metro Manila. By air, Naga is served by the Naga Airport which is located just outside the city proper, in the nearby town (and the CamSur capital) of Pili. A flight from Manila takes approximately 35-40 minutes.
By land, Naga is an eight-hour bus ride from Pasay or Cubao. The Philippine National Railways used to offer daily train rides to Naga (Bicol Express, Mayon Limited De Luxe, and Mayon Limited Ordinary); stay tuned to their website and Facebook page for updates.
Related video & articles
You can visit the Avenue Plaza Hotel website and Facebook page; before you go, here are some related Choose Philippines goodies from our tour of Bicol:
Be a Pinoy Wanderer!
Choose Philippines encourages writers, photographers, travelers, bloggers, videographers and everyone with a heart for the Philippines to share their discoveries and travel stories.
Share Your Journey
Other Stories by Phillip Kimpo Jr.