Islands and Beaches
Top 5 Things to Do in El Nido: A British Lady's Experience
Palawan,
Bacuit Archipelago
The Bacuit Archipelago, a beautiful place for island-hopping.
Waterfall and Plunge Pool
Trek to the nearby waterfall and jump into the plunge pool!
El Nido – Spanish for 'the nest' – is a small town tucked into a moon-shaped bay of Palawan's Bacuit archipelago. It's a nest for travelers wishing to explore the surrounding islands, cliffs, and coral reefs.
El Nido is the perfect location for both adventure and relaxation. Get involved in water sports, diving, and trekking. Or, if these aren't your thing, just lie down on the white sands and get a tan, drink fruit shakes in a local café, or enjoy a massage.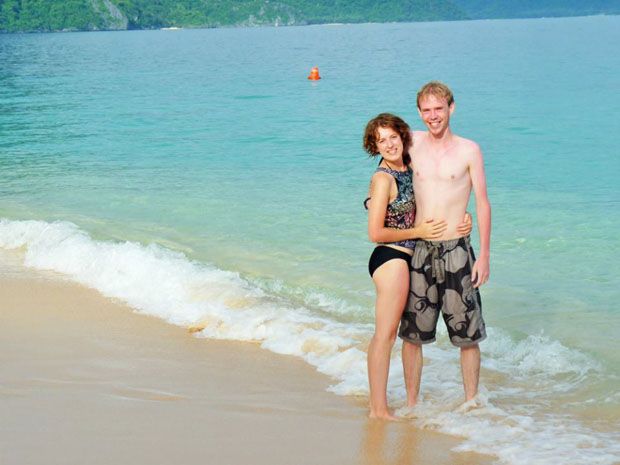 Want to know the top five things to do in El Nido? Keep reading!
1) Island-hopping
Island-hopping is the headlining activity. There are tour companies left, right, and centre, allied with hotels, cafes, and even the odd tricycle driver with 4 tours on offer.
The tours, adventurously named Tours A, B, C and D, show you the best of Bacuit archipelago. Tour A is the cheapest at PHP 700 per person, and each tour costs PHP 100 more than the one before.
Most of the day is spent bouncing along the waves on-board a banca boat. Stops range from rocky inlets to azure lagoons. Swim through small crevices in the rock and explore white sand beaches, or just enjoy snorkeling in the bays.
Getting hungry from all the exploring and snorkeling? Don't worry, there's also a midday stop for lunch. The boatmen grill up fresh fish, along with big bowls of salsa and juicy watermelon for you to feast on.
2) Kayaking
If you're fit enough – which my boyfriend is, but I sadly am not – you can rent a kayak and paddle your way to a nearby island. Fortunately for me, I had my boyfriend in the back of my kayak to make sure we got somewhere. There are various coves and beaches within reach, making kayaking the ideal activity for someone seeking a little adventure on their own!
3) Scuba-Diving
Whether you're PADI qualified or just a beginner, there is definitely a dive for you. Miniloc Island is one of the best locations in the surrounding area of El Nido. It's perfect if you're hoping to get up close with a sea turtle!
4) Get a Massage
Want something more relaxing than kayaking and scuba-diving? Take a stroll along Corong-Corong beach and you'll see plenty of wooden signs offering massages at bargain prices. If you're sunburnt from being on the beach too long, then most massage parlors offer aloe vera treatments to sooth your skin too.
5) Take a Day Trip by Tricycle
Join a local tricycle driver for a day-trip to the plunge pool of the nearby waterfall and the famous Nacpan beach. The waterfall is a 30-minute tricycle drive and 45-minute trek through the forest, across seven or so small rivers. Be prepared with flip-flops or waterproof shoes!
Head to Nacpan beach in the late afternoon to see the best sunsets El Nido has to offer. Sit on the sand, sip juice from a freshly opened coconut, and wait for the glorious orange hues to light up over the ocean.
If you're looking for an island paradise that offers adventure and relaxation, then El Nido is the place for you.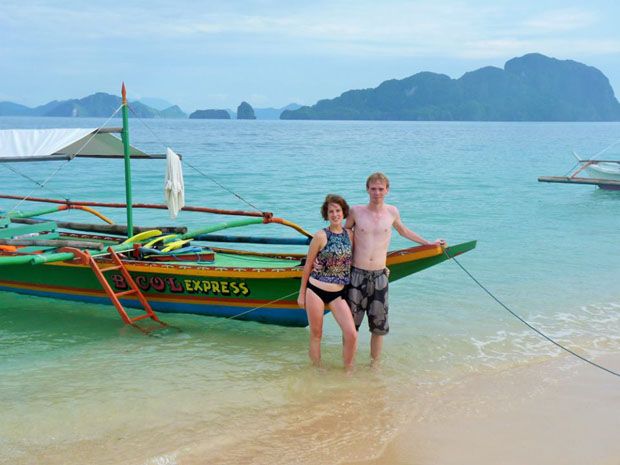 Be a Pinoy Wanderer!
Choose Philippines encourages writers, photographers, travelers, bloggers, videographers and everyone with a heart for the Philippines to share their discoveries and travel stories.
Share Your Journey