Islands and Beaches
Unspoiled Malalison Island: Your Guide to the Visayan Batanes
, Antique
Have a peaceful and relaxing experience at Malalison. With its sparkling clear waters that hug the powdery white sand shore, you'll surely want to stay and claim this island in Culasi, Antique as your own.
---
Malalison Island; photo by Benjie Layug.
The Island
Malalison is an unspoiled 55-hectare hook-shaped island. Also known as Mararison Island, it's one of the three island-barangays of Culasi, Antique.
Malalison can be reached by a motorized pump-boat (4 kilometers away or 15-20-minute ride, or even up to an hour depending on the weather) off the coast of the town proper.
Malalison Sandbar; photo by Ruperto Quitag.
The island's sandbar is known to change its curve depending on how strong the waves can get. It stretches for about 100 meters from the beach.
The clean beach and crystal-clear blue waters are good for snorkeling, scuba diving, fishing, and sailing.
Malalison; photo from katahum.com.
Near Malalison is the Batabat Coral Reef which is best for snorkeling. You'll different varieties of fish and other aquatic animals.
The Legend
One version of the local legend has it that the islands of Culasi were the three children of Madja-as and Kanlaon, namely Batbatan, Maningning, and Mararison.
Maningning was the lazy beautiful sister, Batbatan the disrespectful one, and Mararison the disobedient one. They were punished and kept away from their mother, Madja-as.
You'll see these three islands when you climb the summit of Mount Madja-as, the highest peak in Panay Island.
---
VIEW: See what else to bring home from Antique with the Pasalubong Map: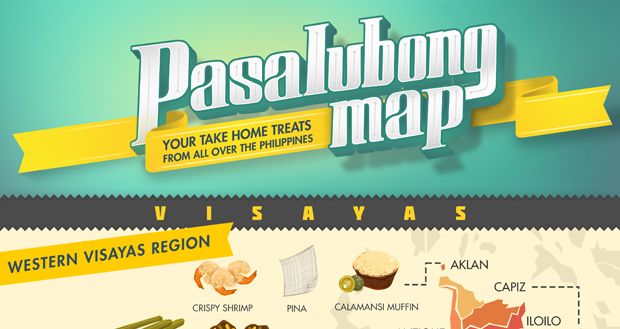 ---
The Itinerary
When in Antique, going to Malalison can just be part of your day trip, or you can spend the whole day exploring the island.
Here's a sample itinerary prepared by Katahum Tours for your Malalison Island experience.
First you'll need to go through a short orientation at Culasi Boulevard. Then you're off for your boat ride to Malalison!
1) Pangluy-a
The "pangluy-a" is the traditional blessing of guests upon arrival. This ritual is believed to serve as protection from unpleasant spirits, thus blessing you to have a good stay at the island.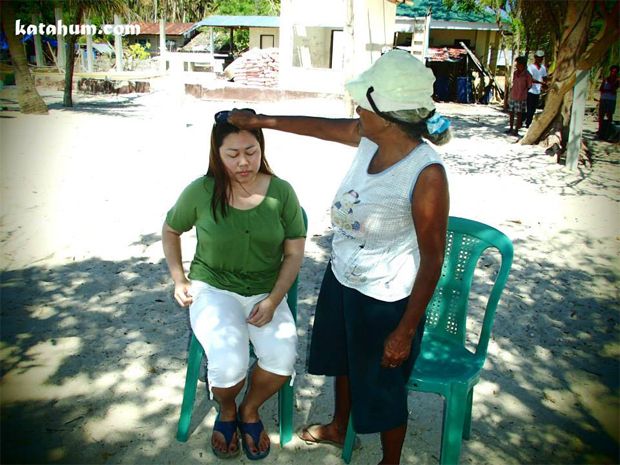 The "pangluy-a" performed by ABS-CBN Iloilo's Jennifer Garcia in Malalison Island; photo from katahum.com.
2) Trekking
Malalison Island has been popularly called the "Batanes of Antique" because of its landscape. Prepare for your legs to get tired during your uphill trek.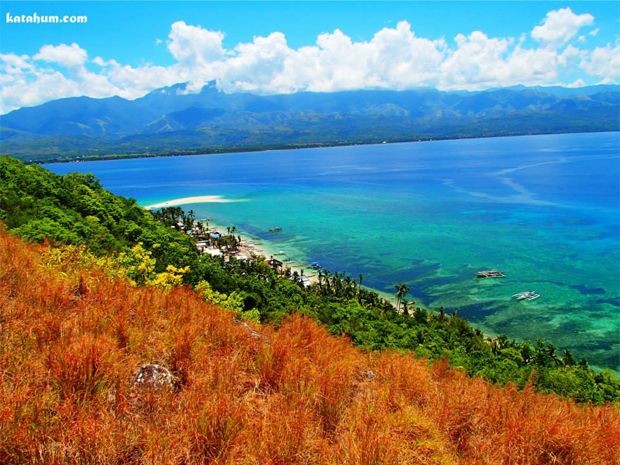 The prairie of Malalison Island; photo from katahum.com.
You'll find pitcher plants and other flora.
A carnivorous pitcher plant at the Malalison Island; photo by Benjie Layug.
3) Adventure to Nablag Islet
During low tide, you can cross to the Nablag Islet by foot on its sandbar.
The Nablag Islet as seen from the white sand cove; photo from katahum.com.
4) Mini cave exploration
From the outdoors to the indoors: go spelunking!
Vandalism is becoming a problem, though; photo by Benjie Layug.
5) Lunch by the beach, siesta on the sand
You'll then trek back to the village proper and relish the fruits of your adventure with sumptuous beach feasts. Afterwards, it's relax-to-the-max.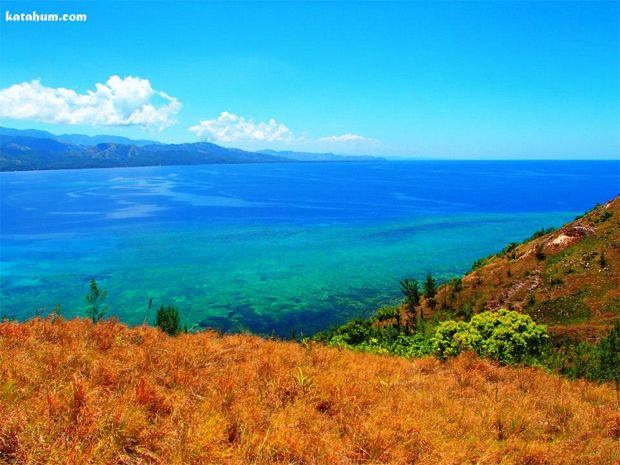 The prairie of Malalison Island; photo from katahum.com.
The prairie of Malalison Island; photo from katahum.com.
6) Marine adventures
What better way to burn the calories than by swimming, snorkeling, fishing, and boating!
photo from katahum.com
photo from katahum.com
photo from katahum.com
7) Culasi Boulevard shopping
When it's time to go home, you'll hitch the boat ride back to Culasi.
Fishermen's boat parked near the island's sandbar; photo from katahum.com
Upon reaching the Culasi town proper, drop by the boulevard where you can buy dried fish specialties, like pinindang and more.
So, have we enticed you enough? Malalison is waiting!
How to Go to Antique
Antique is accessible from major cities of the country through Iloilo City, from where buses leave for San Jose, the province's capital town. Travel time is approximately 2 hours.
From Manila, you can fly to Iloilo (estimated cost of Php3,000++, round trip, one hour). From Iloilo Airport, you can hail a cab and ask to be dropped off at your destination.
---
READ more about Antique on Choose Philippines!
VIEW: Make Antique your jump-off point to explore neighboring Aklan:

Be a Pinoy Wanderer!
Choose Philippines encourages writers, photographers, travelers, bloggers, videographers and everyone with a heart for the Philippines to share their discoveries and travel stories.
Share Your Journey
Other Stories by Belle Piccio