Islands and Beaches
The Mystical Fantasy Island That Actually Exists: Coron
The vibrational hum of the propeller engines shifts from a constant high buzz to a low drone as our plane dips into a descent. As we pass through the haze, I look out the window and see perfect island after perfect island. Like giant turtles, these islands breach the ocean surface, bursting with fluffy, bright green vegetation. Their circumference is a thin line of bright white sand that cuts into the emerald-green water, before changing to azure then dark blue as it becomes the deep ocean. I'm excited about island hopping throughout this incredible archipelago.
Our plane banks sharply and we're now surrounded by rippled volcanic mountains, their peaks so steep as if thrust up with immense volcanic force. They're so tall that our plane now drifts below their peaks and I have to crouch in my seat and look up to see where they end. The pilot pulls the plane out of a bank moments before we hit the runway with a huge bang and jolt. The propellers buzz and thrust in reverse to stop our plane on the small runway. I'm not sure if it's the landscape or the pilot that makes the landing so abrupt but, I make a mental note to have a few beers in the airport terminal before we leave and take off in 4 days.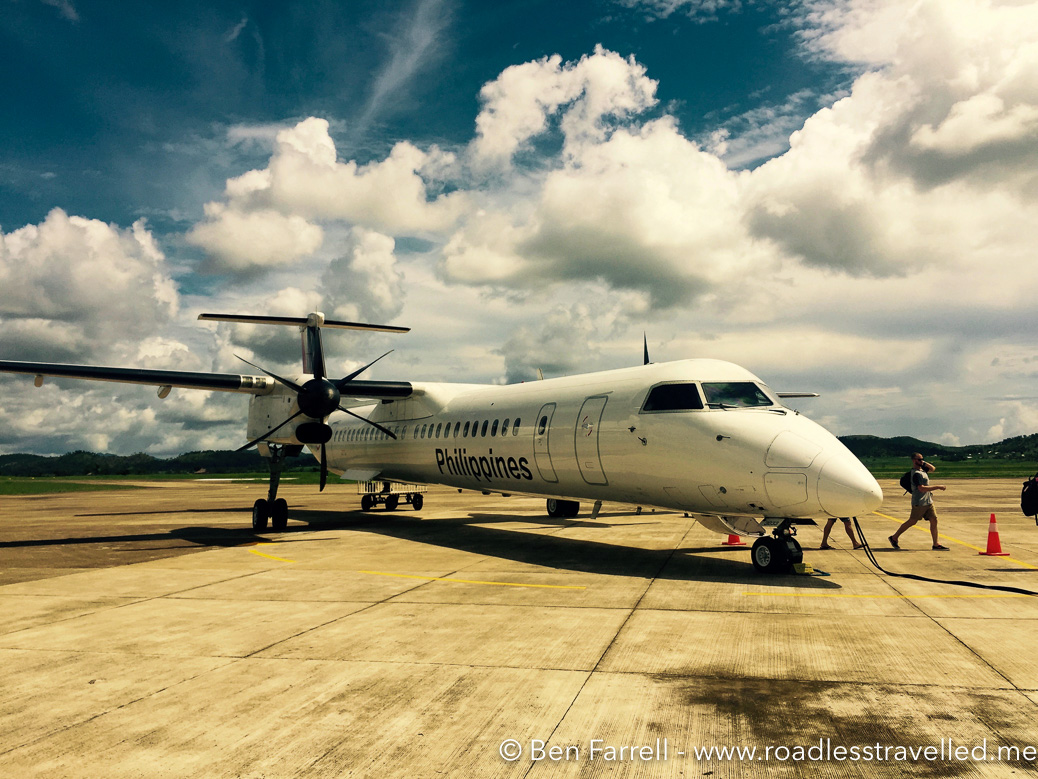 We cross the tarmac to the terminal and wait at the baggage 'carousel'. It's not a carousel, actually, it's just a wooden bench where the staff place your bags. The terminal is tiny but there's a buzz of excitement. The newly appointed President of the Philippines, Rodrigo Duturte's daughter has come off the same flight. She's surrounded by a group of police and officials who smile and stand straight. A few people ask for a photo so we do the same.
We find our way to our airport transfer van and begin the 30-minute commute from Busuanga Airport to Coron township. Like most places, the distance isn't far, however, the condition of the road (and cattle grids) make it a slower trip.
Our van slows and the traffic from the buzzing trikes weaves around us as we pull into the Coron township. Suddenly we take a sharp right turn and end up by the water at the beginning of a long wooden pier. We're staying at Discovery Island Resort which, as the name suggests, is in fact on an island that's a 5 to 10-minute boat ride from Coron town. We're greeted by the small, smiling boat-man who lifts my large Samsonite suitcase onto his back with the ease of someone who's clearly done this a hundred times.
As we tread the bouncy wooden pier we get closer to Coron Island in the distance. It's sheer limestone cliffs are so dramatic it's as if they've been dropped by someone in the middle of the ocean. There's no gradual sweeping plains that subtlety guide the eye up to a rounded mountain peak. It's a giant wall of vertical rock bursting with trees. The top is jagged and abrupt suggesting some ancient and violent volcanic activity.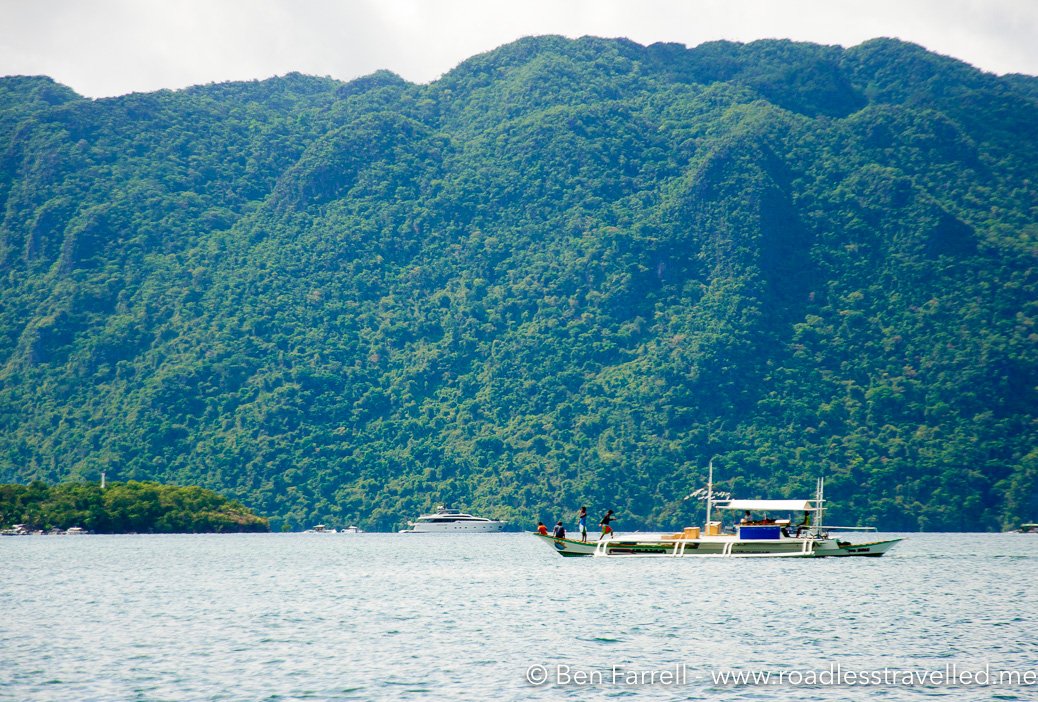 I carefully tread down the small wooden steps to the boat, carrying our 2-year-old daughter, Lilly. The small boatman gracefully boards the boat with my suitcase and navigates the wooden outriggers to his captain's chair with ease. I feel overweight and embarrassed as I step onto the small boat and feel it suddenly dip beneath my fat, western feet. As if it's me versus buoyancy, I try to tread lightly before awkwardly falling in my wooden seat.
The boat-man takes out a log bamboo pole and pushes against the shallow rocky bottom. Like a Venetian gondolier, he guides the small boat of out the Coron bay and toward our temporary island home.
The next morning, we head back to the Coron town pier early for our first tour. We tread the hot, dusty Coron streets with other tourists in bright shorts, sarongs and sun cream clad skin carrying snorkel gear, Go Pros and water-proof shoes. We board a bigger version of our small wooden island boat and join about 12 others with the same goal of immersing ourselves in the emerald-green water and experiencing the marine life that lives beneath the bright, vivid surface.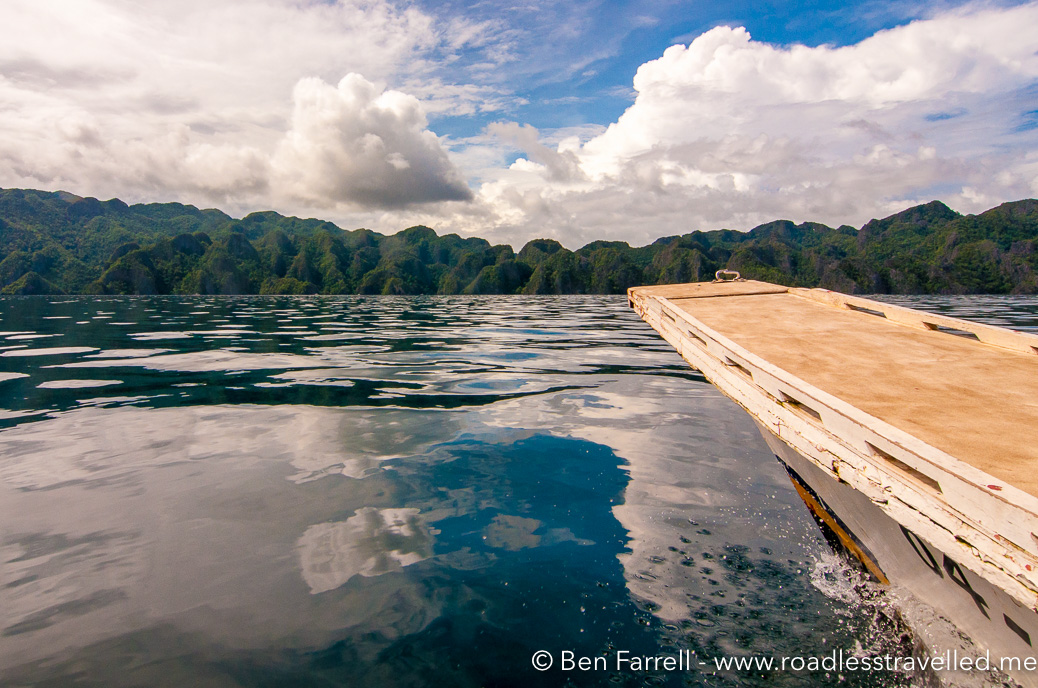 Our boat pushes out from the pier and we begin to ride gentle deep blue waves as we head towards the giant limestone cliffs of Coron island. Our first destination is Kayangan Lake and it's not long before we slip in between the dark grooved rocks of a headland. The engine's cut and we glide silently into a bay of vivid emerald. It's like a hidden lagoon in a place you only dream about. A place you thought couldn't exist anymore in this over-populated commercial world. Well, it does and it's Coron Island.
To get to Kayangan lake you need to make your way up and over the mountain on a steep rocky and muddy trail. We're carrying our 2-year-old, Lilly, which makes the climb difficult. Flip-flops on mossy rocks with a baby and camera gear make the trip interesting.
At the halfway point, you reach the crest of the mountain. It's worth stopping here to get a photo from the top, looking back down at the bay before continuing down to the lake itself. The view is postcard perfect as the small boats cut white trails in the emerald water, rounding the headland before docking at the beach.
Finally, we descend down to the lake. The muddy path is on such an incline that I'm sure I'm getting the best thigh workout in years. BUT, it's all worth it. Finally, Kayangan lake presents itself in its emerald-blue glory as it cuts between limestone cliffs bursting with trees. The water's so clear that it's like diving into glass. It's cool, refreshing and magical.
Read: Getting Lost in Busuanga: A German's Search for a Virgin Beach
It starts to rain but it's not an issue. Instead, it adds to the mystic feel of the place as monsoon drops fall from tropical skies, bouncing off the bright blue lake surface creating a refreshing mist and the tranquil soundtrack of falling rain.
There's a wooden boardwalk around the lake with steps into the water making it easy for those who'd prefer to ease themselves in. However, the lake is deep. You can get your footing on some large underwater rocks, but generally, you need to tread water or bob around in your life jacket.
After what felt like a never-ending trek back over the mountain, we're now headed for the 'Smith Coral Garden'. Now, I thought I'd seen a lot of coral in my life… I thought well, whilst it's beautiful, surely it's all the same across South East Asia… I was wrong.
The Coral Garden in Coron is simply breathtaking. It's an underground multicoloured forest of weaving and twisting living organisms. You float in awe above the forest as giant clams lie on the seabed, mouths gaping, like something from a cartoon that isn't real. It's an alien planet. Somewhere so unique, so foreign, so precious that it's truly an experience to lie flat in the bobbing waves, gazing down at this surreal wonderland.
Our guide tells us that the coral was 'severely damaged' by super Typhoon Haiyan… But it's still incredible… I can only imagine what it would've been like before the superstorm smashed Palawan in 2013.
We're on the boat again and this time heading for Banol Beach for lunch. It's a quintessential white sand beach with lapping blue water. The sand interrupts the shear, rocky cliffs creating a truly isolated feeling. As in all tours in Palawan, we're served BBQ seafood and meat for lunch. It's still raining but I play with Lilly in the shallows teaching her what a "shell" is as Jen sits with the locals speaking Filipino and ensuring every last piece of food was devoured.
After lunch, one of the final highlights is the twin lagoon… An incredible natural phenomenon where a fresh water lagoon meets a salt water lagoon, both competing for the most vivid blue water you've ever seen. They're joined by a small cave-like archway that's so tight, the only way to comfortably get through is to float through on your back. Our tour guide instructs us to lie on our backs and link feet to hands like a giant caterpillar so we can silently slide under the cave and between both lagoons. It's magical as the view when floating on your back is breathtaking. You stare up at giant, almost daunting lime stone monoliths bursting with bright green trees and wildlife as you slide through the water and feel the warm and cold currents trying to blend as the ocean meets fresh water.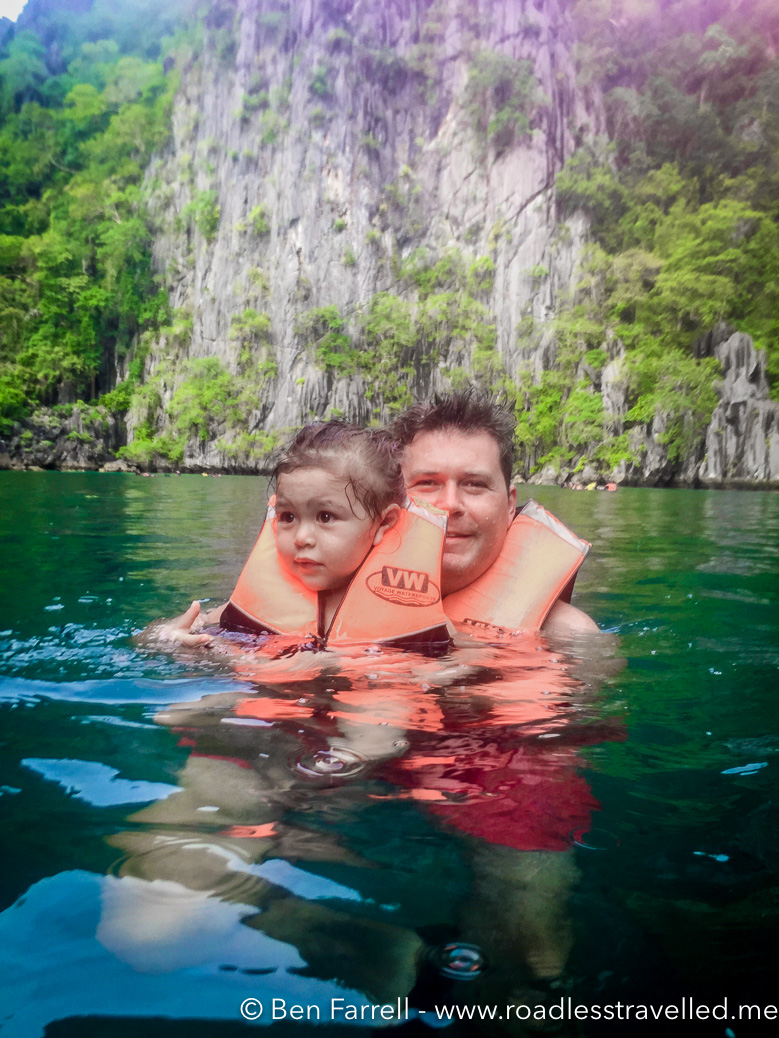 The rest of the afternoon is full of stops at white-sand beaches. Beaches that look like they've been Photoshopped… It seems that in Coron, the water really is unbelievably blue, the coral mystical and the lakes so emerald clear that you think you've spent a day in a fantasy land. The experience is a reinforcement that magic does still exist on isolated islands among this incredible archipelago. Not everything is ruined in this over-run tourist driven society. There are magical, fantastical places that still exist between the shear black, jagged, limestone cliffs of Coron Island, Philippines.
Details:
How to get there:
Fly from Manila to Busuanga Coron Airport with Philippine Airlines, Cebu Pacific or Skyjet Airlines.
Where to stay:
We stayed at Discovery Island Resort & Dive Centre. We loved our stay there and would definitely recommend it and stay again. The staff were super friendly and went out of their way to look after Lilly.
The food was also great with a diverse menu of local dishes, Thai, Italian and more.
Tours:
There are a few tour operators in Coron. You can book directly with your hotel / resort however, we found this option to be far more expensive than some of the providers in Coron Town.
We went with 'Nice in Paradise' tours. They were friendly and helpful, however, the tour guides barely spoke any English. It may not have helped that most of the group were local tourists although, I would've preferred them to make more of an effort to also explain things in English.
The one day tour mentioned here is the Coron Island Tour (1300 PHP per person) and covers:
Kayangan Lake
Smith Coral Garden
Banol Beach
CYC Beach
Coron Town
There's not really much to do in Coron town itself. We spent most nights back at our resort bar and restaurant. There are a few bars throughout the small town however it's generally pretty quiet.
Be a Pinoy Wanderer!
Choose Philippines encourages writers, photographers, travelers, bloggers, videographers and everyone with a heart for the Philippines to share their discoveries and travel stories.
Share Your Journey