Mountains and Volcanoes
Throwback Thursday: Mayon Volcano Just Proves How Timeless Her Beauty Is
Albay
---
The Philippines' most active volcano, located in the province of Albay, is lovingly associated with "Daragang Magayon," a heroine in local folklore known for her beauty and sweetness.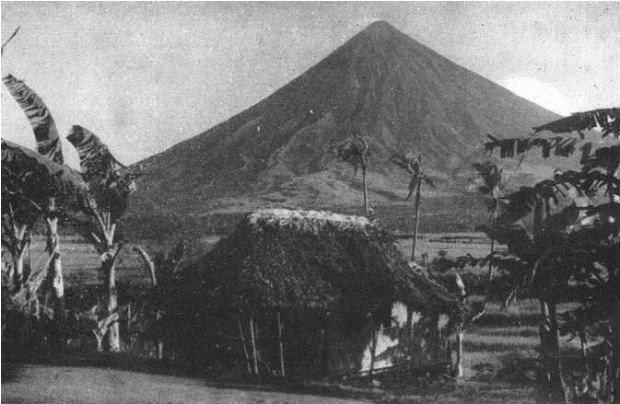 Photo credit: fao.org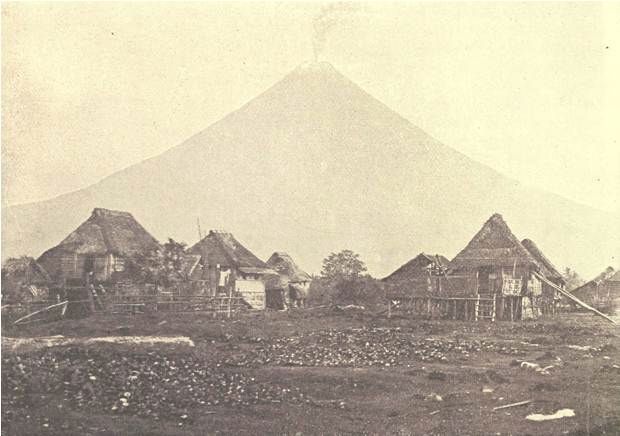 Photo credit: commons.wikimedia.org
According to one of the myths (recorded by Damiana Eugenio), a certain Kanuen tried to captivate Magayon's heart but failed. Another man coming from the far lands of the Tagalogs named Gat Malaya courted the beautiful lady and eventually won her over. The two planned to get married much to Kanuen's dismay.
When Malaya went back to his village to prepare for the ceremonies, Kanuen took the opportunity to insist that the lady shall be his if her fiancé will not be back.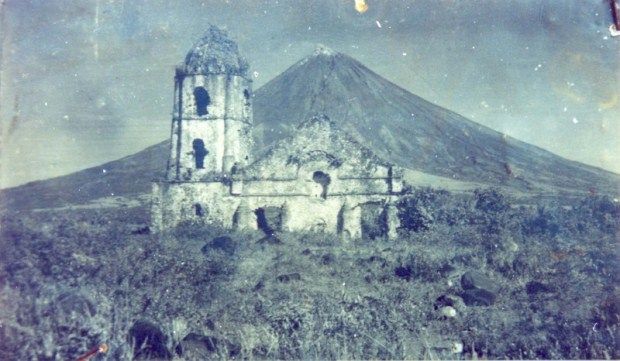 An old photograph of Mayon before the devastation of Cagsawa Church. | Photo credit: en.academic.ru *
On the evening of Magayon's and Kanuen's marriage-by-force, Malaya finally arrived and fought with the haughty man. In the middle of the exchange of spears, Daragang Magayon intercepted and was unfortunately slain herself by Kanuen. Malaya rushed to her lost love and was also slain.
The two embraced each other in death. On the site where they were buried together, the perfect volcano rose.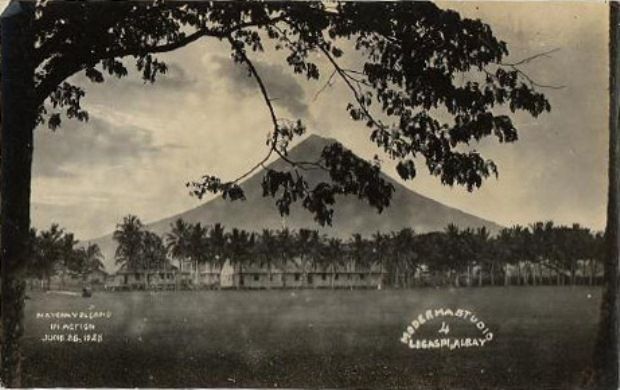 Cagsawa in ruins, taken on June 26, 1928 | Photo credit: fabulousphilippines.com *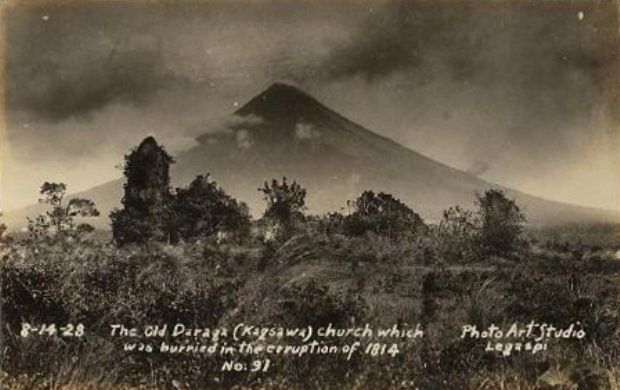 Cagsawa in ruins, taken on August 14, 1928 | Photo credit: wikipedia.org
Mount Magayon or Mount Mayon is now a geographical splendor standing at 2,462 metres (8,077 ft).
Like a pie (or cake or pizza), the cone is geographically shared by the cities and municipalities of Legazpi, Daraga, Camalig, Guinobatan, Ligao, Tabaco, Malilipot, and Santo Domingo.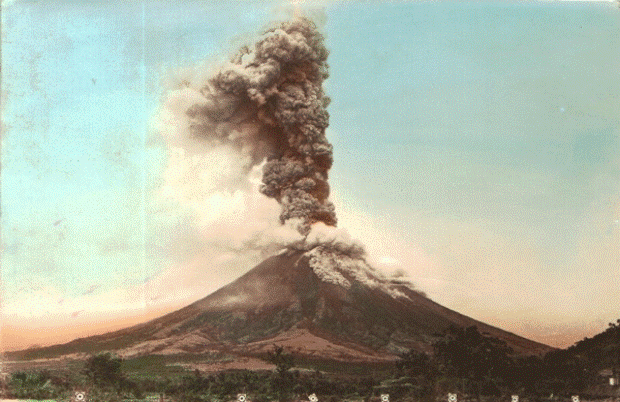 Taken on June 11, 1938 | Photo credit: Hollywood Studio of Albay *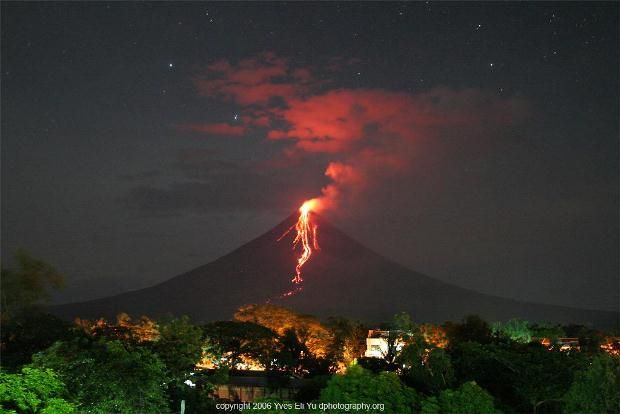 Taken in 2006 | Photo credit: Yves Eli Yu, via wowlegazpi.com
But like all things that are deceptively beautiful, the volcano has had its moments of spewing lava and ash from the deep world. It had erupted over 49 times in the past 400 years.
---
VIEW: Make Albay your jump-off point to the rest of the region with the Choose Philippines "Hot Map to Bicol":

---
Notable eruptions:
February 1616 - recorded by Dutch explorer Joris van Spilbergen

July 20, 1766 - six-day account was recorded

February 1, 1814 - most destructive eruption, the town of Cagsawa was covered in tephra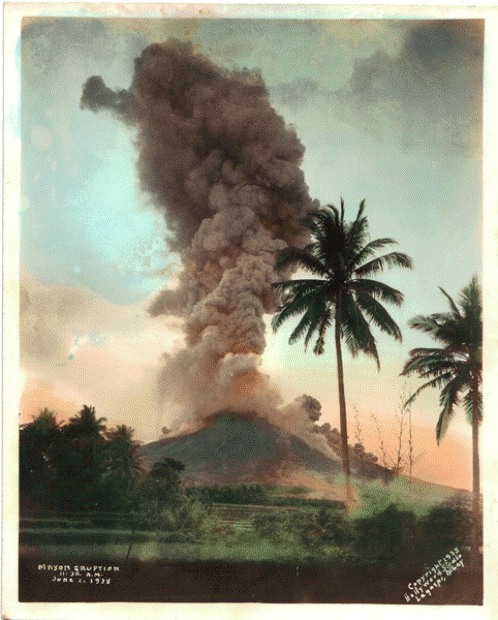 Taken on June 11, 1938 | Photo credit: Hollywood Studio of Albay *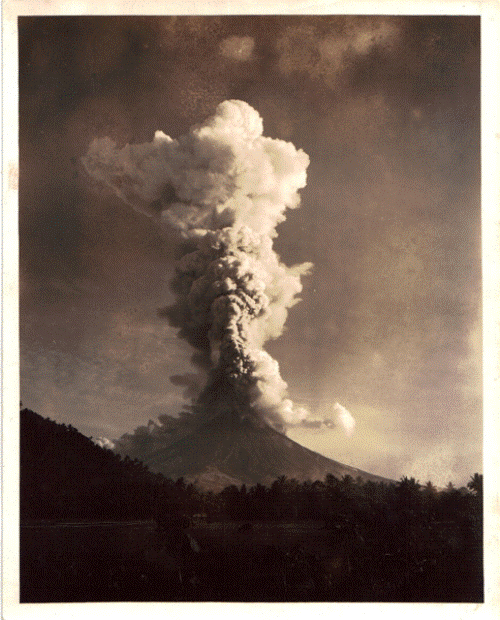 Taken in 1938 | Photo credit: Hollywood Studio of Albay *
July 1881 to August 1882 - five months of continuous stream of lava on the Legaspi side

June 23, 1897 - longest uninterrupted eruption, Bacacay was buried in 15 m lava
---
VIEW: 5 Must-Eats in Albay: From From Chili Ice Cream to the Smallest Fish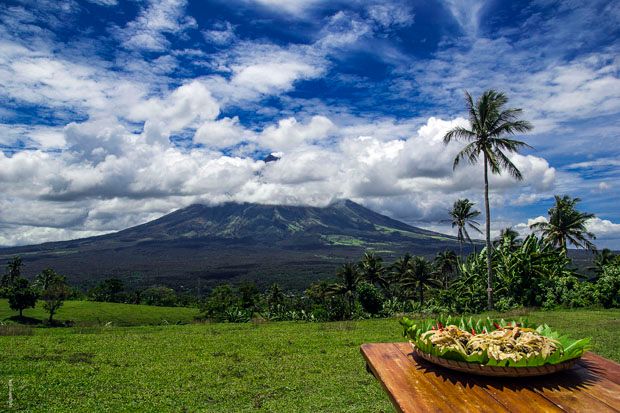 ---
July 16, 2006 - 48th eruption followed by quiet effusion of lava

August 10, 2008 - small summit explosion ejected ash 200 m above the summit

May 7, 2013 - surprise phreatic eruption (occurs when magma heats ground or surface water) lasting 73 seconds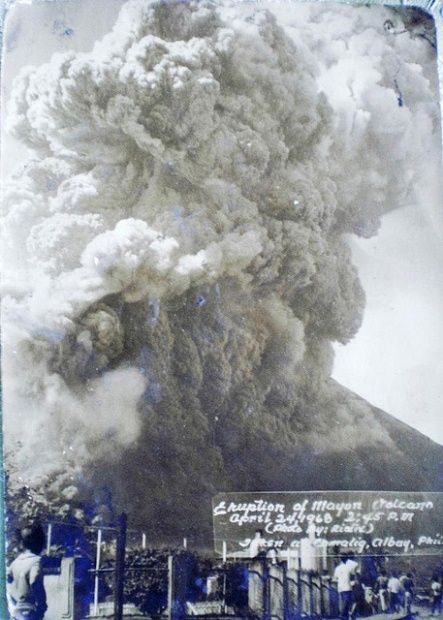 Taken on April 24, 1968 | Photo credit: Sherwin Magayanes *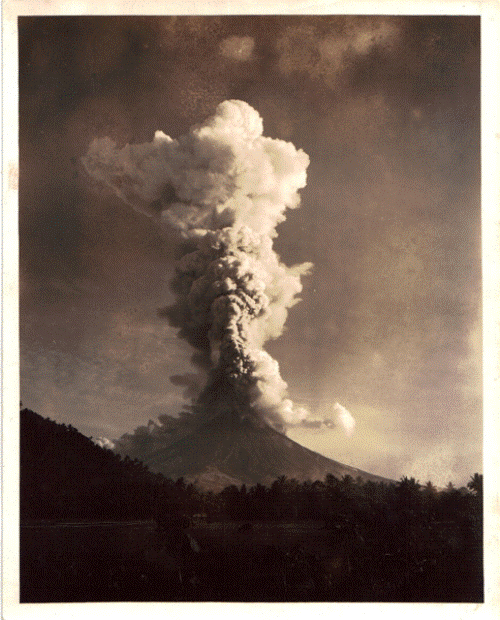 Taken on September 23, 1984 | Photo credit: C. G. Newhall, via twistedsifter.com *
Renewed activity has been recorded just last August 12, 2014 when a high lava dome appeared in the summit crater of Mayon. Alert level 3 has been hoisted but the Albay province has assured tourists safe spaces from where to watch the impending eruption in all its fiery beauty.
---
VIEW: These 6 Places Will Make You Want to Witness Mayon's Eruption In Person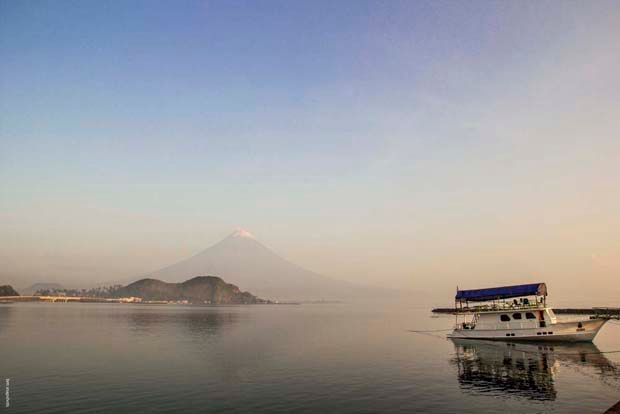 Mayon as seen from Legazpi City Boulevard
Be a Pinoy Wanderer!
Choose Philippines encourages writers, photographers, travelers, bloggers, videographers and everyone with a heart for the Philippines to share their discoveries and travel stories.
Share Your Journey
Other Stories by Choose Philippines