Resorts
3 Beach Resorts Where You Can Surf & Slack at Puraran, Catanduanes
Catanduanes
With the Pacific Ocean on the east and the South China Sea on the west, it's no wonder that the Philippines has a variety of surfing spots to choose from--be it for beginners or pro surfers, beach break or reef break, baby waves or hollow barrels. Siargao has "Cloud Nine," San Narciso has "High 5 Lahar," San Antonio has "Magic Left," and the list just goes on.
Surf's up!
Puraran Beach, an isolated cove in Baras, Catanduanes, has its own swells coming in from the Pacific that break on an offshore reef. The "Majestic" is one of the "fastest, most hollow, and right-handed barrels in the world" (from majesticpuraran.com.ph). The term was coined by Hawaiian photographer Warren Bolster in the June 1988 issue of California-based Surfer Magazine. Locals say that on a good day, the waves can reach more than six feet, and even higher during the typhoon season.
Puraran Beach, Baras, Catanduanes: Home of the Majestic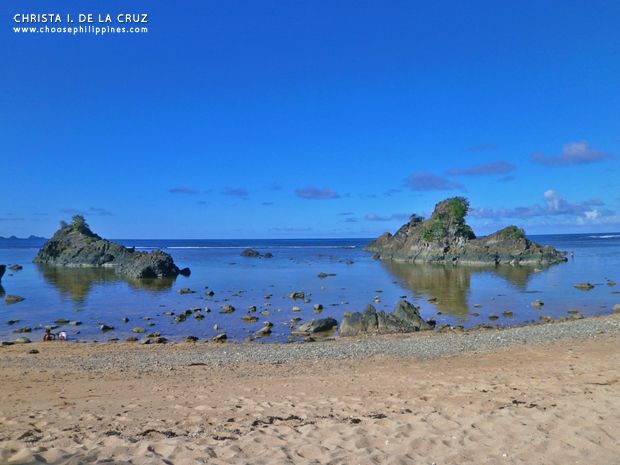 Between 1 to 3 pm, you can see the seaweeds, clams, mussels, and even small fish that thrive in the tide pools.
In the months of August to October, the Majestic is recommended for advanced and professional surfers only.
(Photo courtesy of Puraran Surf Beach Resort.)
One weekend in May, Choose Philippines was invited to the island's first ever Surf & Music Festival, the "Catanduanes Reef Break 2014" or in Twitter-speak: #CRB2014.
[FOLLOW: Watch out for the next Catanduanes Reef Break - Surf Music Festival!]
For three full days, this was what we woke up to: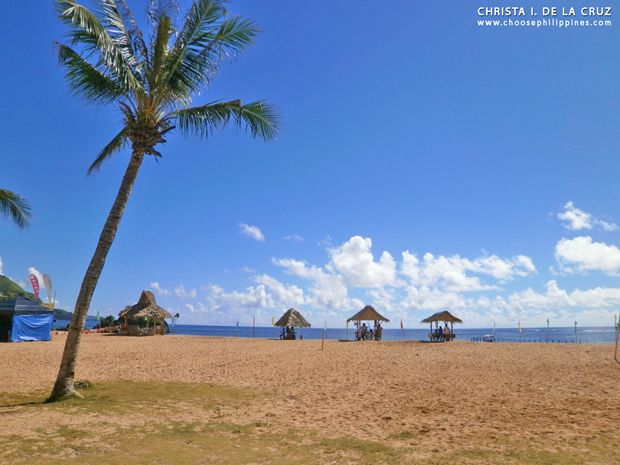 This photograph doesn't do justice to the beauty of the island.
Being the non-surfer (and later, ehem ehem, a "beginning" surfer) that I was, all I could do was stay on the shore as the professionals paddled out for the competition. And, of course, to lounge the afternoon away in Puraran's resorts.
Surfing 101 during the #CRB2014 Surf Clinic
Disclaimer: Most of the room accommodations don't have WiFi, a flat screen LCD TV with 100+ cable channels, and Dolby surround sound. They offer something better: friendly local surfers who will share with you stories of waves conquered, a picturesque beach that has an interesting terrain at low tide, and the rhythmic crashing of the water as the wind blows in from the ocean.
1. PURARAN SURF BEACH RESORT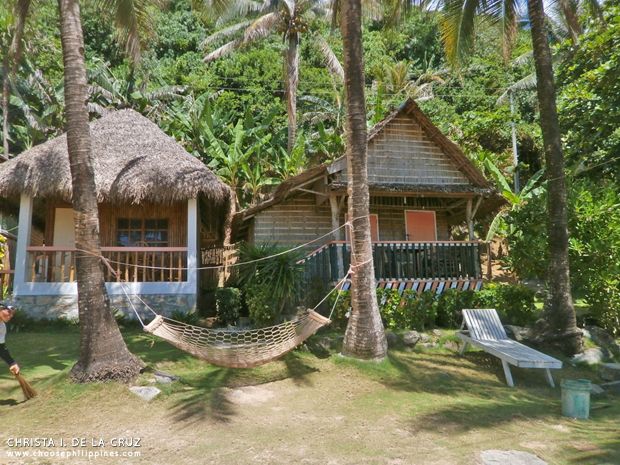 Puraran Surf Beach Resort, formerly Puting Baybay Puraran, was established in 1985. It's owned by Celia Estrada-Soria who has witnessed the growth of Puraran from the humble fishing village that it was to the world-renowned surfing attraction that it is now.
It's no secret that Catanduanes is known as the "Land of the Howling Winds" because of the frequent visit of tropical storms coming in from the Pacific Ocean. Though this title doesn't ring true anymore (thanks or no thanks to climate change), Puraran Surf has gone through a lot of building and rebuilding after the onslaught of every storm. Puraransurf.com provides a rundown of the first surfers, landowners, and typhoons that have come and gone much like the ebb and flow of the Majestic.
It was in 1984 when Australian surfer Peter Sutton chanced upon "the wave with the perfect barrel" in Puraran. He met the Soria couple and, along with his Japanese wife Sally, stayed with them for a few months.
(Photo courtesy of Puraran Surf Beach Resort.)
Later on, Japanese surfers came and started buying lands from the townsfolk. The Japanese corporation HAROGEN started constructing the "Puraran Beach Resort." Around the same time, Cecilia sought permission from his father, Jorge Jacob Estrada, to build cottages on their land along the beach (the present site of Puraran Surf Beach Resort).
In 1987, Typhoon Sisang destroyed the Soria-owned cottages. Rebuilding ensued and it was then that the "Puting Baybay Beach Resort" officially started its existence. Three years later, the Estrada-owned "Pacific View Beach Resort" was established through the efforts of Cecilia's sisters.
In 1995, Typhoon Rosing destroyed the Japanese-owned Puraran Beach Resort, the Soria-owned Puting Baybay Beach Resort, and the Estrada-owned Pacific View Beach Resort. Puting Baybay started rebuilding while Pacific View became the "Majestic Beach Resort," owned by Elena Estrada-Tanael.
In 1998, Typhoon Loleng wiped out every structure on the beach, forcing the two resorts to rebuild yet again.
Plastic floating walkway in Puraran as executed by the almost-five-million-peso agreement last 2013 between government-owned Tourism Infrastructure and Enterprise Zone Authority (TIEZA) and a private contractor to construct a "Surfers' Boardwalk and Surfing Viewdeck."
The present Puraran Surf Beach Resort has two types of accommodation: the family resort with native beachfront nipa huts and the dorm-type surf house.
Cottages have their own bathrooms and have a price range of PhP 600 to PhP 1,200. Two of the six huts have cable TV, but who cares?
The dorm is perfect for surfers, backpackers, and budget travelers who can cowboy it up in a shared space for 15 people. It has a kitchen, a common bathroom and shower area, and a balcony for early morning wave checks and/or greeting the sunrise. Standard rate is at PhP 400/head/night.
Their menu changes daily depending on the fresh catch of the day. The sea is right there, after all.
Fresh lobster for PhP 230
2. MAJESTIC PURARAN BEACH RESORT
Named after Puraran's signature break, Majestic Puraran Beach Resort was established in 1995. It's owned by Elena Estrada-Tanael and managed by surfer daughter Aireen Tanael. Another Tanael, Chris, can be seen riding the waves when not teaching a beginner.
Majestic Resort has maintained the countryside vibe with all the kubo-style accommodations and a patch of grassland that serves as a tent area. Huts are available for PhP 500 while pitching a tent costs PhP 150. Each room only has the basics: a bed with a mattress, mosquito net, and a bathroom with toilet and faucet. Simple, just like how island life--or life in general, perhaps--should be.
The rustic resort has a row of coconut trees as backdrop.
(Photo courtesy of Majestic Puraran Beach Resort.)
A room with a natural cooling system: Catanduanes' sea breeze.
(Photo courtesy of Majestic Puraran Beach Resort.)
Majestic Resort's dining area is the perfect place for hanging out--and eating, of course--when everywhere else is flat (no waves). Set meals (chicken/fish/pork/lobster with vegetables & rice) are available for PhP 150. Let me say that again: lobster + vegetables + rice for PhP 150. Other viands of choice are pork sinigang, ginataang tulingan, pakbet, porkchop, fried chicken, Bicol express, and pork adobo. Sandwiches are at PhP 35-45, burgers at PhP 40-50, and a plate of pansit bihon/canton is at PhP 180. You can also order a fruit shake for just PhP 50. A bottle of beer costs only PhP 40 but don't drink and surf!
The resort's one-stop shop for your stomach's needs.
Breakfast of champions? Omelette with toast for PhP 75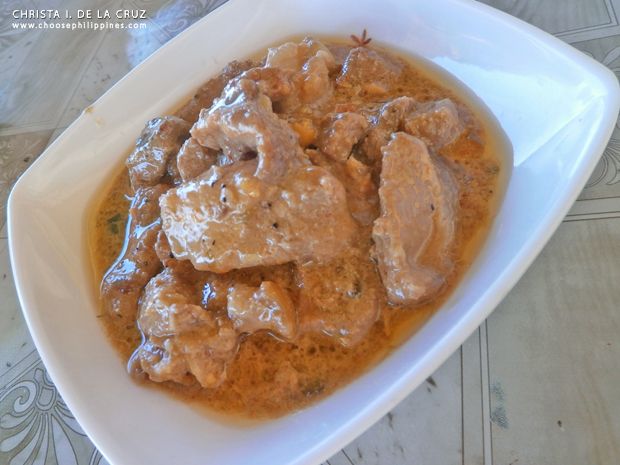 Bits of chili pepper are well-hidden in this plate of Bicol Express. Don't say I didn't warn you. I wasn't!
3. PACIFIC SURFERS' PARADISE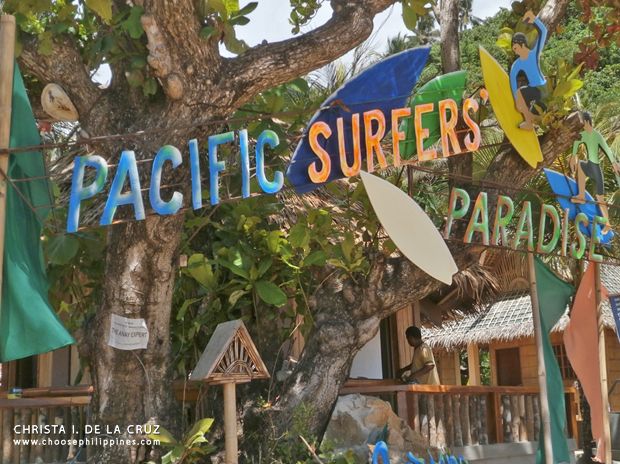 The youngest of the three resorts in Puraran, Pacific Surfers' Paradise opened early this year. In fact, they were still doing the last brush strokes and fitting doors into frames on their air-conditioned rooms when we got there.
When I asked one of the owners, Dr. Rodolfo E. Joson, why their family decided to open a resort in Puraran, he said "It is because Puraran Beach is one of the most beautiful beach and one of the top surfing destinations in the Philippines." Now, the family of the Manila-based physician has a peaceful beach resort ideal for surfing and swimming right in their own backyard.
(Photo courtesy of Dr. Rodolfo E. Joson, Pacific Surfers' Paradise.)
Spending the night in a duplex cottage costs PhP 1,700 while a single cottage costs PhP 800.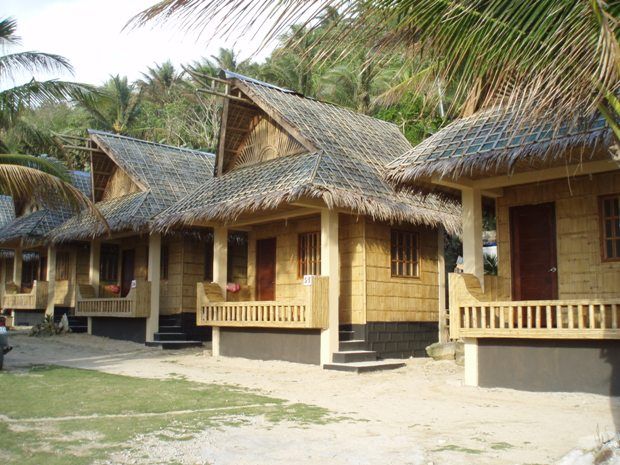 (Photo courtesy of Dr. Rodolfo E. Joson, Pacific Surfers' Paradise.)
(Photo courtesy of Dr. Rodolfo E. Joson, Pacific Surfers' Paradise.)
Aside from cottages, Pacific Surfers' Paradise has one-floor building with rooms for two persons. Aircon room is at PhP 1,500 while non-aircon room is at PhP 800. You can add an extra mattress (PhP 200) to accommodate a total of four persons.
Short orders of the 'silog' range from PhP 90 to PhP 120. Set meals (chicken/pork/lobster with vegetables & rice) are at PhP 150. If you want to share (or not share, no judgment here) a whole chicken after a day of surfing, chip in for PhP 400.
Dr. Joson also recommends Balakay Point for the best view of the cove. It's 15 minutes by car/tricycle from the beach and another 30 minutes by foot.
Where on Earth is Puraran?
Puraran is one of the 29 barangays of Baras, a fifth class municipality in the island-province of Catanduanes (capital: Virac) in the Bicol Region of the Philippines.
(Courtesy of Google Maps.)
How to Get There
(from catanduanes.gov.ph)
By Air: Cebu Pacific flies from Manila to Virac every Monday, Wednesday, Friday and Sunday (ETD: 0600; travel time: 1h 10m).
By Land/Water: Numerous bus lines operate air-conditioned coaches from Manila to Tabaco, Albay (travel time: 9-10h). From the seaport of Tabaco, hop on either at MV Calixta 2, 4 and 5 or MV Eugene Elson to reach the island of Catanduanes via Virac seaport (ETD: 0630; travel time: 4h; aircon: Php 310; non-aircon: Php 240). Jeepneys and buses ply from Virac to Baras daily (travel time: 1h 30 m; Php 35-45). Take a tricycle from Baras to Puraran (Php 150.00).
---
Beach bumming in Puraran was just the start of our 8-day Catanduanes adventure last May. Watch out for our feature on skimboarding at Mamangal Beach (Virac), kayaking at Amenia Beach & spelunking at Luyang Cave Park (San Andres), snorkeling in Carangyan Beach & carabao-riding at Hiyop Point (Pandan), and many more.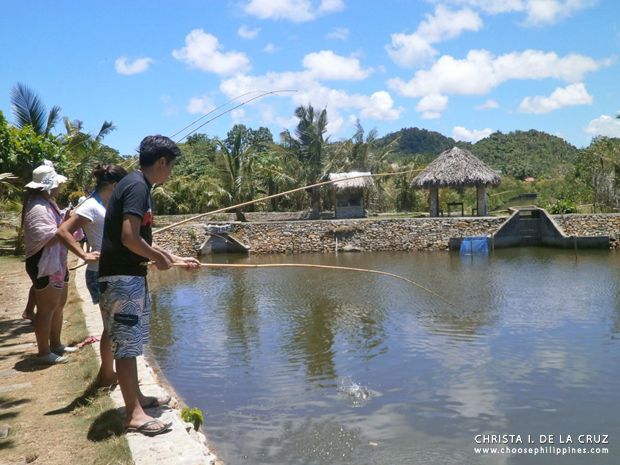 Sneak peek: Choose Philippines Editor-in-Chief Phillip Kimpo Jr. tries to catch a fish for lunch
(Kuripdas Fishing Lagoon & Resort, Virac)
Many thanks to the Provincial Tourism Office of Catanduanes (Tourism Officer Carmel Bonifacio Garcia; Armie Villanueva, Maria Glenda Borja Tablate, and Kuya Buboy) and the Catanduanes Reef Break Organizing Team (Festival Director Ezra Efondo † and Sponsorship Coordinators Jean Grey Garcia & Moireen Espinosa).
Visit online: Catanduanes Tourism Promotion | Surf Catanduanes
---
More on Catanduanes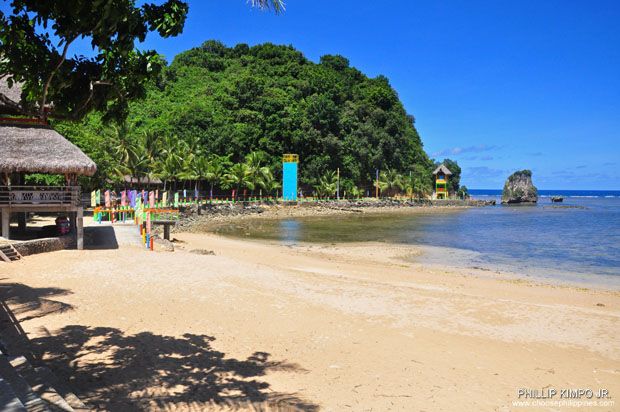 Twin Rock Beach Resort, Virac, Catanduanes
---
Other Surfing Destinations in the Philippines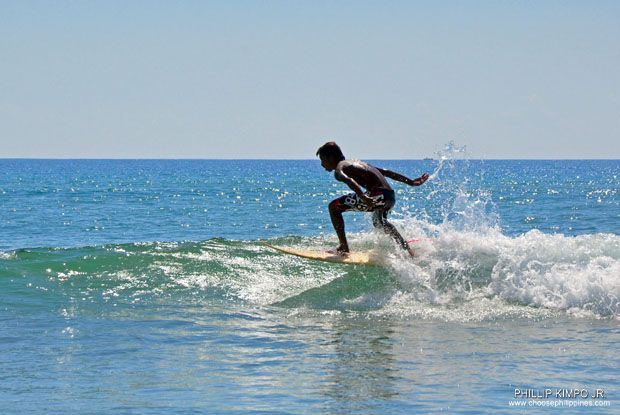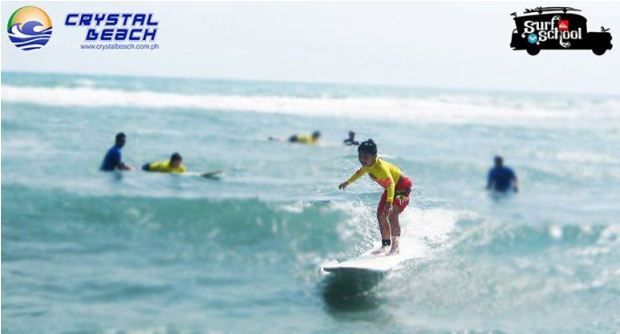 Photo credit: Guiuan, Eastern Samar FB Page
Photo credit: Eastern Samar Surfing
Be a Pinoy Wanderer!
Choose Philippines encourages writers, photographers, travelers, bloggers, videographers and everyone with a heart for the Philippines to share their discoveries and travel stories.
Share Your Journey
Other Stories by Christa De La Cruz