Water Forms
6 Reasons Why Malay is More Than Just Boracay
Aklan,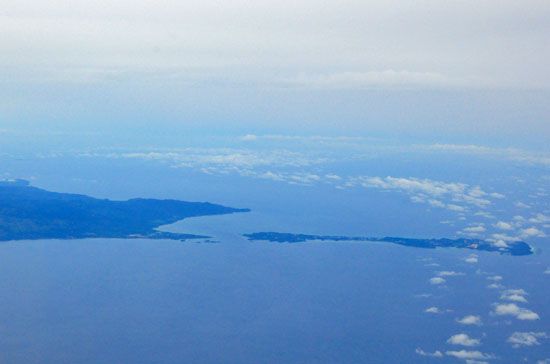 Aerial shot of Malay, Aklan, with Boracay Island to the right.
The town of Maláy might be a victim of its own tremendous success. The white sands and vibrant nightlife of its little island that goes by the name of Boracay have outshone the municipality's other brilliances, which more than deserve their own share of visitors.
These mainland attractions can complement the island's well-established paradisical appeal, thus arming Malay with a complete package for the travelers.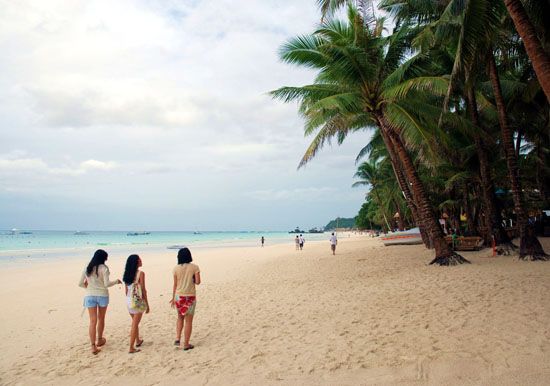 Boracay's world-famous White Beach.
1) Aklan 101: Caticlan isn't a town
Many people think Boracay Island is part of Caticlan, and you can't blame them, as "Caticlan" is the one plastered on maps and airline booking websites instead of "Malay."
In truth, Caticlan is just one of Malay's 17 barangays, three of which make up Boracay Island.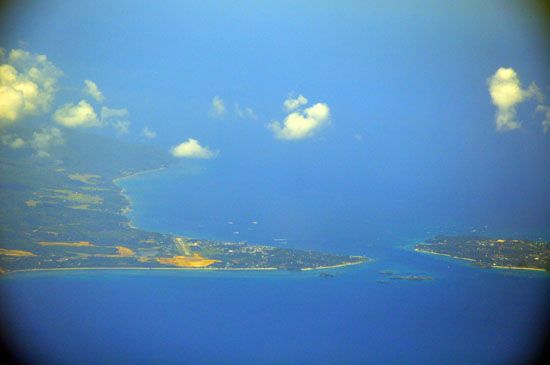 Caticlan (with its airport) and the tip of Boracay Island.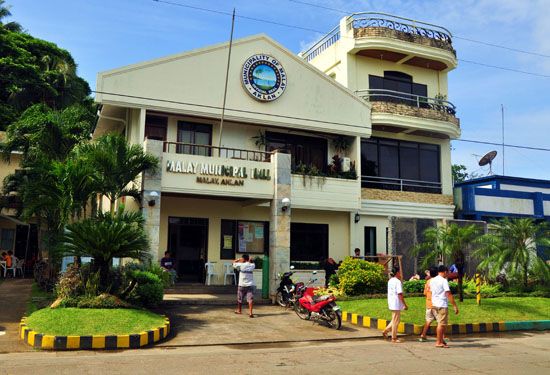 The Malay town hall.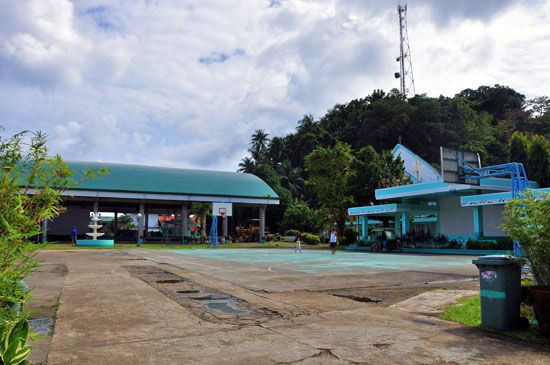 Malay's poblacion sits as a peaceful contrast to Boracay's sometimes-wild scenes.
Caticlan, despite being a very bustling gateway to Boracay through its jetty port and airport, isn't the "downtown," as the usual visitor might think. The poblacion is a good thirty minutes from Caticlan.
The town center nary has a streak of the excitement of Malay's more famous parts. This, however, makes it a good place to relax and to experience the stark contrast between Boracay life and non-Boracay life in just one town.
More importantly, the poblacion is where the discovery begins.
2) Enliven those muscles with this scenic hike
The Pangihan Cave, a wildlife sanctuary home to native bats called kiyapnit, is a short walk from the town hall and plaza.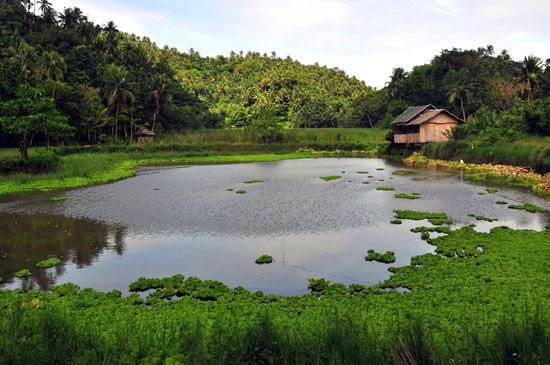 A refreshing sight along the trail.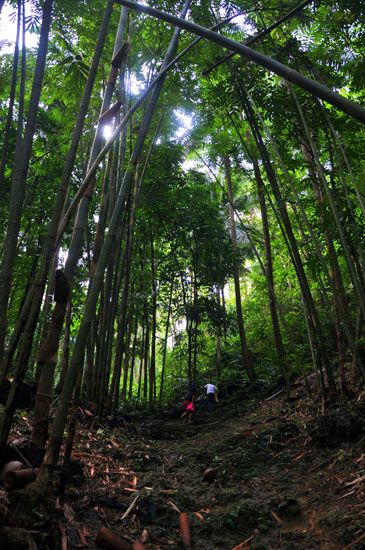 The bamboo forest leading to the cave
The brief hike is scenic, passing by a pleasant pond ringed with greens, a narrow path roofed by a huge fallen tree, and a forest of soaring bamboo stalks.
Not only is the hike friendly to the knees, your destination at the end is worth it.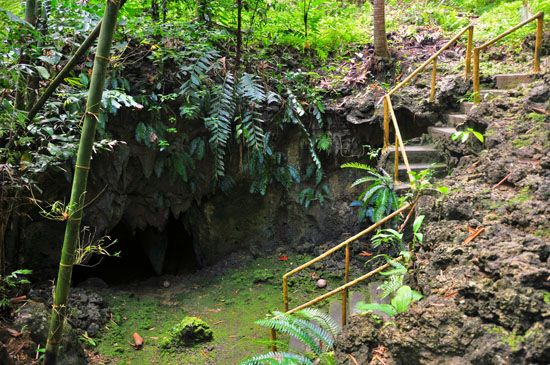 The entrance to Pangihan Cave.
3) Go spelunking in this historic bat cave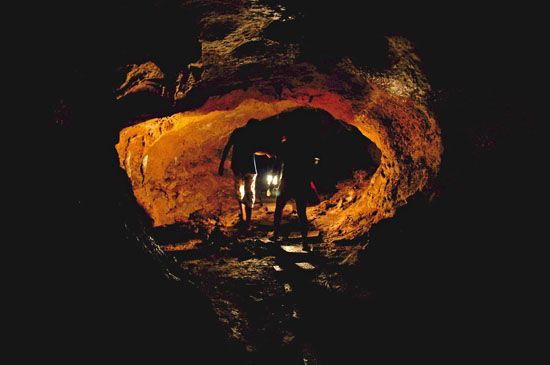 You'll need to rent lamps to explore the cave.
The Pangihan Cave takes around twenty minutes to explore. It's 275 meters long and 3-5 meters wide. Eight spacious chambers are connected by narrow corridors, and when the halls aren't lined with stalactites and stalagmites, their ceilings and crevices are dotted with hundreds of bats.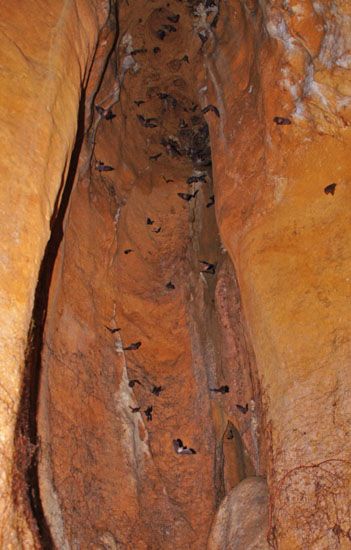 Sorry for disturbance, little friends!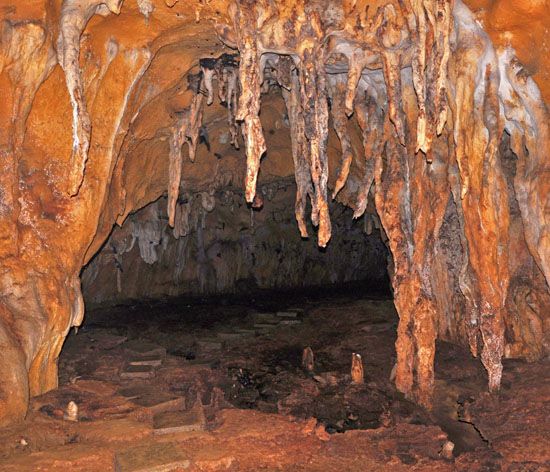 Be careful with your head!
In Pangihan, you bow your head either to steer clear of rocks, or to give ample berth to the passing bats. To delve deeper into the cave is to travel back in time, as it was certified by geologists to be around 200 million years old; in more recent times, it served as the locals' hideout from Japanese invaders.
The entrance fee of Php 200 per group covers the guide's allowance and rent and fuel for the lamp.
4) Swim, sail, snorkel, scuba dive at Naasug
From these close confines we move on to the open sea, for only fifteen minutes from the cave, over at the next barangay, is Naasug Point. Its description can be versatile: 120-foot sea cliff. Limestone forest by the sea. Secluded white beach. Swimming, snorkeling, and scuba diving center.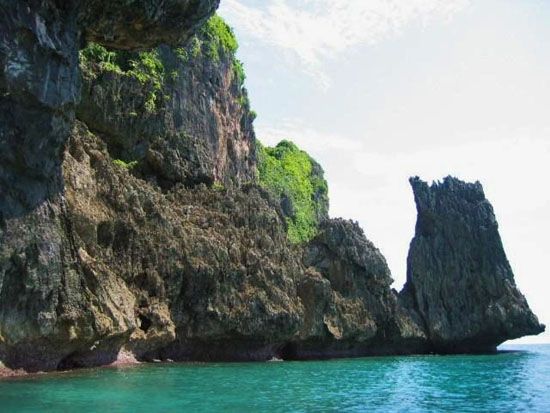 Naasug Point; photo courtesy of the Malay LGU.
It can be reached by land or by boat from the town proper, as well as from Boracay Island. Excellent choice of transportation: paraw sailing. Let the wind take you to Naasug without the choppy churning of the motor.
5) & 6) Two waterfalls & hours of trekking fun
Pushing further into Malay's hinterlands, we find the Agnaga Falls and Cold Spring at Kabulihan, and the Nagata Falls at Nabaoy.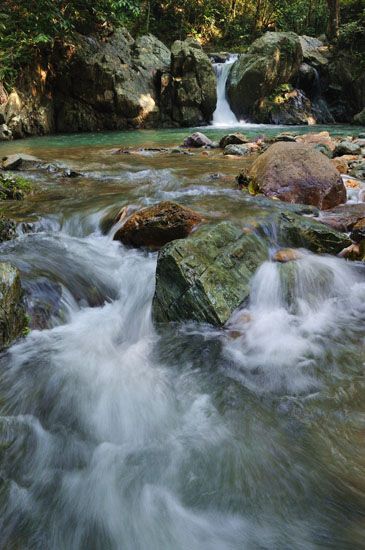 Agnaga Falls; photo courtesy of the Malay LGU.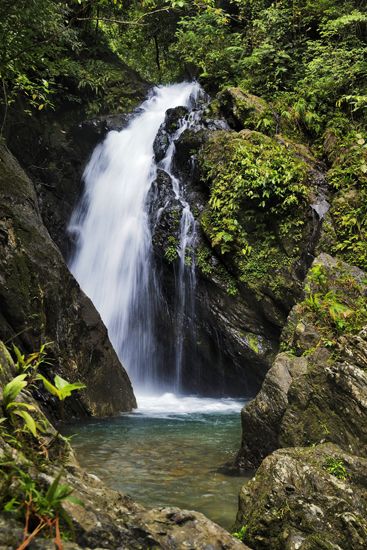 Nagata Falls; photo courtesy of the Malay LGU.
Both waterfalls involve trekking from their respective barangay propers through thriving forests, with Agnaga needing thirty minutes and Nagata three hours.
Save the best for last: Boracay
Exploring all of these landmarks will finally take their blissful toll on your body. You know where to chill out—the premium sands and lively bars of that nearby island, the most sumptuous slice of Malay.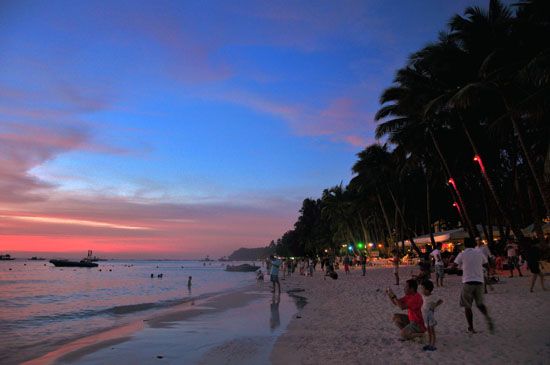 Boracay's sunsets are some of the most beautiful on earth.

(All photos, unless otherwise indicated, were taken by the author.)
Where in the World is Malay?
The town is home to Caticlan Airport which services Boracay Island, and it also lies along the national highway to the Kalibo International Airport in Aklan's capital. All major Philippine airlines fly to both airports many times a day.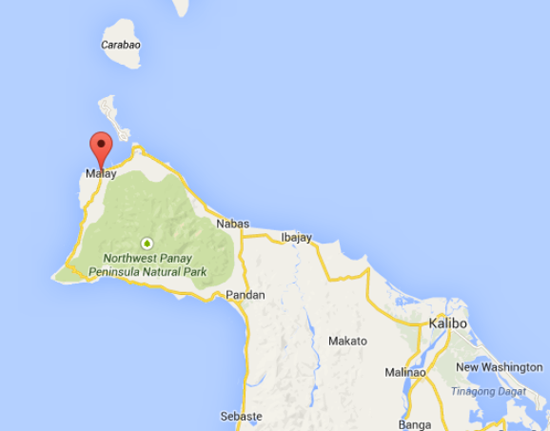 Courtesy of Google Maps.
Related Articles on Aklan
(Text adapted from the original version, written by the same author and with contributions from Khiara Kimpo, which appeared in the now-defunct Side Trip travel magazine, January-February 2013 issue. Many thanks to Merrell Cahilig Prado and Rechan A. Casidsid of Malay's tourism office, and to Roselle Quimpo Ruiz and the members of her group, namely Josefel M. Enrique, Concepcion P. Labindao, and Antero Al Inac Regno.)
Be a Pinoy Wanderer!
Choose Philippines encourages writers, photographers, travelers, bloggers, videographers and everyone with a heart for the Philippines to share their discoveries and travel stories.
Share Your Journey
Other Stories by Phillip Kimpo Jr.