Water Forms
This Philippine Waterfall Will Make Your 30-Minute Trek Worth Every Ounce of Sweat
Lanao del Norte
---
Municipal councilor and sisterette Jhonny Paul Lagura told me that a trip to Kapatagan wouldn't be complete without trekking to Sta. Cruz Falls. After an easy and very accessible tour of Cathedral Falls, I was expecting nothing less beautiful. But since there was trekking involved, maybe Sta. Cruz should be definitely worth it, I thought.
After having a very hearty and heavy "fiesta" breakfast, I was all set to go with Walter, Kapatagan's official photographer/documentor.
The entrance to Sta. Cruz is located at the outskirts of the Kapatagan center and is accessible by motorcycle or any vehicle. You leave your vehicle at the entrance and from there, its going to be a 30-minute to an hour's walk over hills of green grass complete with grazing cows and chickens, slippery rocks and boulders and swift river water that would be shallow on one end and deep at the other end.
Walter said that sometimes wild monkeys would come down and watch the people passing by. I didn't get to see any, but I knew and felt they were there.
There used to be a paved pathway to the falls, but portions of it have caved in due to heavy rains.
After traversing the path, I could hear the falls but still couldn't see it. I was so excited to get a glimpse of it and went down the boulders while holding on to a big trunk of a tree.
I was being sprinkled by the mist and spray while slowly going over and around the boulders to get a better view of Sta. Cruz.
This curtain-like waterfall is a lot similar to Tinuy-an, but smaller and shorter. Nonetheless, its green environs and its relatively hidden location make it a beautiful sight to behold.
I took a rest from the trek by laying down on one of the boulders and simply gazing at the falls.
I did not want to leave. I was content with the beautiful sight before me and the stillness and peace that it offered.
But the sun was going down and we had to go back and traverse the rugged river banks again.
This waterfall was worth the trek, and this adventure is definitely a must-do when you visit Kapatagan, Lanao del Norte.
Daghang salamat to my sisterette Municipal Councilor Jhonny Paul Lagura and Mommy, Mayor Benjie Y. Baguio, Mamita Daylinda, Sheila, Kuya Darwin, Mera, Walter and all who made my Kapatagan stay worthwhile.
How to Get There:
PAL and Cebu Pacific have flights to Cagayan de Oro City from Manila and Cebu.
Take the bus at Westbound in Bulua to Kapatagan (Rural Transit Zamboanga Liner). It's a 4-hour land trip passing by Iligan City and on to Pagadian and Zamboanga City. Fare is PhP300.
When you reach the Kapatagan Town Center, walk a few steps to the Kapatagan Municipal Hall and coordinate with the Kapatagan Tourism Office for a motorcycle ride and guide to Sta. Cruz Falls.
---
View other awesome Philippine falls: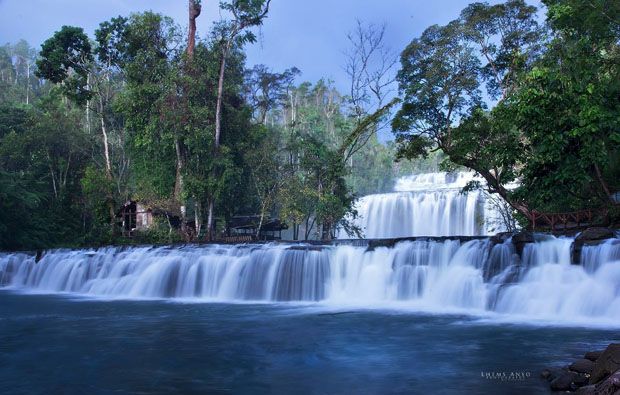 Be a Pinoy Wanderer!
Choose Philippines encourages writers, photographers, travelers, bloggers, videographers and everyone with a heart for the Philippines to share their discoveries and travel stories.
Share Your Journey
Other Stories by Ida Damo