Ecotourism
Giant Glowing Living Balls to Save Tacloban From the Darkness
Leyte, Samar,
---
Almost a year after typhoon Yolanda (Haiyan) hit the Philippines, electricity remains a problem to majority of the ruined areas. Lira Luis, a Filipino-American architect, initiated the Leapfrog Project to help combat the darkness at Tacloban City, Leyte.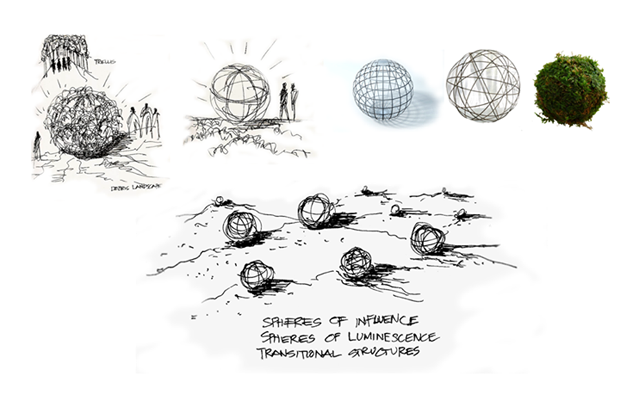 Sketches of the giant glowing balls by Lira Luis; photo from Leapfrog Project FB page.
"It's also our visual message to Haiyan survivors that they would not be forgotten. As global emergency help begins to dwindle, the Philippines would become even more desperate in the face of uncertainty and even exploitation."
The Leapfrog project is an avenue to help the Philippines rebuild Tacloban and its neighboring communities. It's a temporary installation that includes glowing giant green balls scattered around a village.
Ample lighting is a concern, particularly in refugee camps or tent cities wherein dark places pose danger to both children and women. Lira plans to use the debris found onsite and fill the installation with bioluminescent plankton, native to the Philippines, that naturally glow when disturbed.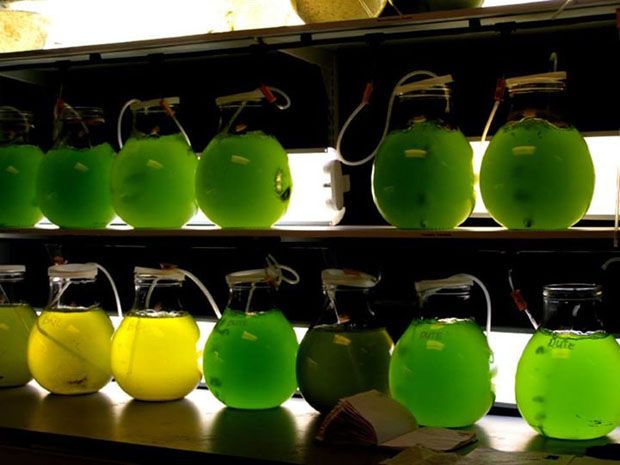 Samples of native bioluminescent plankton found in the rivers in the Philippines' central islands to be used as part of the construction of the installation; photo from Leapfrog Project FB.
The 9-feet in diameter glowing ball is also called a "living ball."
The living ball will become a vision of hope and protection particularly for women who are left at risk due to the natural disaster.
Aerial rendering of bioluminescent ball installations on site during night time ; photo from Leapfrog Project FB.
Lira hopes that the installation of the glowing balls will help raise funds for rebuilding structures, not only for homes but also for schools and hospitals. She also says that the natural disaster can be a real opportunity to leapfrog into innovation for sustainable development by skipping inferior, less efficient, more expensive, and more polluting technologies or industries and move directly to more advanced ones.
Lira made Chicago, USA her current home, as an example of a city that was transformed by disaster. In the later 1800s, a huge part of the city was destroyed by fire. After the incident, a new school of architects including Frank Lloyd Wright helped turn Chicago into a mecca of architecture.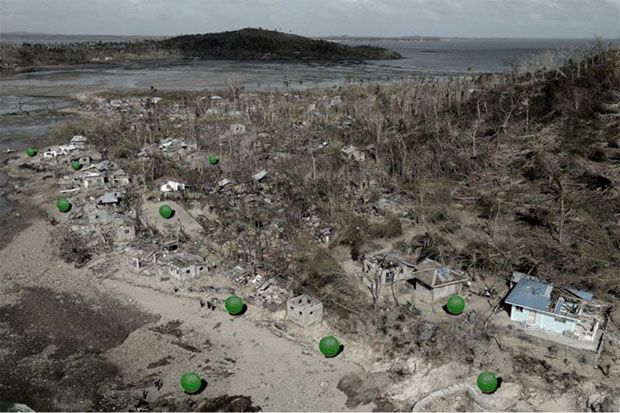 Aerial rendering of bioluminescent ball installations on site during the day; photo from Leapfrog Project FB.
She hopes that the result and the Philippines' experience with typhoon Yolanda can inspire similar new leaps in design, business, and technology.
"The Leapfrog Project isn't just about building stuff," she says. "It's about allowing survivors to flourish."

Organized and led by the Royal Institute of British Architects (RIBA)-USA and Leapfrog Project, with the American Institute of Architects' AIA NY Design for Risk and Reconstruction (DfRR) and AIA International, Leapfrog from Disaster will be held in the Philippines on November 1-7, 2014 to bring together world-leading pioneers in Resilience, Architecture, and Ecology.
---
To learn more about the giant glowing balls, visit the Leapfrog Project FB.
(Excerpts from www.fastcoexist.com.)
View other Yolanda-inspired creations:
Be a Pinoy Wanderer!
Choose Philippines encourages writers, photographers, travelers, bloggers, videographers and everyone with a heart for the Philippines to share their discoveries and travel stories.
Share Your Journey
Other Stories by Choose Philippines