Lists
Canadian Wants to Become Filipino, Rocks Northern Mindanao!
Camiguin, Bukidnon, , Misamis Oriental, Lanao del Norte, Misamis Occidental,
---
I just spent the last few months adventuring around Northern Mindanao, an area found in the southern Philippines. Known as "Region 10," this area is made up of 5 provinces: Camiguin, Misamis Oriental, Bukidnon, Lanao Del Norte, and Misamis Occidental. Home to more than 4 million people, there's definitely an abundance of amazing adventures to be had, and amazing Filipino people to meet and be inspired by.
Having just finished driving my scooter 4500 km alone through every province in this region, I have realized one thing…YOU MUST COME HERE! This is a place in the Philippines you NEED to check out.
Here are four reasons you have to come to Northern Mindanao:
1) The diversity of outdoor adventures to be had
Where do I begin? Do you like outdoor adventures? How about:
Rafting down an absolutely majestic river (Misamis Oriental)…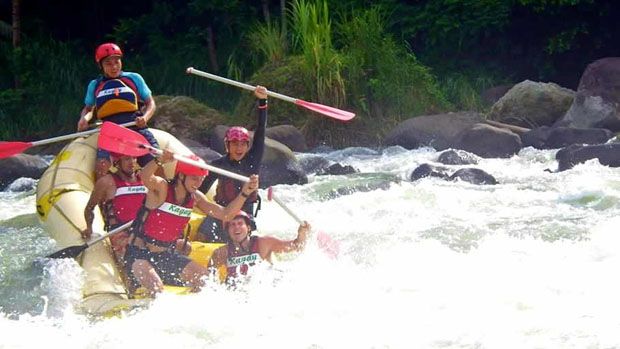 Hopping from waterfall to waterfall (Lanao Del Norte)…
Riding into the countryside on the back of a beautiful horse (Bukidnon)…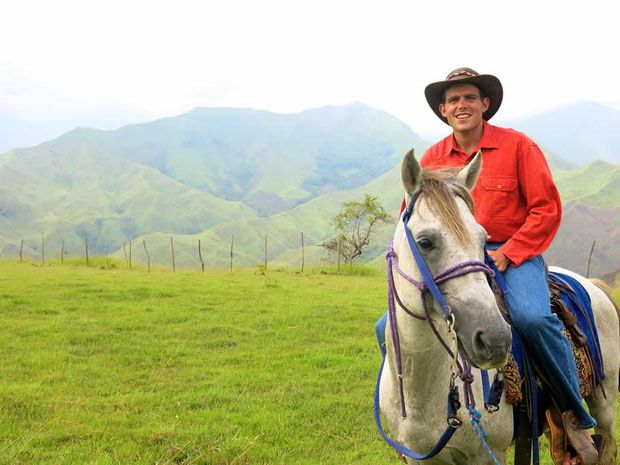 Island-hopping under the watch of majestic volcanoes (Camiguin)…
Running around pristine and remote sandy beaches (Misamis Occidental)…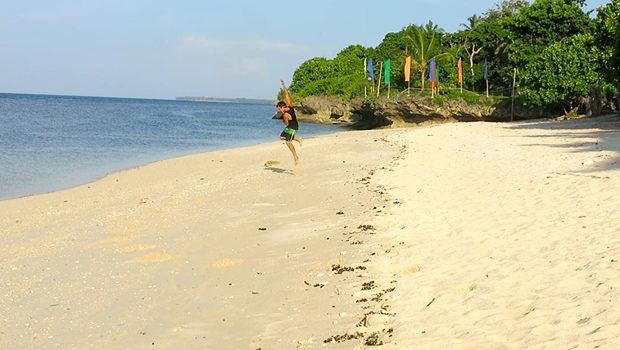 You know what, I didn't even scratch the surface. You just have to come here and you will find out for yourself! EPIC.
2) The hidden gems
What do I mean by "hidden gems"? No, not sparkling stones that will make you rich, but beautiful local spots that are off the "tourist trails."
This is an area of the Philippines that doesn't get as many tourists, and because of this, there are so many secluded local hangout spots waiting for you to discover. All it takes is sharing a little happiness, immersing yourself with the locals, and trust me, you will be in for a treat!
This is what I am talking about:
I'd say he was a pretty amazing 8 year old tour guide... :)
Islands you can still stay on even after they are gone...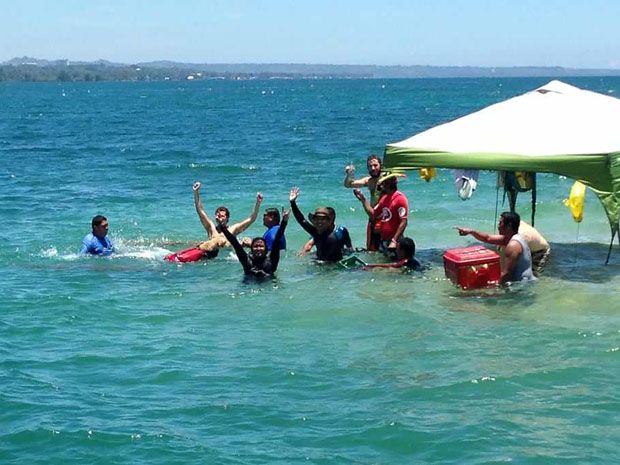 Local sunsets that will inspire you...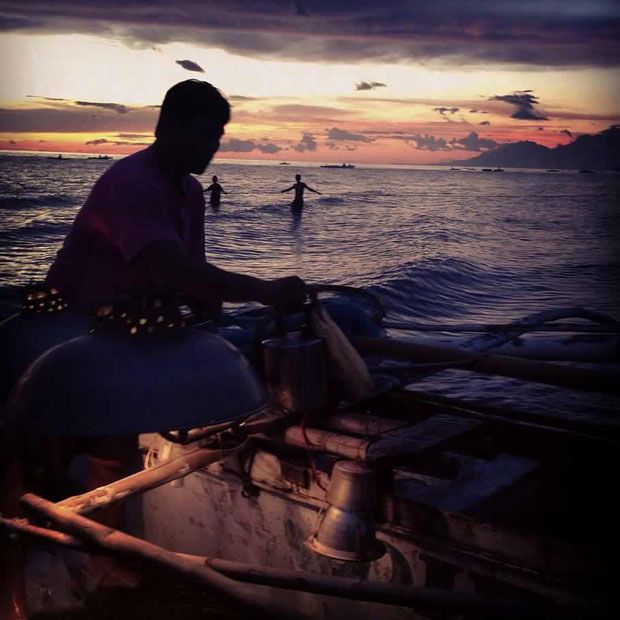 Take a step off the tourist trail and you can find an abundance of amazing natural wonders and people. Talk with local tourism offices, ask about local guides, and interact with friendly locals. That is the key to finding these "hidden gems."
There are so many beautiful places to find… come explore for yourself!
3) You'll receive an overload of hospitality
Now, anywhere you go in the Philippines this is going to happen! Filipinos are a beautiful example to the world when it comes to hospitality. But, if you're a foreigner and you come to Northern Mindanao, be prepared to get overwhelmed! The fact of the matter is, very few young foreigners come to travel here. It's shocking, and because of this, the locals are going to LOVE YOU.
Invited into houses for fiestas…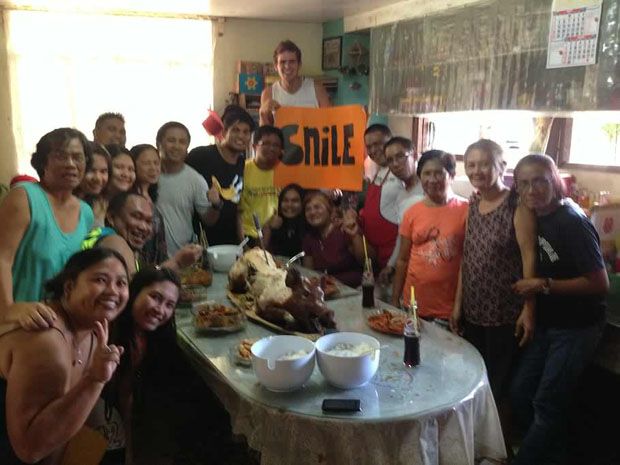 Tablea (hot chocolate) on the side of the road…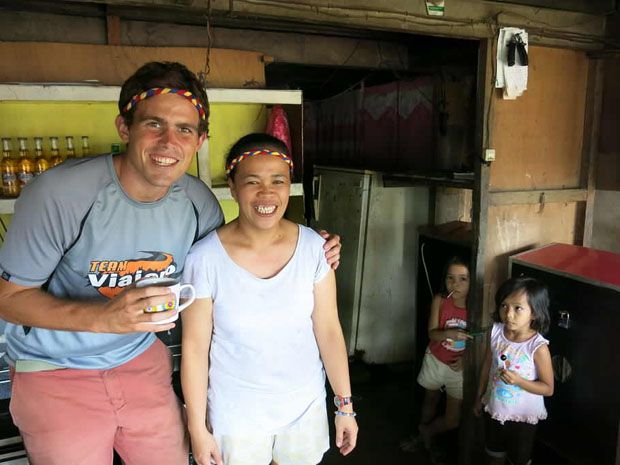 High Fives Everywhere (Apir!)…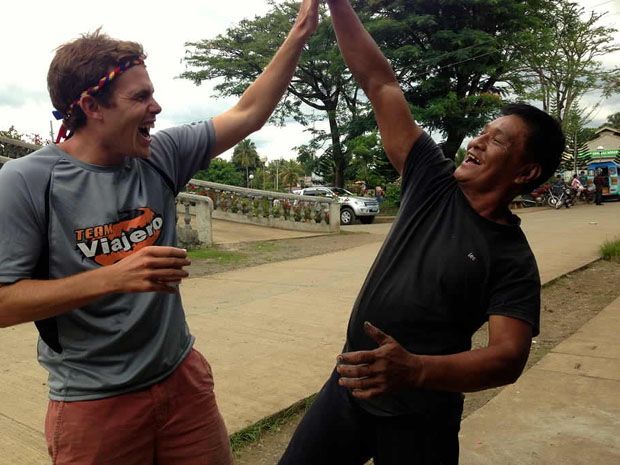 Even in the Mountains…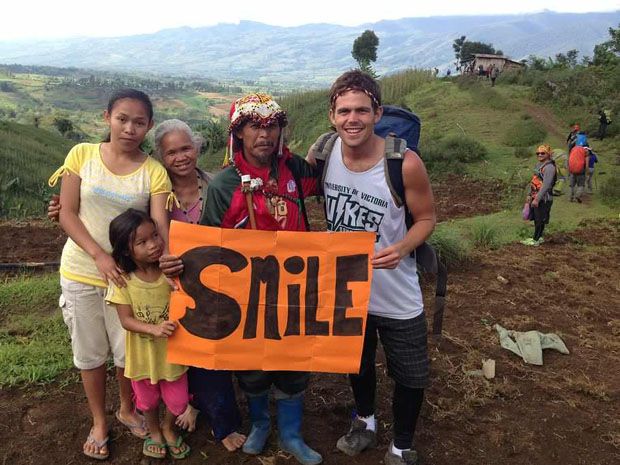 But this is only going to happen if you come with the right intentions. Come here looking for adventure, bringing a positive attitude, and a willingness to interact and learn from the locals. Bring that with you, and YOU WILL BE OVERLOADED WITH HOSPITALITY. In a freaking beautiful way!
4) You're going to make a massive difference
Believe it or not, if you come here you'll make a massive difference. There's this massive misconception that "Mindanao is a warzone." Most people, when they hear the word "Mindanao," instantly think of words like "danger," "kidnappings," "destruction," and "bad people." It's a shame, it's unfair, it's wrong, and it's not true.
When I hear the word Mindanao I think of beauty, friendly people, amazing adventure, and happiness! The majority of the people in Northern Mindanao are AMAZING.
Too often have I heard people caution me about this part of the Philippines being incredibly dangerous and that I'm stupid to be going around it. Well, take it from a guy who just drove 4500 km by himself on a scooter to every part of this region!
From Municipal Halls…
To tuba adventures in rural barangays…
To just outside regional boundaries…
Yes there are areas and places that bad things do happen. But the same can be said anywhere you go in the world. I've witnessed drive-by muggings (Indonesia), had friends shoved over on bicycles, robbed to the point they have nothing left (Laos), have personally been beaten up on the streets (United Kingdom), and have had pickpocket attempts occur (Philippines).
Bad things happen. But you can't stereotype a whole area because of them. It's not fair, and it's not right.
Bring a positive attitude, a little common sense, talk with local tourism offices, plan ahead (something I didn't do)… and the majority of the time you'll have an amazing and safe trip.
What else will happen?
You'll help break a stereotype! By coming here, you'll help break the negative stereotype that Mindanao has, and you will INSPIRE A REGION. You'll inspire more positive things to happen here :)
Come explore this AMAZING part of the Philippines… and make a BIG DIFFERENCE at the same time :)
I'm warning you though -- you might fall in love with this place and never want to leave.
Apir! (That is high five in the Philippines)
---
Join this guy's awesome journey from being Canadian Kyle to Filipino Kulas by following his Facebook page and visiting his website, BecomingFilipino.com.
And before you go, watch his introductory video:
Be a Pinoy Wanderer!
Choose Philippines encourages writers, photographers, travelers, bloggers, videographers and everyone with a heart for the Philippines to share their discoveries and travel stories.
Share Your Journey
Other Stories by Kyle Jennermann