Lists
Sleeping Dinosaurs to Sizzling Beach Parties: 4 Reasons Why Mati is a Must-Visit
Davao Oriental
Here are four reasons why Mati City in Davao Oriental is a must-experience destination.
1) The Sleeping Dinosaur
Navigating the long and winding highway along Pujada Bay, tourists can't resist but to stop and take photos with the "sleeping dinosaur" as the backdrop.
This landform shaped like a brontosaurus taking a nap changes colors from deep green to yellowish green and brown, depending on the time of day and time of year.
2) Seven kilometers of fine white sand
Mati's Dahican Beach offers a 7-km stretch of soft white sand, long enough to satisfy your cravings. You can enjoy the different shades of blue water for swimming, and the untarnished beach for chilling.
Then you can also get surfing and skimboarding lessons from the locals, which include international skimboarding champion, "Bayogyog." Skimboarding lessons start at PhP100 and surfing lessons at PhP400/hour.
[VIEW: The Seven Signatures of Dahican]
3) Fly above paradise
When you're done with the water wonders of Dahican, it's time to go up and fly high in the sky with the ultralight planes. Where to go: the Mindanao Saga Flying Club at the Mati airstrip.
Going up there makes you appreciate how beautiful the entire area is -- Pujada Bay, Dahican Beach, and the Mati City landscape.
[VIEW: How does an ultralight plane ride feel like?]
4. A beach party like no other
Dahican's white beach is the venue for the 10,000-strong party crowd of the annual "Summer Frolic."
It's a beach party like no other as viewed from TV Patrol's Choose Philippines story of why tourists flock to Mati by Hernel Tocmo of ABS-CBN Davao.
WATCH: Summer Frolic 2014: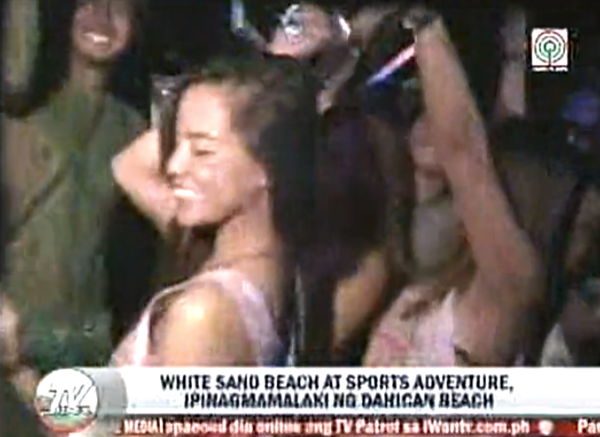 ---
VIEW: See what else to do with the Choose Philippines Davao Map:
VIEW: See what to bring home from Davao with the Choose Philippines Pasalubong Map:
How to Get There
Mati City can be reached from Manila and Cebu by taking any of the daily scheduled airline flights of PAL and other major airlines to Davao City.
From Davao City, Mati City, is accessible via 3-hour private car ride or 3-31/2 hour public utility bus or van ride on a fully concreted highway.
Bus rate is Php 200-220, van rate is Php 230-250. From the city proper, it's just a tricycle ride to Dahican Beach. Haggle with the driver on how much to pay; start with Php 40.
Be a Pinoy Wanderer!
Choose Philippines encourages writers, photographers, travelers, bloggers, videographers and everyone with a heart for the Philippines to share their discoveries and travel stories.
Share Your Journey
Other Stories by Ida Damo